BACK ON THE TRAIL
Whangārei couple Mark and Julie Dakers reckon their TrailLite Coromandel motorhome is their perfect vehicle for their active lifestyle and off-grid adventures. Vivienne Haldane spoke to them to find out more.
The last time we caught up with Mark and Julie Dakers, they had clocked about 20,000km in their trusty Bailey Autograph (MCD, October 19, 2019). They'd had some great experiences and gained insights into life on the road, but they realised that if they wanted to live and travel in a motorhome for extended periods, they'd need to buy a bigger RV.
Forensic mental health nurse Julie plans to retire when her 65th birthday rolls around in September 2023. With Mark having already retired from his job as a buyer with Pak' n Save supermarket in Whangārei, the couple felt the timing was perfect to take the next step. With the experience they already have from travelling in their Bailey Autograph, the couple knew what they were looking for in a new motorhome; they just had to find it.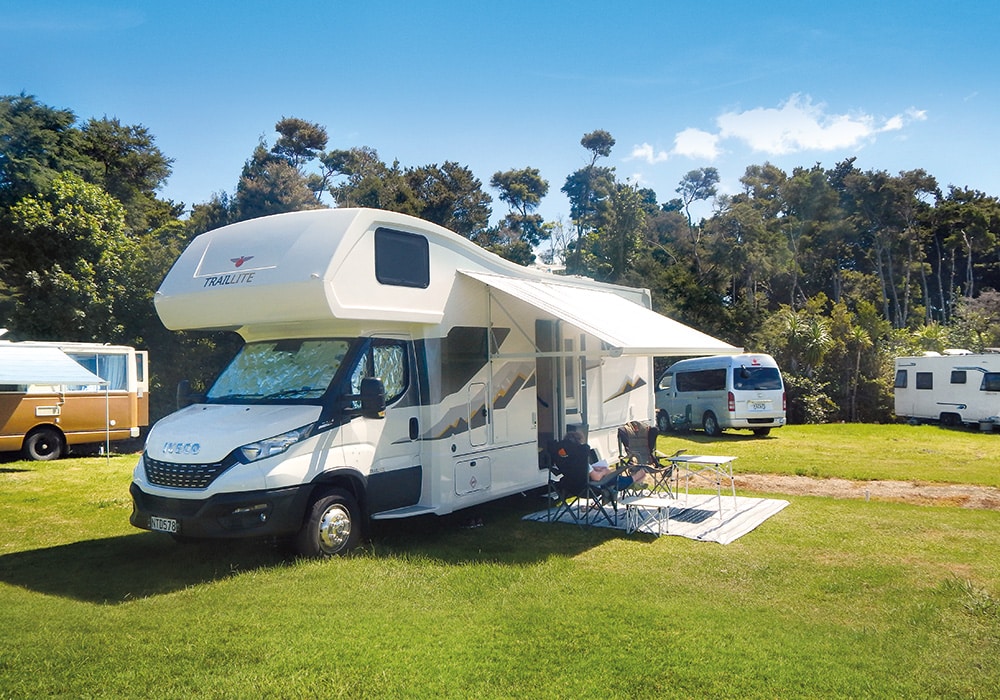 CHOOSING THEIR MOTORHOME.
Mark and Julie initially saw the TrailLite Coromandel Series 757, when they visited TrailLite's showroom in Pukekohe. Then, when they went to the Covi Motorhomes and Caravan Outdoor and Super Show in 2020, they got another chance to view it more thoroughly. They decided it was the one for them, so in July 2020, they placed the order, and sold their Bailey Autograph in May 2021.
Having chosen all the details they wanted to be built into their home-away-from-home, they took delivery in October 2021.
So far, Mark and Julie have used their motorhome to explore more of Northland and the Bay of Plenty. Until Julie retires, their trips are confined to weekends and public holidays. "At the moment, we have to plan days, dates and campsites, and we usually book ahead, but I am really looking forward to retiring and not having to meet work deadlines. We will be able to just pack up the motorhome and start our travels," says Julie.
SIZE MATTERS
Mark says the size of the Coromandel motorhome was a significant factor in helping them make their decision. "We haven't seen another motorhome on the market as big as this," he says. "It gives us so much extra living space, which we really wanted." Another aspect was the layout of the living area, with the double bed located above the cab and easily accessed from either side. "We wanted the bed permanently made up and for us to both be able to get in and out easily."
The bed in an elevated position meant the living area was spacious – an important factor for the pair who plan to live in their RV long-term. Other features that won them over were the separate shower and toilet facilities; and for their outdoor pursuits, ample storage space for Mark's golf clubs, metal detector, bike gear, and other necessities for hiking, walking and swimming. The pair were also keen to purchase locally and be NZ-made. Most important was that the door to the living area was on the left hand side.
TIME TO SPARE
The Coromandel has all the features the couple needs to allow them to stay off-grid for longer periods of time. To be off the beaten track and remaining self-sufficient was most appealing. "We want to be able to freedom camp and go to more isolated places within New Zealand without having to plug in," says Mark.
There are three solar panels on the Coromandel (it came with two and another was added), and it has a larger water storage capacity: 400 litres compared to the 90 litres they had before. There is also 220 litre storage for grey water. "We can now last five days, whereas before it was only two days."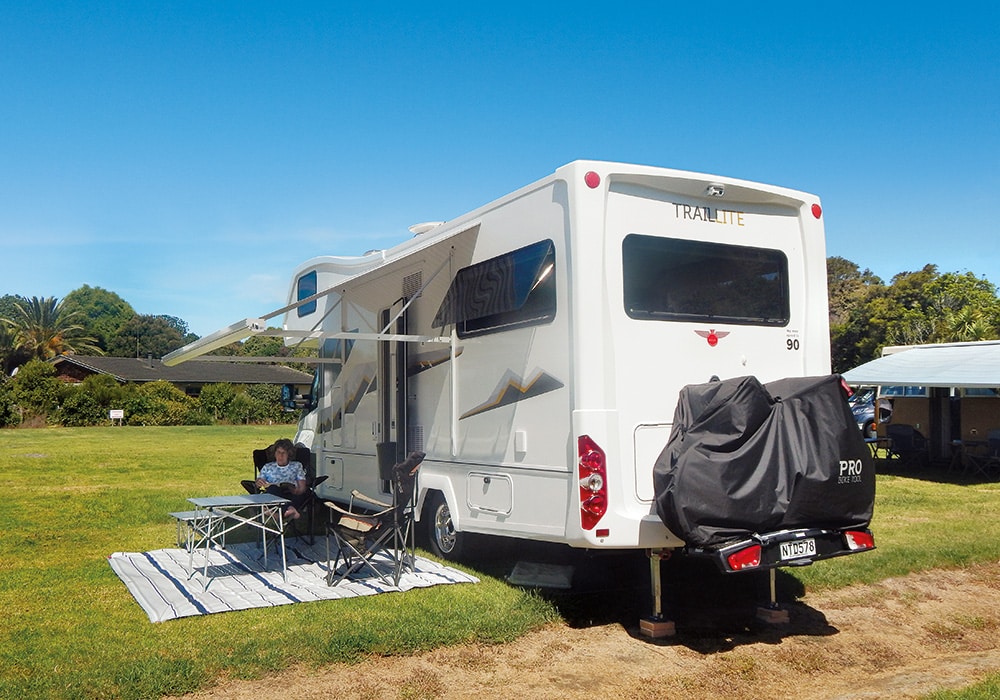 RETIREMENT AND BEYOND
When Julie retires next year, the pair plan to rent their home for up to a year, giving them the freedom to travel wherever they fancy. They've already got loads of ideas; Mark has started a scrapbook of destinations he's gathered from the NZMCA Facebook page. "We enjoy seeing people's travel posts; as we look forward to our own travels, it's a real source of inspiration for us," he says. They also plan to visit family and friends who are scattered throughout the country.
As keen bikers and hikers, Mark and Julie are already earmarking some potential bike trails and walking tracks. Julie enjoys running and competes in half marathon events, so she's already starting to plan. "Being on the road will fit in nicely with being able to compete wherever the next race is. I like getting up early and going for my morning run or walk, while Mark enjoys having his morning coffee, checking the golf results, and the news."
While Julie's off running, Mark isn't going to be idling around; included in their schedule are plenty of opportunities for Mark to be polishing up his golfing skills and teeing up at different golf courses along the way. With so much to do, the pair are happily planning their next adventure. In particular, Julie says she's keen to explore the Alexandra and Cromwell regions, including the Catlins. The Dunstan Bike Trail is high on their priority list too.
Other places flagged for future adventures are the west coast of the North and South Islands. Mark says although he's lived in many places in the south Island – Dunedin, Hokitika, Blenheim and Christchurch – he's never had the chance to explore them properly. Now the world is their oyster, and they intend to get out and enjoy every moment.