While some New Zealand locations can present some challenges for motorhomers, New Plymouth is one that caters for everyone. Catherine Milford takes a trip to one of her favourite destinations to investigate.
I always feel happy when I get close to New Plymouth. The circular ring of Mount Taranaki, which glows burnished orange in summer and stands proud with its snow-covered tip backdropped by azure skies in winter, is like a beacon, directing you to this vibrant city and its breathtaking surroundings.
The legend of Taranaki is perfect for sharing around the campfire. According to Māori myth, when the Earth was young, there were four maintain warriors: Tongariro, Taranaki (Mount Taranaki/Taranaki Maunga), Tauraha, and Pūtauaki (Mount Edgecumbe). They lived at the centre of the North Island, where there was also a beautiful maiden mountain named Pīhanga. Covered in a cloak of deep green forest, she was stunning, and all the mountains were in love with her. Taranaki dared to advance on her, and a mighty battle ensued between Taranaki and Tongariro. The Earth shook and the sky became dark, and at the end of the battle, Pīhanga stood by Tongariro. Wild with grief and jealousy, Taranaki headed west towards the setting sun, gouging out a deep trench. As he slept that night, the Pouakai Ranges trapped Taranaki, and here he rests to this day, looking back and hoping for a day when he might return to avenge his defeat.
Naturally, there are quite a few variations on the legend, but it's a great story to get you feeling the essence and power of this 2518-metre-high mountain that's known to be one of the most symmetrical volcanic cones in the world.
Local delights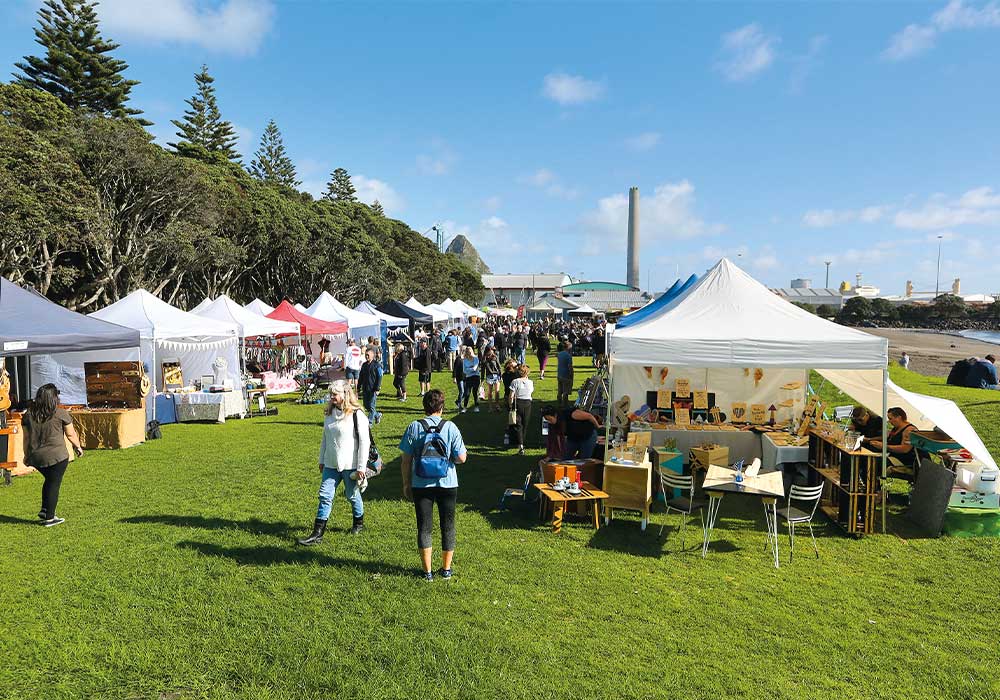 New Plymouth, Taranaki's only city, is a hive of activity; there's always plenty going on. The two markets are a must to top up supplies: on the first Sunday of each month, the Seaside Market is a true smorgasbord of fashion, food, coffee, live music, art, and pretty much anything else you can think of. Allow for at least a couple of hours here; the locals love visitors and are only too happy to help. In the town centre, at Huatoki Plaza in Devon Street West, the Farmers Market is the place to go for fresh local produce and fresh baking. A handy hint: the sourdough and breads are delicious, but they sell out quickly, so aim to get there early; the market runs every Sunday from 9am to 1pm.
New Plymouth is very much an art town, and there are plenty of museums and galleries to enjoy. The Govett-Brewster Art Gallery and Len Lye Centre showcase a huge range of contemporary art exhibitions and interactive installations, while Len Lye's kinetic sculptures and film works are quite extraordinary.
Walkers are spoiled for choice in Taranaki. The coastal walkway stretches for 12.7km along the New Plymouth coastline and is open to everyone. Make a day of it and stop along the way; the iconic wave wand is a great photo opportunity, as are the sculptures you'll find along the way.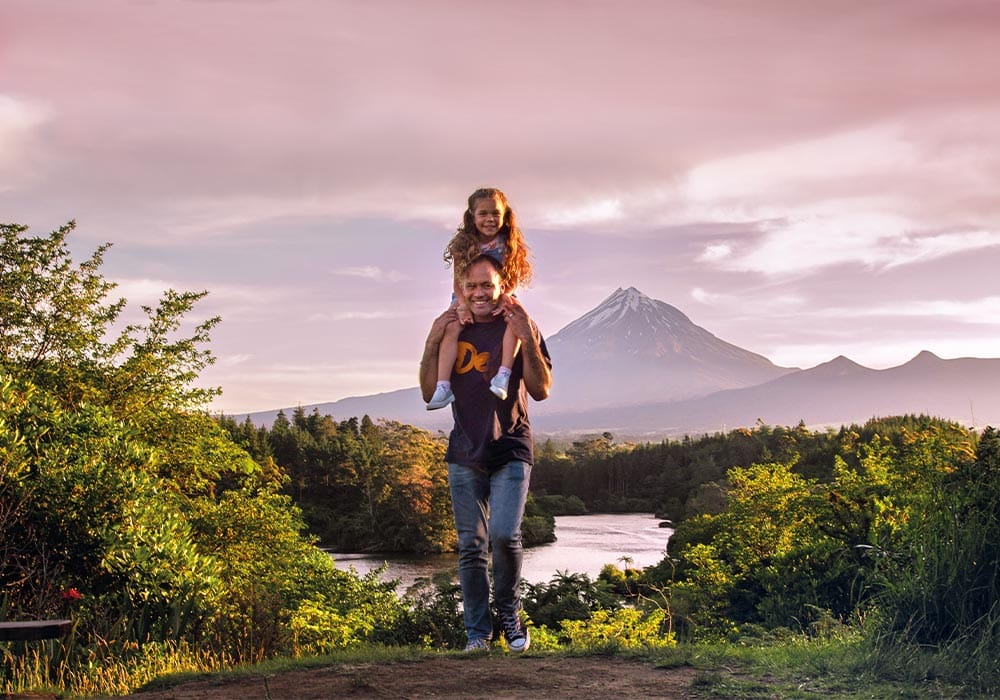 Stop for a coffee in any of the local cafés, however, for a lunch to remember, head to the Liardet Street Projects. Tucked away in central New Plymouth at 21 Liardet Street, this communal courtyard of food trucks and stalls offers some of the best street food in New Zealand (in my opinion anyway). There's truly something for every taste here: award-winning burgers, Vietnamese bahn mi and pho, Indo-Portuguese and Indian fusion, cold-pressed juices and smoothies, Texan BBQ, and more. Having been here more times than I should admit, my recommendation is the poke bowls from Kahakai. Healthy and delicious, this bowl of sushi rice and spinach comes heaped with fresh veggies and sauces, with Hawaiian-style marinated cut fish.
When you're ready to head out for a magical mystery walk, it's hard to beat the Goblin Forest Kapuni Loop Track in Egmont National Park. Keep your eyes peeled for faeries and sprites as you wander through this dense forest filled with moss-covered trees and sunlight highlighting mysterious shapes in the trees. With stunning views of Dawson Falls, this is a photography enthusiast's dream walk.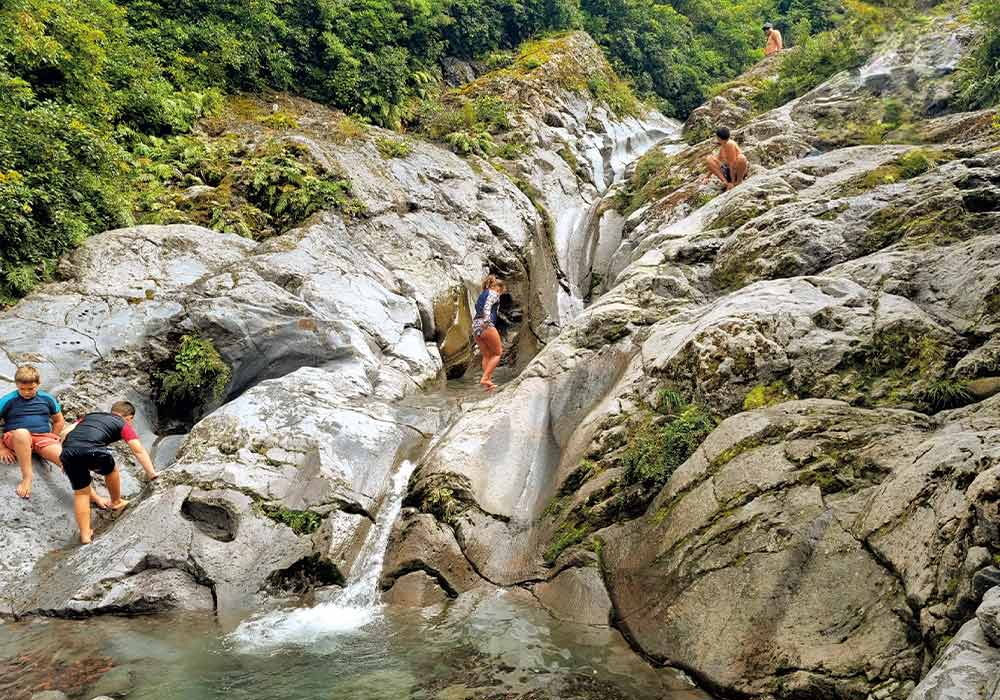 If you're brave enough to take a plunge into the icy water, take the Wilkies Pools Loop Track. Starting at the car park 100 metres above the Dawson Falls Visitor Centre, the track takes you around a series of natural pools that have been formed by the water-borne sand and gravel on 20,000-year-old lava. Head off the path and further up the mountain for some truly breathtaking views (if the freezing water of Wilkie's Pools hasn't already taken your breath away – which it will!).
Lake Mangamahoe is a must-do for walkers and cyclists. Take a journey through the production forest to some impressive lookouts and mature ornamental tree plantings mixed with pockets of regenerated native bush. Located 10 minutes drive south of New Plymouth on SH3, the six-kilometre lake circuit is beautiful; just watch out for the odd slippery and steep sections.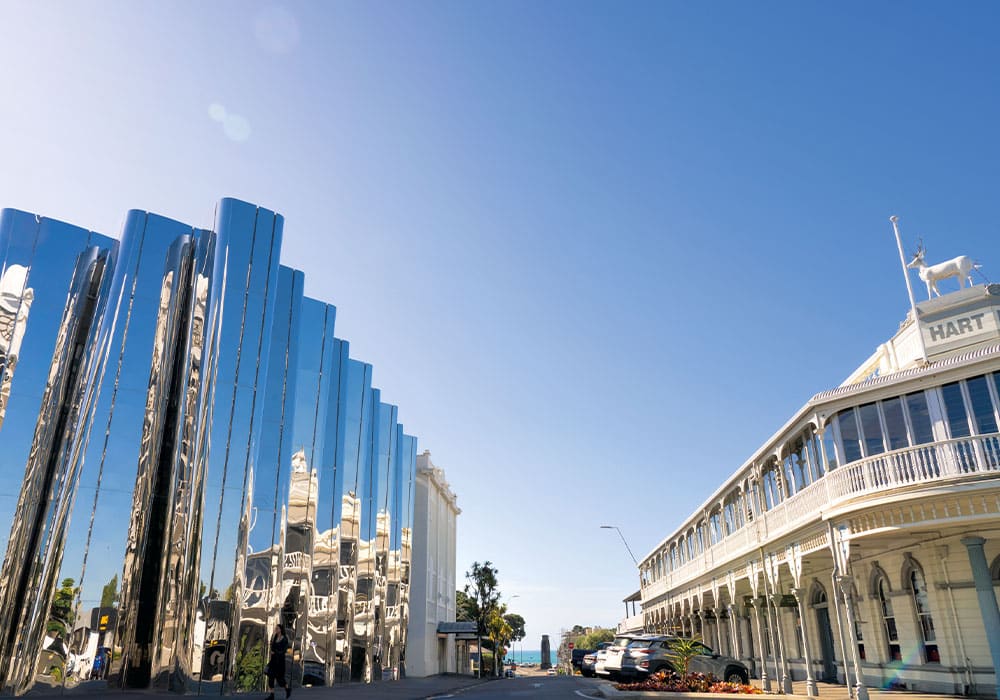 Food and drink lovers can easily fill their days tasting, experimenting and enjoying. Juno Gin is a must-visit distillery; take a tour and test your mixology skills by learning to make a cocktail in their cocktail classes. Grab a bite to eat and try a range of beers from Taranaki craft brewers Shining Peak Brewery (their 2021 vintage stout is wonderful after a long walk on a cold day). Local boutique urban winery Known Unknown will fascinate wine lovers with their natural wines.
Further afield, in Oākura, enjoy a sunset pizza at Black Sands Pizzeria and Bistro, or gorgeous Italian pasta at Toret Cucina. Head to boutique eatery Fork and Knife on Devon Street West for dishes based on seasonal fare. Meat lovers can make a night of it at Social Kitchen, where you'll find a feast of decadent meals. Situated in the former Salvation Army Citadel, this destination restaurant serves succulent dishes made to share. While the meat dishes are superb, the blue cheese gnocchi is this restaurant's best-kept secret. Trust me: if you're there, order it.
Where to stay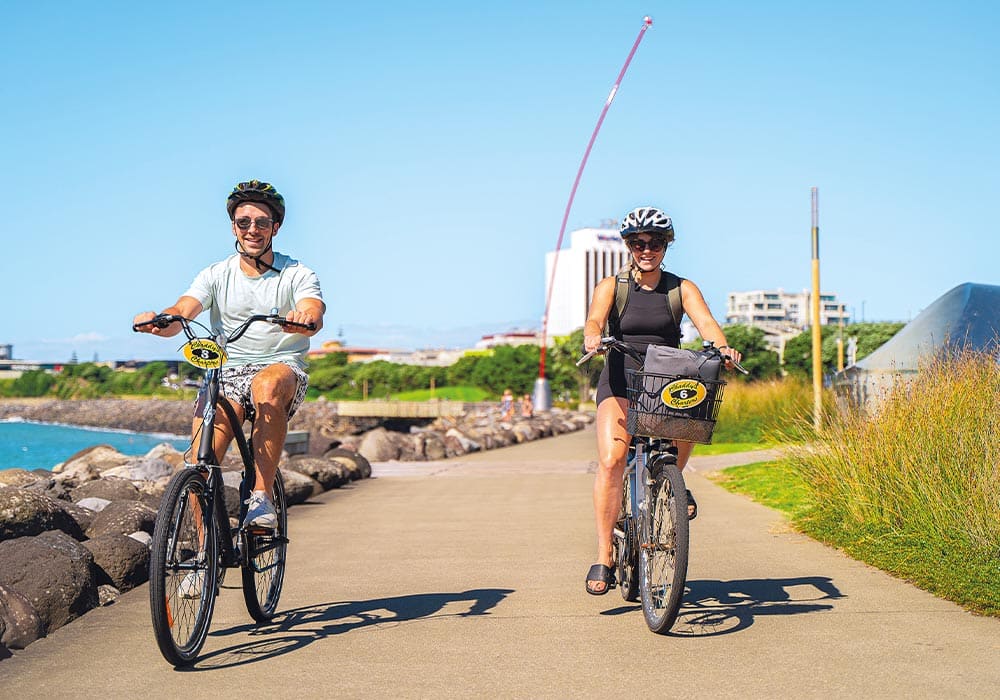 Staying close to the city is easy in New Plymouth, with several holiday parks and campgrounds well situated for exploring. Fitzroy Beach Holiday Park is situated right on the front at Fitzroy Beach, a wonderful west coast surfing and swimming beach. With a kids' playground and swimming pool, as well as direct access to New Plymouth's 10km coastal walkway, it's excellent for families wanting to explore and keep the children entertained.
For great sea views and an easy walk into the city centre, Belt Road Seaside Holiday Park is a great option. First created in 1903, this iconic spot is well worth a visit. Motorhome visitors can choose from an absolute clifftop front – fabulous for gazing out to sea and the nearby harbour, but you might want a cardi on hand to protect yourself from those westerly winds – or the more protected sites down the hill. With deluxe outdoor baths, easy access to the harbour and the coastal walk as well as town, this is a good option for explorers who want a central home base. beltroad.co.nz.
A 15-minute drive from New Plymouth, Oakura Beach Holiday Park offers beachfront holiday campsites and is close to many walks and attractions. There's plenty for kids, with a skate park and playground, Brooklands Zoo, and Pukekura Park nearby. Oakurabeach.com.
Local special events
Making music: Take a step back into the glory days of music with The Sweet Caroline Tour: A Tribute to Neil Diamond on 17 November at the TSB Showplace. Sing along to classics such as Sweet Caroline, Cracklin' Rose, Forever in Blue Jeans, and more, with Australian musician and entertainer Zac Coombs. Visit ticketek.co.nz to book.
Rock on: Head along to the Bowl of Brooklands on 29 December for the inaugural Rock the Bowl Festival, featuring a stellar line-up of bands, including Kiwi legends Shapeshifter, Ladyhawke, and Californian ska-punk band Sublime with Rome. Visit taranaki.co.nz for more info.
Fancy a laugh? Enjoy the comedic musical talents of British funnyman Bill Bailey on his Thoughtifier tour at the TBS Showplace on 16 November. Well known for his long hair and beard, the funnyman is returning to New Zealand after a sellout tour in 2021. Visit taranaki.co.nz for more.
Get inked: If you're in the market for some new ink, head to the 11th NZ Tattoo and Art Festival, on 25 and 26 November. It's the Southern Hemisphere's premier tattoo event, featuring more than 250 of the world's best artists. Visit nztattooart.com for more.
For information on walks and more to do in Taranaki, visit taranaki.co.nz.