If there's ever a good reason to take to the roads and explore New Zealand, it's the opportunity to enjoy and capture the delights of spring season. We've put together a selection of some of the most visually stunning places to visit to immerse yourself in the delights of spectacular blooms and vistas.
Lupins, Mackenzie Country
The vibrant and stunning landscape of lupins is the perfect excuse to visit Mackenzie Country, particularly between now and February. Some of the best places to find fields of lupins are Lake Tekapo, Lake Wanaka, and the Crown Range Road between Wanaka and Queenstown. The beauty of this towering plant, which tourists flock to be photographed, is also slightly misleading, as wild Russell lupins are commonly regarded as an invasive pest plant in the South Island.
Aston Norwood Gardens, Upper Hutt
Cherry blossoms are a short and sweet spring treat but well worth making the effort to experience. This spectacular 14-acre botanical garden boasts 300 cherry blossom trees – the most you'll find in one place in New Zealand. If you're adding this destination to your calendar, consider the Blossom Valley After Dark event (it ends soon however, on 8 October), where the entire natural canopy is lit up at night for a truly unique experience. And if your planned trip doesn't coincide with these dates, the gardens are well worth a visit year-round.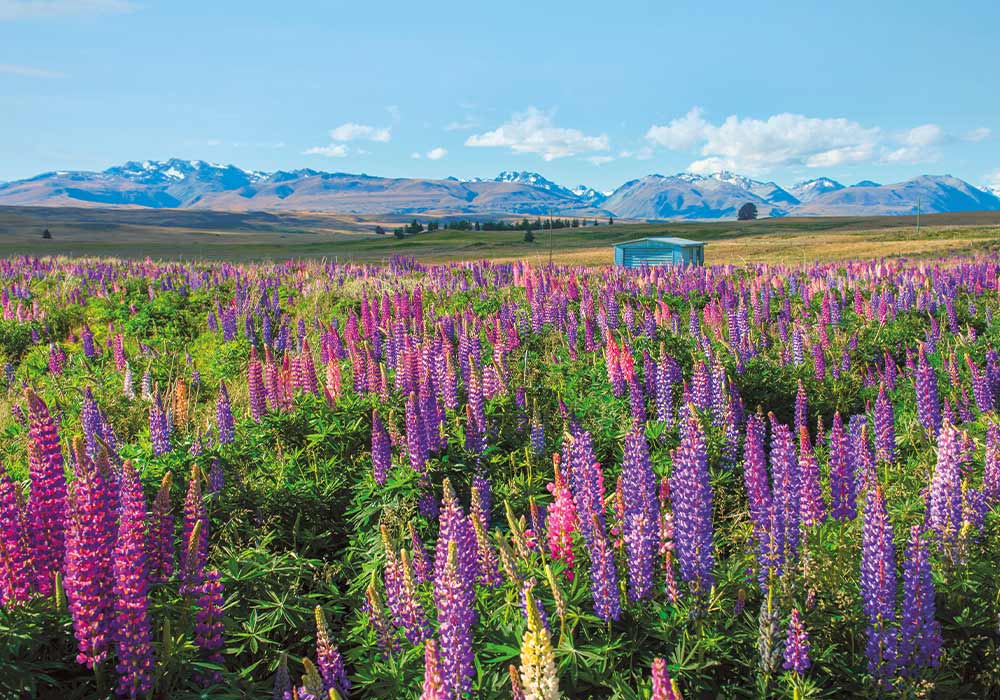 Cornwall Park, Auckland
Rich in heritage and meaning, Cornwall Park is the legacy of Sir John Logan Campbell whose wish was that the park be free for every New Zealander to enjoy, forever. The 172-hectare park is a lush landscape of ecology, wildlife, and mauri. Each September and October, the cherry blossoms burst into colour both along Pūriri Drive and Pōhutukawa Drive. The ideal way to enjoy these beauties is to take a stroll through the trees for maximum impact. Vehicle access for motorhomes and caravans to Cornwall Park itself is limited, so parking is recommended on Puriri Drive.
Hagley Park and Gardens, Christchurch
Enjoy the candy floss hues as Hagley Park celebrates blossom season in style. Like many places in New Zealand, cherry blossoms can appear and be gone in a matter of weeks depending on the weather. Trees are scattered about Hagley Park and Christchurch Botanic Gardens, so take a stroll through the grounds for a journey of discovery. If you miss the spectacle of the cherry blossoms, there are plenty of other spring blooms to rival the pink show. Check the online events calendar before you go, as there's an impressive line-up of events you may wish to incorporate.
Victoria Esplanade Gardens, Palmerston North
A springtime display that attracts visitors (and birds and bees) in droves, the prunus awanui cherry trees were specially planted and chosen for their tolerance of Palmerston North weather (and they tend to hang on tightly to their blossoms longer than most). The showing of 100 trees is remarkable and hugely popular. There's also 26 hectares of formal gardens, bush walks, and bike tracks to enjoy, as well as a 2.2km miniature railway (perfect for families or grandparents looking for school holiday activities).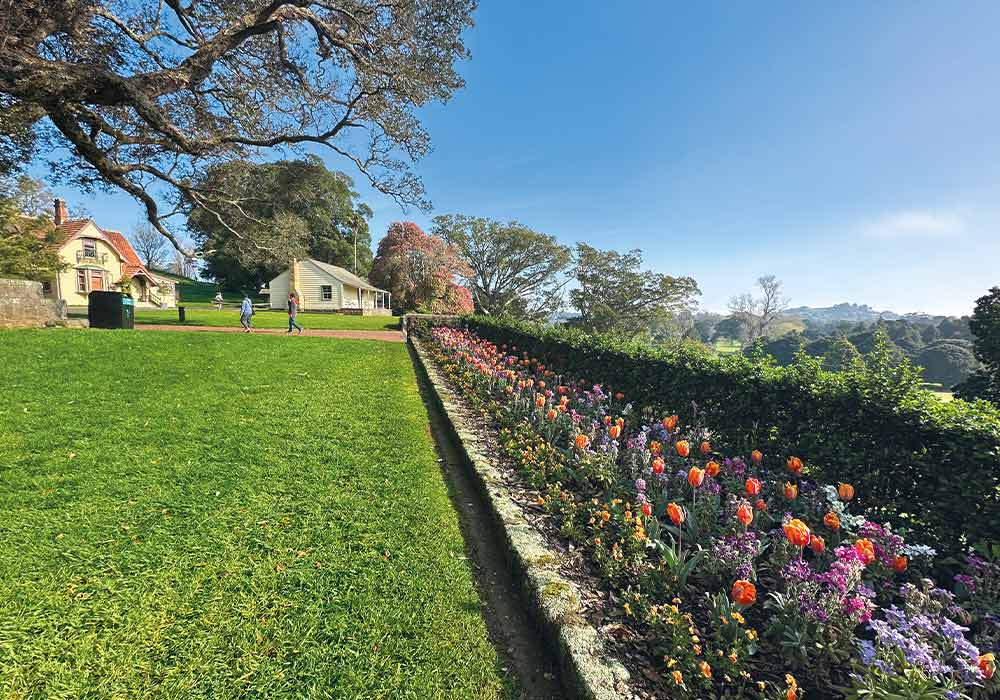 Cherry Walk, Dunedin Botanic Garden
Rhododendrons vie with cherry trees for attention at Dunedin Botanic Garden. However, the small but perfectly formed grove of cherry trees in the Rhododendron Dell offers a dramatic surprise for visitors (it's peak flowering time right now). The Dunedin Botanic Garden is one of New Zealand's first botanic gardens and holds the prestigious status of a six-star Garden of International Significance. Make sure you also include the Azalea Garden, which bursts into colour at this time of year. Parking is recommended at Lovelock Avenue public car park.
Eden Garden, Auckland
Boasting more than 10,000 spring bulbs, Eden Garden is a uniquely peaceful sanctuary of five-and-a-half acres of garden. Something of a lesser-known hidden gem to the region, as well as the glorious show of colour, this environmentally conscious setting has an active butterfly breeding programme and its own breeding house for native butterflies. Take time to chat with the friendly team there, too, and find out more about the use of eco-friendly methods to control weeds and encourage a thriving biodiversity to encourage native fauna, geckos, wetas, and insects. Take note of the fact Eden Garden is closed on a Monday.
Hamilton Gardens, Hamilton
Renowned for its splendour year-round, Hamilton Gardens is particularly enchanting in spring. Start off in Rogers Rose Gardens for a burst of floral scent and continue around to the Victorian Flower Garden glasshouses for a show of colourful blooms. Set on the banks of the Waikato River, these gardens are some of the most stunning New Zealand has to offer, featuring carefully curated gardens across Fantasy (Tudor, Mansfield, Chinoiserie), Paradise (Italian Renaissance, Indian Char Bagh, Modernist), and Productive (Ancient Egyptian, Herb, Sustainable). Allow a day (or even two) to explore.