WIN!
We have three copies each of Tess Gerritsen's Listen To Me, White Noise by Mercedes Mercier and World Cocktail Adventures by the The Whiskey Ginger to give away. To be in to win, email [email protected] or send us a message on Facebook.com/mcdmagazine, letting us know which book you'd like. We'll draw the winners on August 20, 2022.
Better The Blood
Michael Bennett
Simon & Schuster
RRP $32.99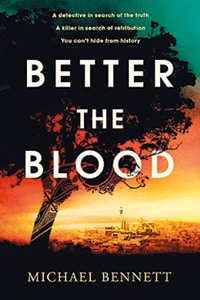 A detective in search of the truth, Hana Westerman is a tenacious Māori detective juggling single motherhood with the pressures of her career in Auckland's Central Investigation Branch. A mysterious video leads her to a crime scene, where she discovers a man hanging in a secret room. As Hana and her team search for the killer, more deaths lead her to wonder whether in fact they are searching for New Zealand's first serial killer. The clues are few, the murders seemingly unrelated. What Hana eventually finds, however, is the link to an historic crime that dates back to the brutal and bloody colonisation of New Zealand. And then the pursuit becomes personal. As the murders continue, Hana realises that the key to finding the killer is her own heritage and knowledge, as it emerges that part of the killer's agenda of revenge may include Hana herself and her family. This page-turner is a great Kiwi read that gives a fresh perspective on our identity in today's modern multicultural society.
The Missing Cryptoqueen
Jamie Bartlett
Penguin Random House
RRP $40.00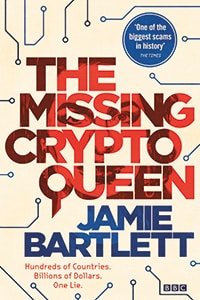 In 2016, a brilliant Oxford graduate called Dr Ruja Ignatova stood on the stage at Wembley Arena and promised a financial revolution. The future, she said, belonged to cryptocurrencies like Bitcoin – and the self-styled cryptoqueen vowed she had invented the Bitcoin Killer. She launched OneCoin, a new cryptocurrency that, Ignatova said, would earn investors untold fortunes. OneCoin swept the globe, becoming one of the fastest companies to make $1 billion. By March 2017, billions of dollars had been invested in 175 countries around the world. But by October that year, Ignatova had disappeared, and it slowly became clear that her revolutionary cryptocurrency was not all it seemed. In this gripping true crime, Jamie Bartlett enters the murky world of little-regulated cryptocurrencies and multilevel marketing schemes. This is a very modern tale of intrigue and technohype that allowed OneCoin to become a million-person pyramid scheme. In short, it's the story of the smartest and biggest scam of the 21st century, and the genius behind it – who is still on the run to this day.
Listen To Me
Tess Gerritse
Penguin Random House
RRP $37.00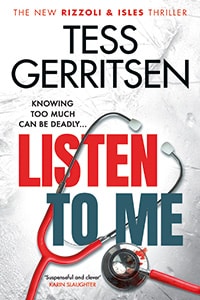 Much-loved crime-busting duo Rizzoli & Isles returns in this nailbiter of a thriller from bestselling author and professional physician Tess Gerritsen. The murder of Sofia Suarez is both gruesome and seemingly senseless. Why would anyone target a respected, well- liked nurse with a seemingly normal life? As Detective Jane Rizzoli and forensic pathologist Maura Isles investigate, they discover Sofia was guarding a dangerous secret – one that may have led the killer straight to her door. Meanwhile, Jane's mum Angela Rizzoli is conducting an investigation of her own. She may be a grandmother, not a detective, but she knows there's something strange going on with her new neighbours across the street. The problem is, no-one believes her. So immersed is she in looking for Sofia's killer, her own daughter and her partner aren't paying attention, so Angela is forced to take action on her own… Suspenseful, gruesome and hair- raising, this is superb crime-writing at its best.
White Noise
Mercedes Mercier
HarperCollins
RRP $35.00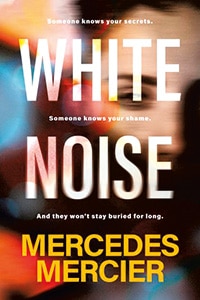 When prison psychologist Dr Laura Fleming is assigned charismatic inmate Justin Jones to assess for parole, alarm bells ring. Working with some of the state's most damaged criminals, she knows Jones is too dangerous to be released. But he's got everyone fooled; how does she prove it? Laura's not taking any chances, and as she races to find evidence of what she believes before the parole hearing, she digs deeper into his past, and is truly shocked by what she finds. As she gets closer to the truth, Laura falls victim to a series of increasingly personal attacks that threaten to unhinge everything – including her sanity. Author Mercedes Mercier knows a lot about the criminal justice system – she works in the world of prisons, crime and offenders herself. After a personal brush with death, Mercedes decided life was for living, and lived overseas. She became a black belt in karate, went skydiving and volunteered with animals – and wrote White Noise, her first novel.
World Cocktail Adventures
Loni Carr & Brett Gramse
Hardie Grant Publicity
RRP $32.99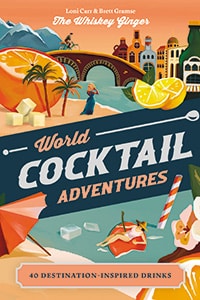 For every destination, there is a drink, according to this gorgeous virtual cocktail tour in book form by creative duo Loni Carr and Brett Gramse of Montana-based design brand The Whiskey Ginger. Whether you're looking to improve your mixology skills, learn more about far-flung locations around the world or you're simply looking for a cool cocktail book with pretty pictures, World Cocktail Adventures is a book that'll take you away, no matter where you are. This drinks adventure takes the reader around the world through cocktails: Fire and Ice from Reykjavik in Iceland; the ouzo-based Poseidon's Cup from Santorini in Greece; a London dry gin Hooligan cocktail from London… for every location, there's a recipe to match. There's even a kiwifruit-based cocktail called The Kiwi Daredevil to represent our very own Queenstown. As the authors say… this book is meant to be used. Write in it, spill a drink on it, pass it around. Like a good cocktail, it's meant to be enjoyed.
Read more book reviews here: