Getting youngsters unplugged from technology can be something of a challenge. Tāupo-based Dad Chris Bain fully embraces swapping screen time for exploring the bush, trails, and cycle tracks of New Zealand with his sons Hunter and Axle whenever possible. Their most recent adventure was a quick day trip to Tūrangi with bicycles in tow.
The morning started a little later than intended, rolling out the door at 8am into a clear but fresh day. The short one-hour drive from our home just north of Taupō to Tūrangi is an easy one, and my boys Hunter and Axle probed me with endless questions about what the day's ride might bring, apparently forgetting that I, too, had never experienced the Tongariro River Trail.
We parked on the northern side of the bridge that crosses the Tongariro River and carefully crossed the road to where the trail begins. The boys, having opted to bring their racing BMX bikes, which are better suited to a pump track than a trail, hopped off and pushed their lightweight single-geared bikes to the top of the lookout. I slowly made my way up clicking down through the gears on my mountain bike and offering a hand to Axle, my youngest.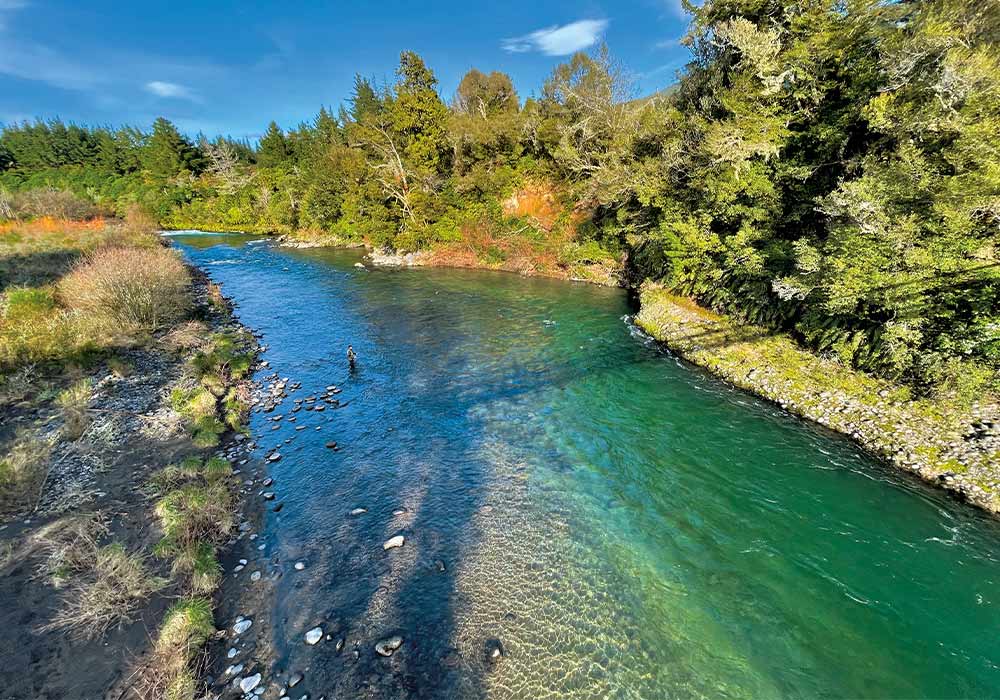 The sight from the top is quintessentially New Zealand. Before us, the Tongariro River meandered gracefully with steam lifting from it as it bubbled over smooth river rock, and along its length, anglers majestically presented tiny offerings to big fat Kiwi trout. It's well worth a few minutes to take it in.
Mounting our bikes again, the first several kilometres winds its way gently downhill – an easy ride offering time to help coach Axle to apply the brake well before the sharp hairpin corners. The track is wide and easy to follow, and despite recent rain, it stayed easy to navigate even with the BMX bikes' skinny tyres. Not long into the ride, the semi-open scrub country changes to native foliage and the trail generally feels more like a bush setting, riding through decaying leaves and passing ferns.
Roughly 20 minutes into the ride the boys spot the big swing bridge we saw on YouTube during our research. Riding out on the swing bridge for a photo opportunity gave them a little boost and they were keen to find out what was next.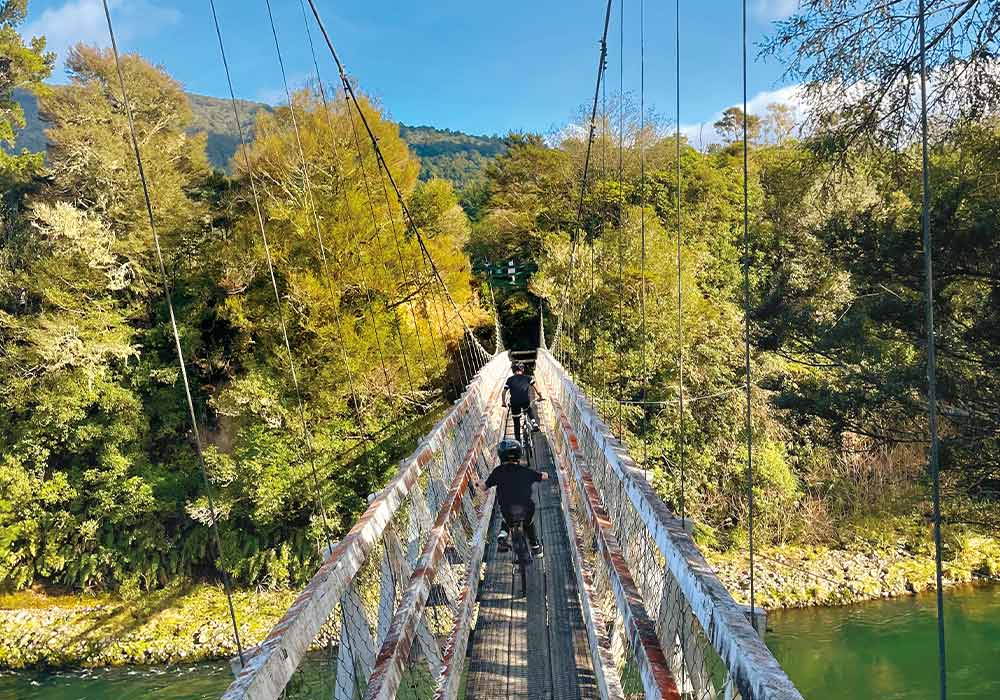 Continuing on, we ride over a small bridge crossing a nice bubbling creek and then start to gain a little elevation, all manageable with no steep climbs and only the odd dismount needed.
The natives give way to some more open farmland giving the opportunity to say hi to a few cows and catch our breath, and then back under the canopy enjoying views down to the river as we cover more kilometres at a relaxing pace.
The halfway point is the real fun bit – this is where you cross the river over a rather long suspension bridge. To all the dads out there, I highly recommend adding a little extra bounce to your steps as you walk out for a photo – they'll love it, I swear!
The return ride home to finish off the 13.7km loop is steady. Clear open tracks and even crossing through the car park of the Tongariro National Trout Centre.
The whole way, the track is easy to navigate and clearly marked. It's a low-grade track and is suitable for a family ride with no super steep parts. The start is the hardest and only lasts a few twists to the top of the lookout. I'd say any young ones around six or seven with a decent level of fitness and competency on two wheels will handle this ride and, more importantly, enjoy it. As per any outing with children longer than 10 minutes, pack plenty of snacks and water.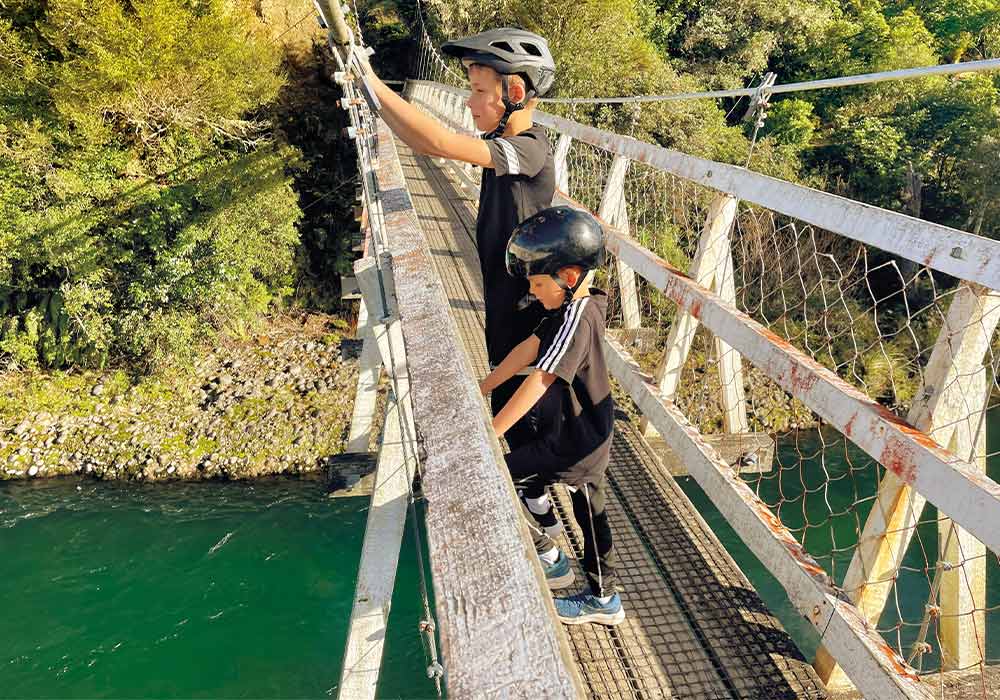 All in all, this was a great little adventure and we managed to stretch it out to two hours at our leisurely pace. It's certainly enough to get the blood pumping and enough to ensure an afternoon at home full of exaggerated complaints about how sore their legs and rear ends are.
It's not only an opportunity to get youngsters away from the many lures of technology but is also valuable one-on-one time spent exploring, yarning, sharing new experiences, and, most importantly, making lifelong memories.