Wine and food lovers are in for a treat this spring. Take a cycle route between wineries, stay overnight for free at the area's newest food and wine festival, or simply stay and play at this picturesque province on the North Island's east coast. Catherine Milford takes a deep dive into this region and its road to recovery from flood damage.
Hawke's Bay has long been famous for its dramatic craggy slopes, beautiful beaches, and food and wine offerings. In February, the area took a huge hit from Cyclone Gabrielle, with huge swathes of land devastated and a huge area buried in a mass of mud and debris. However, despite the challenges, Hawke's Bay is once again open to visitors, and there's plenty to see, do, and try while you're there.
Hop through the vineyards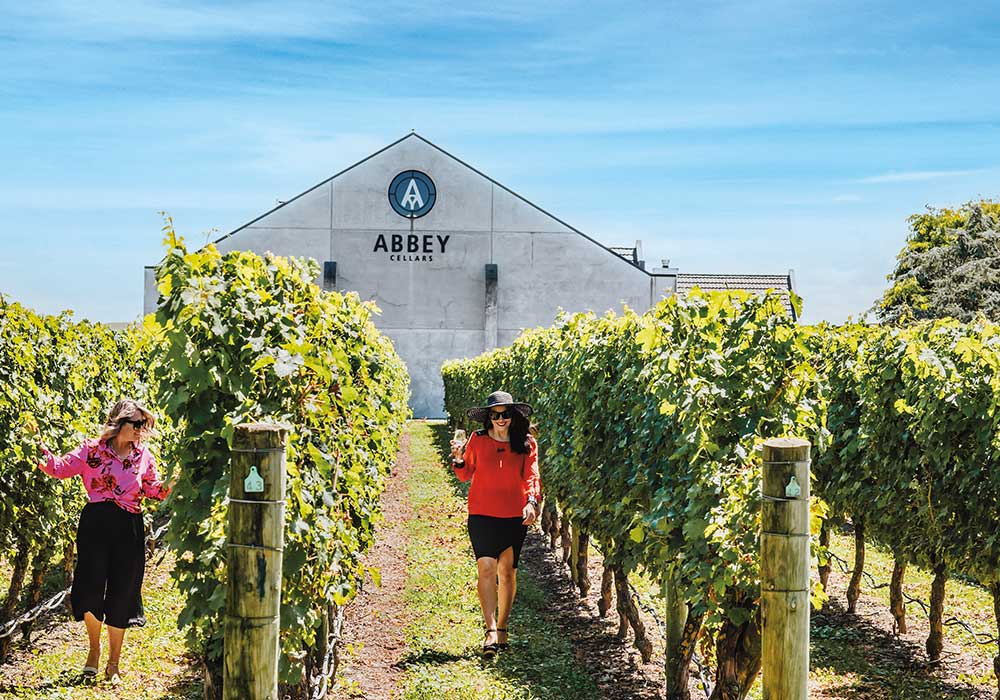 Hawke's Bay has always been known as a great wine destination, and in May, it was given the prestigious honour of being named one of the 12 Great Wine Capitals Of The World. Other international wine regions in the list include Bordeaux (France), Napa Valley (US), Adelaide (Australia), and Bilbao (Spain).
With more than 200 vineyards, 70 wineries, and 30 cellar doors, the hardest decision for wine lovers will be where to start. My suggestion: take the beautiful bike ride between the vineyards of Napier city. This route will take you through a number of household-name wineries, including Mission Estate, Church Road, Crab Farm, and Urban Winery. For a cycle with a sea view, take the Te Awanga coastline route. Enjoy lunch at Clearview Estate, wine tasting at Te Awanga Estate, and relax while you take in the stunning vista at Elephant Hill.
Take in a festival
If you're in the area on 25 November, you're in luck. Harvest Hawke's Bay is a new festival featuring 16 local wineries and nine restaurants, set on the banks of the Tukituki River, with a dedicated area for free motorhome parking. Favourite local wineries, including Tony Bish Wines, Te Mata Estate, Te Awanga, Linden Estate, and Craggy Range, will showcase their wines, with food matching options from local eateries, including Cone & Flower, Black Barn Bistro, Black Betty BBQ, Delicioso, and Hunger Monger.
"This inaugural festival is happening at the perfect time. With summer just around the corner, everyone is in the mood to celebrate and enjoy some gorgeous Hawke's Bay fare in a beautiful tree-covered riverside setting," says Liz Pollock, event manager at Harvest Hawke's Bay.
"Motorhomers can park in an olive grove and walk across the paddock to the festival. What could be easier?"
The festival holds a maximum of 2200 visitors, so it pays to book (see information box on p47).
Scale the peak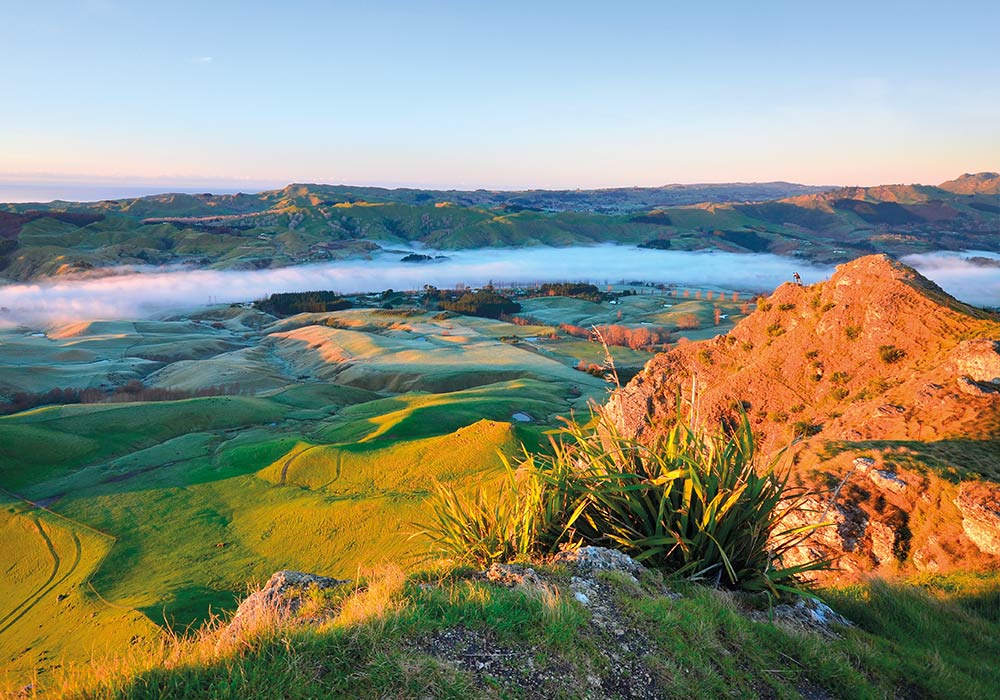 A Hawke's Bay must-do is to scale The Sleeping Giant: Te Mata Peak. The Te Mata Park is associated with Te Rehunga of Ngāti Ngarengare, and the area is rich in history with the upper sections being of strong cultural importance to Māori. As different tribes, or hapu, see Te Mata from different angles, they each have a different story to tell.
According to one legend, Te Mata Peak portrays the prostrate body of the Waimarama chief Te Mata, who died proving his love to Hinerakau, the daughter of a Pakipaki chief. At sunset, in the mists, which stretch from the crown of Kahurānaki, you can sometimes see the beautiful blue cloak with which the grieving Hinerakau covered her husband's body before leaping to her own death from the precipice on the Waimarama side of the peak.
Once inside the park, there are seven colour-coded walking tracks that each explore different areas of the park. Enter the park through the main gate's car park or Tauroa Road car park. The easiest is the Pīwakawaka Loop (Green) – a gentle 1.3km walk through gum trees and native bush and listen out for the friendly calls from the pīwakawaka (fantails).
For more advanced walkers, the Rongokako (Blue) trail is a 5.5km track that goes to the top of the peak, passing through the 223 giant California redwood trees, which were planted in 2019 – some
of which are now over 40 metres tall.
At 339 metres at the summit, Te Mata Peak is a 'hog's back' ridge that drops steeply to the east. You'll be rewarded with spectacular views of the Tukituki River, massive rock cliffs, and outcrops branded with marine shell fossils.
Meet the gannets at sunrise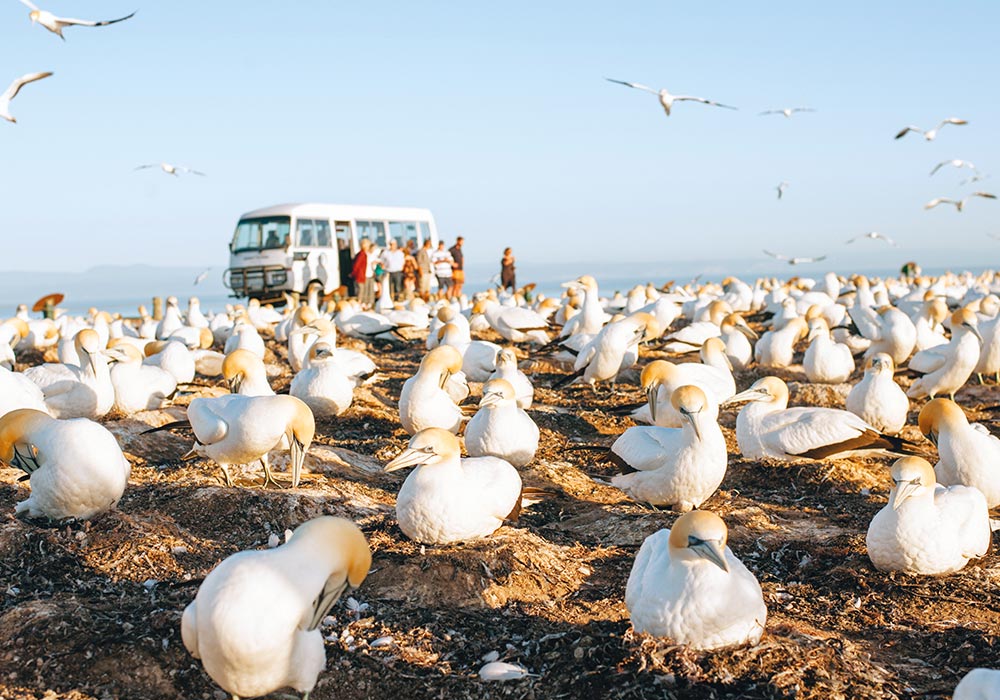 The East Cape and Hawke's Bay coast are the first places in the world to see the sun rise out of the ocean. This tour takes you on a 4×4 to Cape Kidnappers, at the easternmost headland of Hawke's Bay, where you'll find the largest accessible gannet colony in the world. With their distinctive eye markings and golden heads, these birds and their chicks are a delightful sight as they preen themselves and perform their courtship dances.
Try a tongue-twister
While you're here (and probably before you try any of the delicious wine), take a photo of yourself at Taumatawhakatangihangakoauauotamateaturipukakapikimaungahoronukupokauwhenuakitanatahuon Wimbledon Road in Pōrangahau, in central Hawke's Bay. Before you say 'what now?' this place holds the official title of having the world's longest place names. It means 'The hilltop where Tamatea with big knees, conqueror of mountains, eater of land, traveller over land and sea, played his koauau to his beloved'. Now you know and may need to practice saying it a few times before perfecting the entirety of the name.
Stock up the camper at the farmer's market
Anyone who's been to Hawke's Bay Farmer's Market will attest that this is easily one of the best farmer's markets in New Zealand. Situated on Kenilworth Road in Hastings, this is the best place to stock up on fresh fruit and vegetables, meat, bread, eggs, pickles, honey, and more. Bring bags and cash, as there are plenty of seasonal delights to choose from. Stock up with seasonal asparagus and garlic, fresh pasta, cheese, and wine – there are even treats for the pooch.
Hit the cycle trails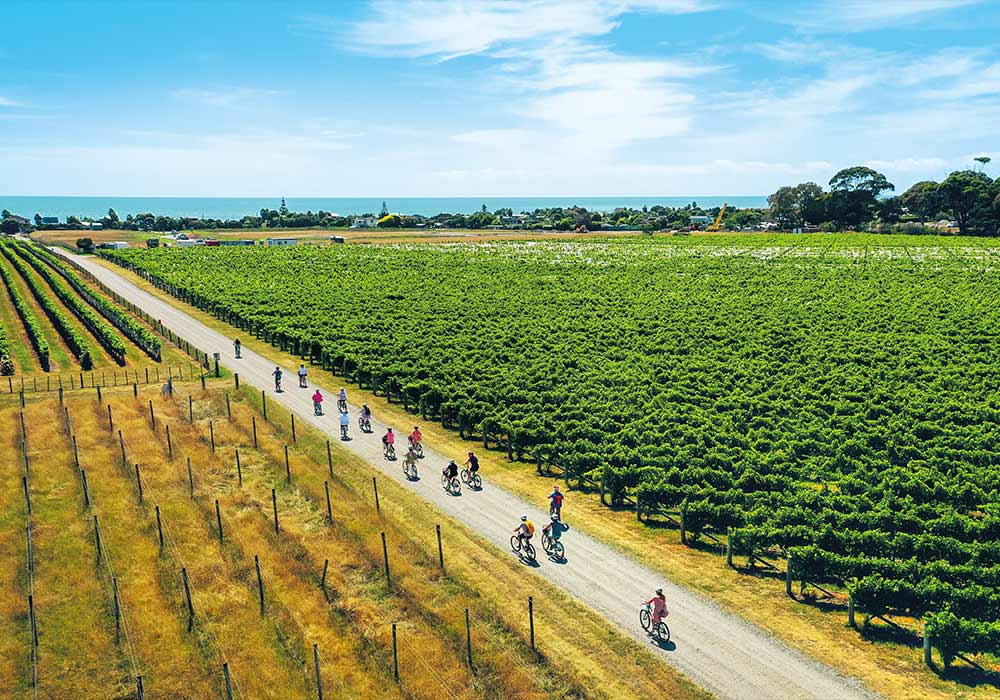 With 200km of flat, easy-ride cycle trails that meander throughout the region, Hawke's Bay is a fabulous place if you want to park up the camper and get around by bike. With gorgeous scenery, fascinating historical sites, a number of places to stop en route, and an abundance of food and drink to keep you energised, you can easily spend a couple of days or a couple of weeks exploring the region on two wheels. Some of the trails were damaged in February's cyclone and remain temporarily closed. Book an arranged tour or set off on your own adventure, take your own bikes or hire them, cycle to one of the wineries and get a shuttle back for you and your bike – however you want to enjoy your holiday on two wheels, there are plenty of options.
Wine and dine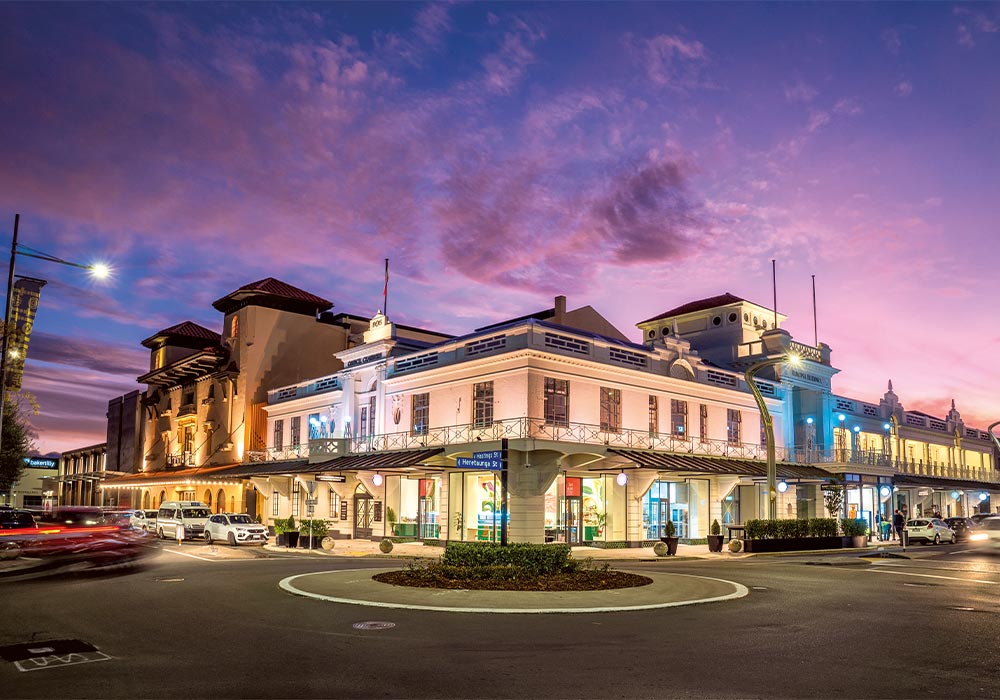 With such fabulous wine in the region, it goes without saying that there are some pretty amazing food destinations too. Dine under the vines at Black Barn Bistro, a few minutes' drive from Havelock North, which has developed a reputation for delicious food and wine in its Tuscan-style bistro.
For a beer and a tasty burger, Brave Brewing, at the Tribune Precinct in the Hastings CBD is a small, award-winning brewery that does a mean Nashville spicy chicken burger; their Beef Birria Loaded Fries with sour cream, jalapeño, and coriander is essential as a side order.
If you're a seafood lover but can't make it to the Harvest Hawke's Bay festival, make sure you head to Hunger Monger for a top feed. Dishes are seasonal and vary according to the catch of the time. However, the pāua dumplings with nori-yaki sauce, sesame, and spring onion is yum, as is the classic creamy chowder, with big, fleshy chunks of white fish, mussels, smoked fish, and shrimp. On a sunny day, pop by and order takeout fish and chips and munch away as you relax and enjoy the sea view.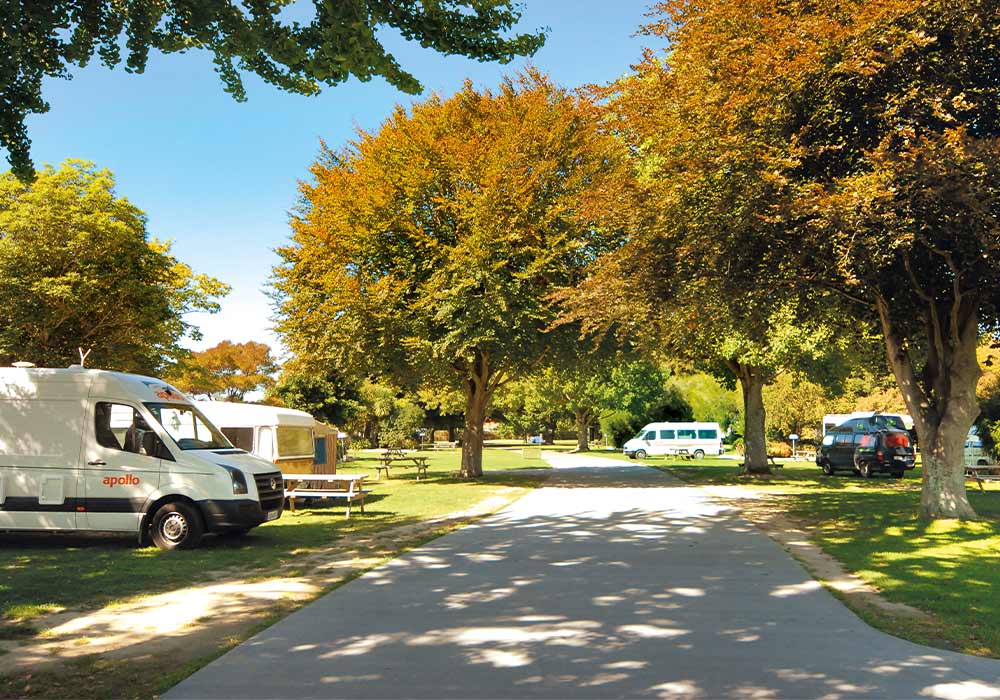 Where to stay
Hastings Top 10 Holiday Park, 610 Windsor Ave, Hastings is set in 10 acres of park-like grounds. It has an outdoor pool, private spa pools, basketball and tennis courts and laundry facilities. hastingstop10.co.nz.
Kennedy Park Resort on Storkey Street in Napier is a family-friendly campsite that'll keep the kids entertained for hours. It has powered and non-powered sites and features a resort-style pool space. kennedypark.co.nz.
Information
For more information and tickets to Harvest Hawke's Bay, visit harvesthawkesbay.com. The motorhome area is free, with optional donations to a local charity as koha. Pets are welcome in the motorhome area, however, they are not permitted at the festival.
For more on the gannet safari tours, visit gannetsafaris.co.nz.
Hawke's Bay Farmers Market is open every Sunday from 8.30am to 12.30pm. Visit hawkesbayfarmersmarket.co.nz for more details.
For information on bike hire and tours, including shuttle services, visit hbtrails.nz.