I knew about the penguins, dolphins, and alpacas — but the rhino? That was unexpected. I quickly learned, though, that Akaroa is full of surprises.
For such a small place (the current resident population is just 624, though holidaymakers come in their thousands), there's a lot to discover and enjoy in Akaroa. Naturally, there's scenery, history, food, and art, but my focus for this visit was on the animals to be found here.
Getting there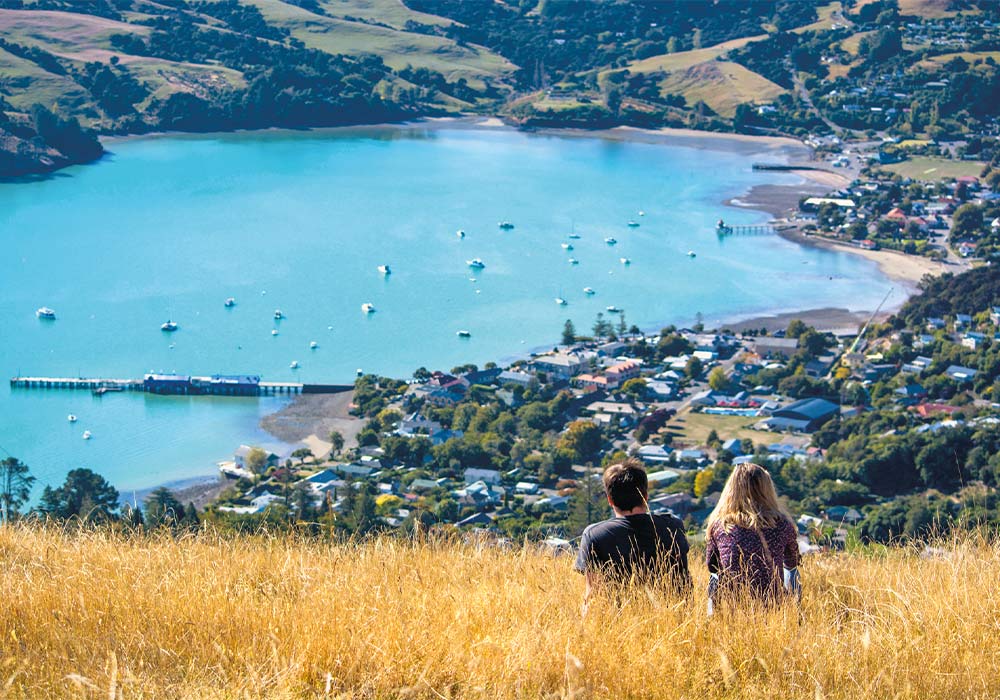 Tucked into its sheltered harbour on the southern side of Banks Peninsula, Akaroa is only about 86km from Christchurch. The drive takes around 90 minutes and, once past Little River, it's hilly and winding. The distractions begin well before that though: there's That Damn Square, a pine plantation making a geometrical statement up on a bare hillside above the road. Then comes Birdlings Flat, an endless stretch of stony beach separating Lake Ellesmere from the pounding Pacific. Among the smoothly tumbled greywacke pebbles are treasures such as snowy quartz, burnished jasper, and even translucent agate.
I found some of these semi-precious gemstones transformed into jewellery in the gallery at Little River, along with plenty of impressive artworks beautifully displayed. Just along the road is another imaginative creation: four-star accommodation inside shiny new corrugated iron grain silo tanks, complete with balconies and decorative bicycles at SiloStay.
After winding up to the top of Akaroa's crater rim, there's an obligatory stop at the Hilltop Tavern for its expansive views down across the harbour to the little town strung out along the distant shore. Just a couple of hundred metres along Summit Road, it's worth taking the short walk into Montgomery Park Scenic Reserve up to the giant totara there: 2000 years old and over eight metres around, it's one massive tree.
A bit further along the track through the forest, there's another wonderful view over the harbour.
Summit Road has an abundance of these views, but it's an even more long and winding route to Akaroa that way, so I turned back to continue along the more direct SH75.
Exploring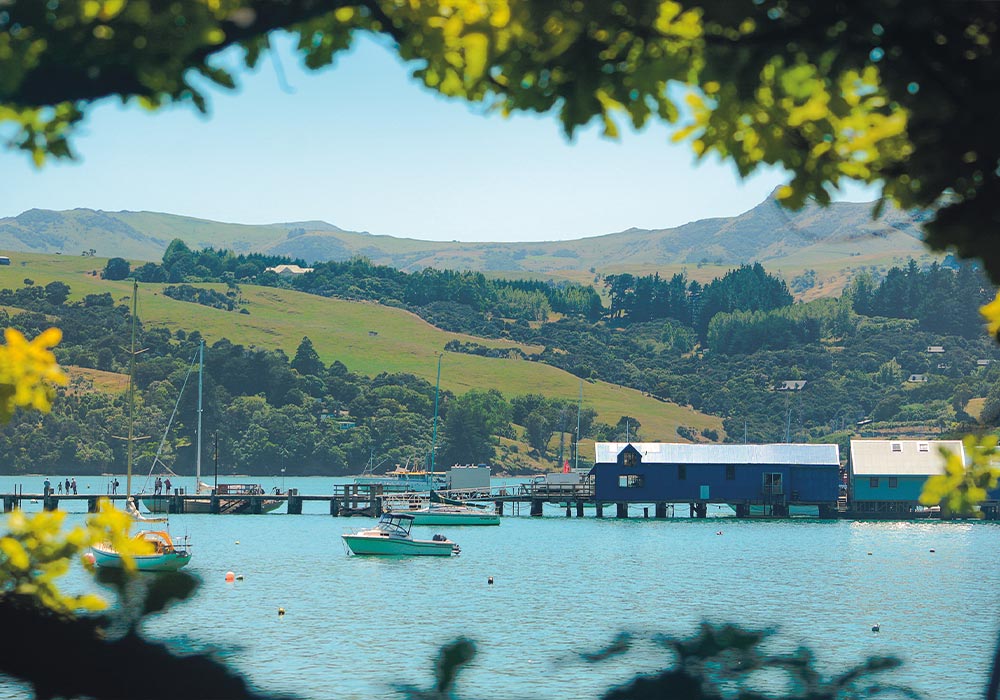 Akaroa is ideal for exploring on foot. Stretched along the waterfront of two bays, most of its attractions are right by the shore. It's well worth nosing up into the narrow streets climbing the hills behind to discover its gorgeous cottages. As I learned in the well-presented museum, the distinctive architecture of these houses owes a great deal to Akaroa's French connections, initiated by Capt. Jean François Langlois in 1838. By the time the first settlers arrived here from France two years later, Aotearoa had been claimed by the British, but they stayed anyway, and today, their descendants, five or six generations along, still live here. Many of the streets have French names and, the Tricolore flying proudly on the waterfront, it's a distinctive difference that Akaroa is keen to promote.
Animal adventures
Penguins: It was pure coincidence that Kevin Parthonnaud, general manager at Pōhatu Penguins, arriving here from Bordeaux to pursue his interest in ecotourism, found himself in a tiny outpost of France. Thirteen years later, he's happy to live in a town where some children are growing up bilingual, and even happier to be part of Pōhatu Penguins.
On a three-hour 4WD tour with him over the hill to Flea Bay, I learned all about Canterbury's white-flippered penguins, their population boosted by 30 years of tireless conservation by founders, Shireen and Francis Helps. Welcomed in the bay by Shireen and four orphaned Valais lambs, impossibly cute with their black knees and faces, we gave them a feed before heading off to inspect three of the more than 200 hand-built nesting boxes scattered over the farm.
Blinking blearily in the sudden sunshine, the little penguins tucked inside were also seriously cute. From a hide nearby, we watched a raft of these kororā lazily socialising in the bay (now, thanks in part to the Helps, a marine reserve) waiting to come ashore at dusk.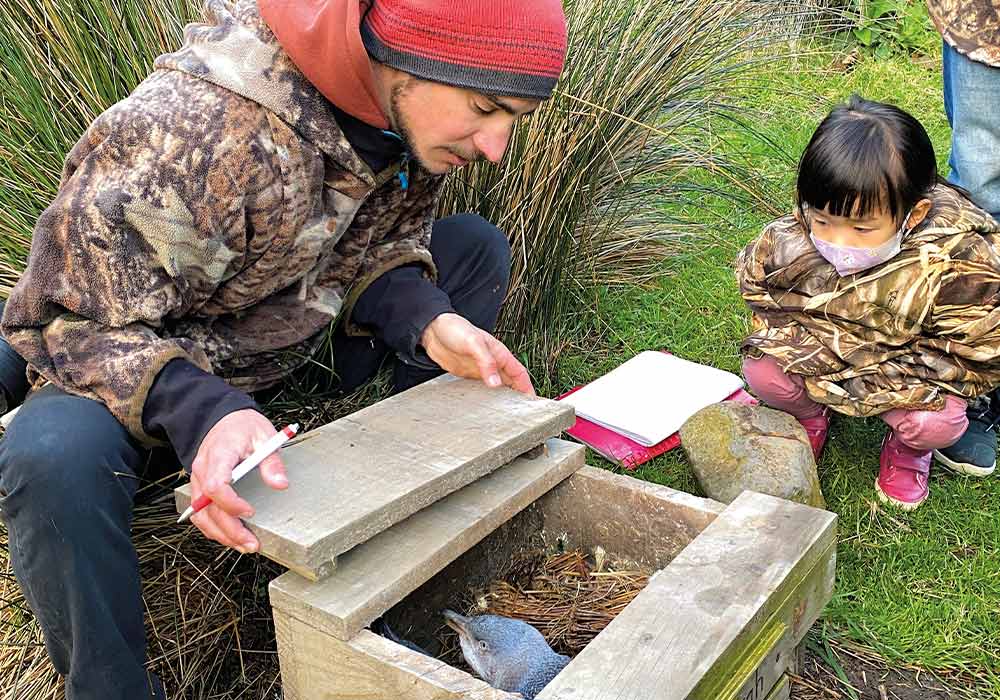 Dolphins: Sailing out the next morning with George Waghorn of Akaroa Dolphins in the spanking new catamaran, we explored more of the marine reserve, seeing a shag colony, fur seals, mussels, and salmon pens and, thanks to cuddly spotter-dog Albie, several pods of Hector's dolphins.
The smallest and rarest of the world's dolphins, these are also – it was becoming a theme – the cutest. With a black Mickey Mouse ear-shaped dorsal fin and white and grey bodies, they stood out well against the turquoise water. The serious photographers onboard soon regretted their long lenses, as the dolphins rode the bow-waves directly below our feet, clearly having fun. So were we, as well as learning more about Akaroa, its occasionally gruesome Māori history at Ōnuku, George's French ancestors, and the spectacular geology all around us.
Alpacas: Across on the other side of the harbour, past the low tide walk to the pā on Ōnawe Peninsula and, more temptingly, Barry's Bay Traditional Cheese factory, is Shamarra Alpaca farm. Big vehicles park at the bottom and a shuttle runs to the top where, behind the shop, there are yet more impossibly cute animals to meet.
In a stable hung with an impressively big curtain of winner's sashes, guide Lydia Shurgers showed me a fleece of super-fine fibre before leading me out on a farm tour to introduce some of the 170-odd alpacas on the property. In early spring, they were as yet unshorn, and their chubby round faces were framed with fluff as they snaffled up the feed from the bowl I held. With names such as Tornado, Odessa, Phoebe, and Duchess, they felt more like pets than farm animals and certainly had oodles of personality.
Alpaca farming is big business, with some of the herd about to depart for Italy, Switzerland, Germany, and France sold for eye-watering sums. In the meantime, though, they were a real delight to hang out with and cuddle, and the jerseys and more in the shop, made from their fleeces, were gloriously soft and snuggly.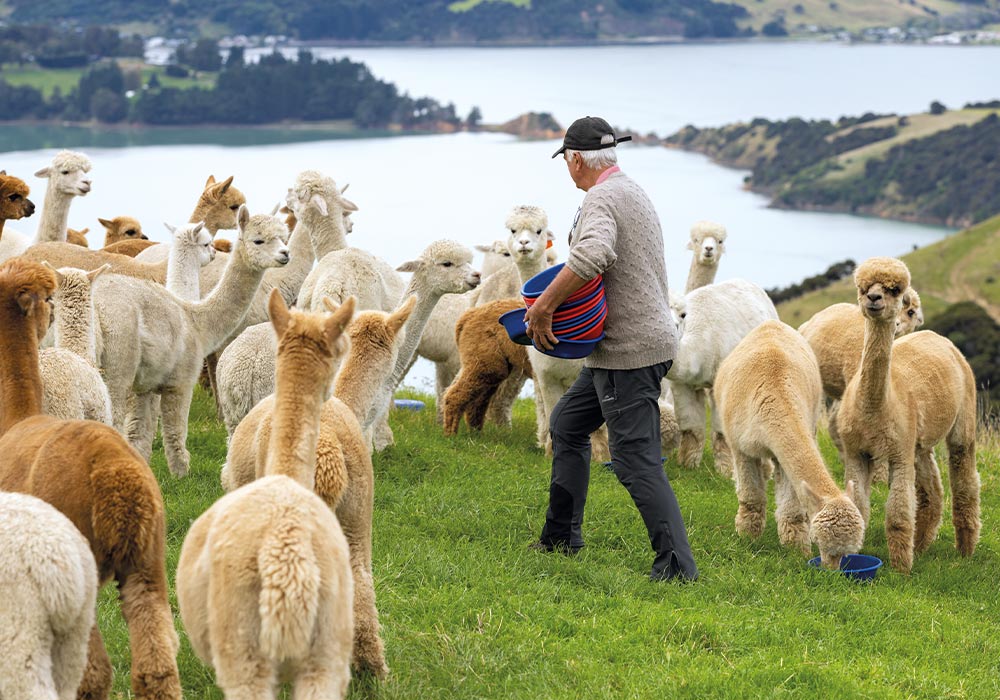 Fantastic beasts: Back in Akaroa, up in Rue Balguerie, there are more animals, some cute and others startling, but all of them a delight. The Giant's House is a pretty, traditional villa surrounded by a neat and impressively blooming terraced garden, full to bursting with tile and glass mosaic art, from paths and fountains to statues and ships. Resident artist Josie Martin is blessed with both inspiration and energy, and her creativity is a genuine marvel. Cats, dogs, and even an elephant feature, as well as creatures less easy to label, plus people, plants, and a grand piano, all of them imaginatively presented in intricate and colourful detail. There's so much to see and enjoy here, including a more conventional art gallery inside that a visit to the café is a necessity to fuel the exploration. The Giant's House deserves every one of the six stars it was awarded as a Garden of International Significance.
Exotic animals: There are more animals along the walkway from Children's Bay, but these are more striking than cute. Beginning at the boat ramp, I followed the boardwalk past a big colony of oystercatchers to the start of the track, one of several options on this headland. The hour-long return walk took me up through bush ringing with birdsong and buzzing with bees, past an unexpected steel crocodile, four tall metal giraffes, some plaster penguins, and a squatting pig to the top. There, on a bare hilltop, a hulking rhino stands. Artily made of slabs of rusted metal, it looms over the cattle it shares the paddock with and is such a spectacularly unexpected sight that it even distracts from the harbour view.
Edible treats: Akaroa's French connection guarantees a serious attitude to food, and whether it's fish and chips on the wharf, a gastro delight at Ma Maison, or a full range of choices in between, you're guaranteed not to go hungry or thirsty. Check out the Saturday Farmer's Market for even more tasty delights.
Campsites
There's a campsite at Duvauchelle (duvauchelleholidaypark.co.nz) and at Akaroa, there's a Top 10 Holiday Park (top10.co.nz/park/akaroa-top-10-holiday-park) as well as a two-night freedom camping area by the boat ramp. You will also find places to camp at Okains Bay (okainsbaycamp.co.nz) and Little River (littlerivercampground.co.nz).
For more information, visit akaroa.com.