The iconic KiwiLine brand offers one of the most compact getaway vehicles on the market and boasts an impressive backstory
The designer of the brand-new Kiwi Stargazer Teardrop has enjoyed a long love affair with the little camper.
His story epitomises both Kiwi ingenuity and the original concept for the Teardrop, which was to put an RV getaway within the reach of everyone.
Gary Hitchcock built his own Teardrop Trailer in 2016 when, like many residents of earthquake-ravaged Christchurch, he needed a getaway vehicle. After the 2011 earthquake, which forever changed the city, its residents also had to contend with the aftershocks, of which there were estimated to be around 11,200.
An idea began to form in the mind of the industrial designer who wanted something he could not only use to get away and recharge himself but also something he could live out of in the event of another disaster.
Gary had always admired the shape of the early Teardrops, which had first been built in the US from recycled post-war materials during the late 1930s. He began his own interpretation of the classic design, which he ultimately built 'off the smell of an oily rag' beginning with an old trailer.
"The body [of the trailer] was too rusty to save, but the frame was okay," he says.
"The main ingredient was finding the plastic sheet that's UV-protected – ideal for outside use – which was getting dumped from the place where I worked at the time."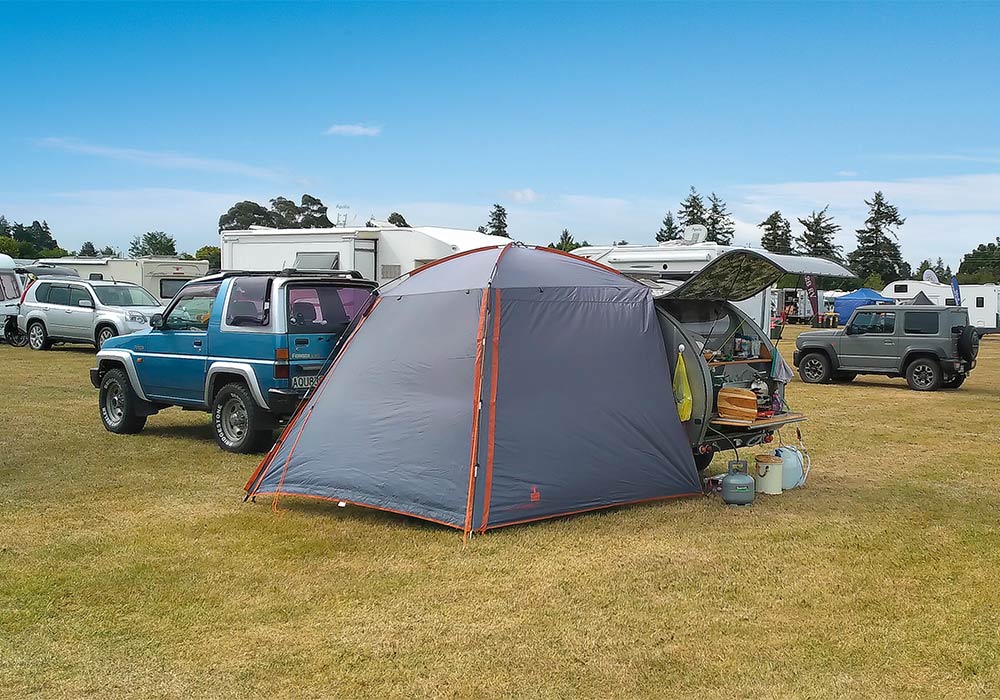 Gary had an advantage denied to most home builders because he had access to a laser cutter, which he used to cut the Teardrop's two sides. It was at that stage that the build stalled while Gary accumulated both the money and the materials to begin putting his camper together.
He says he found a lot of "bits and pieces – reject parts that would have been tossed out, such as windows, roof-vent, and the greywater tank made from PVC cabinet-door fronts."
Gary's design comprises a double-layer floor, which makes for a great deal of under-bed storage, but his favourite part is the departure from the original vehicle's design – a rear kitchen hatch. He didn't want a full kitchen hatch that's specified in the original plans because his preference was to instead have 'a large window open to the world'.
This, Gary says, is fantastic when you get to camp with a great view and you can enjoy it even if the weather is not great.
Gary's Teardrop still has a working kitchen, but his departure from the usual design instead occupies a main shelf combined with an additional pull-out one.
"I put my vintage primus cooker on the wash sink. It keeps everything flexible and open to change around to suit what I'm doing at the time. After all, it's supposed to be camping."
Gary says he has fun 'cooking up a storm' because he carries plenty of food in the storage areas; although, he adds, with a smile he never knows what that will be until he arrives at his destination.
"That's all part of the adventure."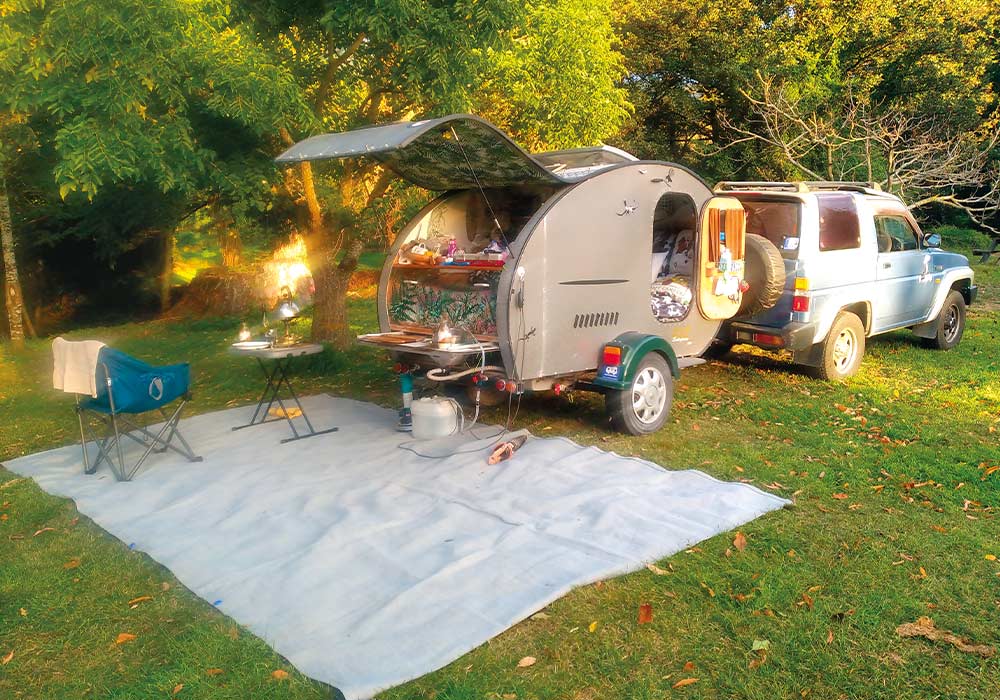 Gary's design incorporates two easy-to-remove polycarbonate windows and the main body so that his getaway vehicle can convert into a covered trailer. He uses a small solar panel to keep air circulating so that it's always fresh. While he didn't originally plan to have a TV, he found some bargain speakers and a media player with an amplifier to create a great little multi-media system, which he can use to listen to music or to watch movies.
But, of course, you begin to realise when you're speaking with Gary that his innovation and interpretation of Kiwi ingenuity, which is often imbued with a wry sense of humour and a touch of sentimentality, continues through to the outside of his custom-built vehicle.
"With the Teardrop having a bit of an old aircraft look to it, I was after something to go on the front as old aircraft always did," he says. "I was working on it when I heard that Murray Ball had passed away on 12 March 2017, so I made the dog graphics as a tribute to Footrot Flats and also to my own little dog Angel, who just loves being in the Teardrop."
Gary and Angel spend most of the summer camping out and both seem to sleep better in their Teardrop than in the house.
"The main thing is it isn't the flashiest little camper out there, but it's fun, always changing when I find something new or different to add, and I get to meet great people and enjoy this great country."
A favourite trip for Gary has been to the historic former gold-mining town of St Bathans in Central Otago.
"A visit to the Vulcan Hotel was always on my bucket list. The plan was to explore the rest of the area, but with the friendly welcome from the great folk at the Vulcan Hotel, we camped around the corner with a view over the Blue Lake and just relaxed, taking in the history of the place. Just me, a little dog, and a pub – what a fantastic way to recharge."
The birth of a media star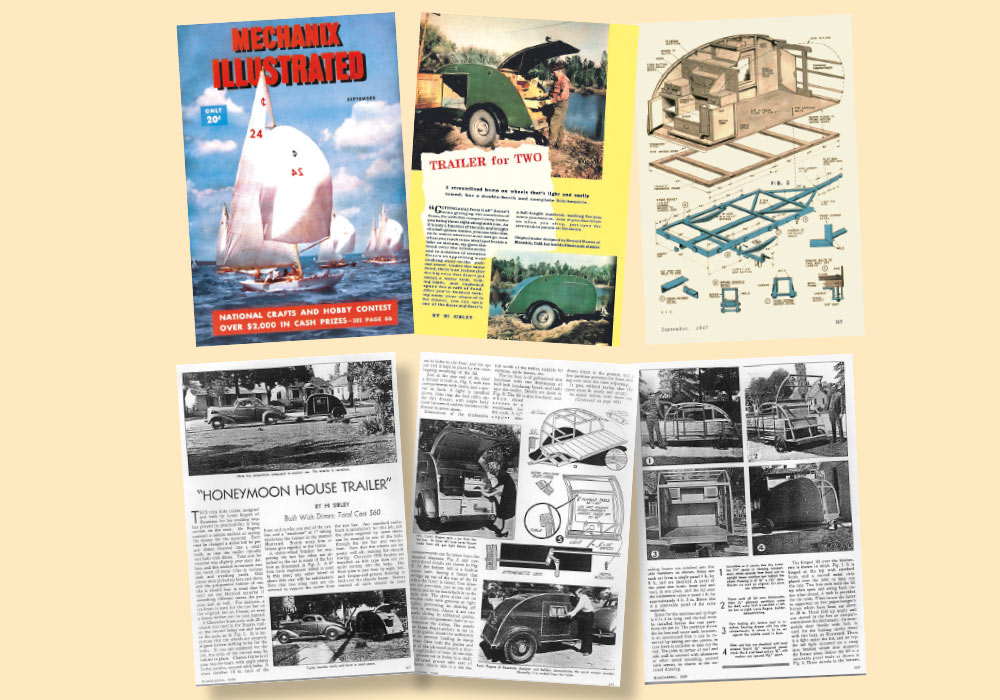 The Teardrop camper trailer has been around for a while. Its first appearance in a magazine story was in 1936 when American magazine Mechanics and Handicrafts ran a story with a byline by Hi Sibley, complete with a detailed list of materials. Three years later, Popular HomeCraft magazine featured another story by Hi Sibley. The Honeymoon House Trailer detailed the remarkable story of Louis Rodgers, who built a Teardrop trailer for $60 as a gift to his wife for their honeymoon. The story featured basic plans for the homebuilder.
Popular Mechanix followed up this story in 1940 when they supplied their readers with a more detailed set of instructions, and then seven years after this, in 1947, Hi Sibley returned with a story in Popular Mechanix, which has since become the magazine's most popular vintage story ever: Teardrop for Two.
And so it began: the evolving history of the revolutionary (and evolutionary) Teardrop Trailer, which continues to this day.