Louise and Eric King are lifelong adventurers. The couple swapped the UK landscape of their homeland for the joys of discovering Aotearoa, which they, along with their two sons, now call home.
The King family moved to New Zealand in 2005. Based in Auckland, precious spare time is planned around exploring and enjoying mountains and beaches. Their home away from home is a Swift Basecamp caravan, from which they travel the length and breadth of the country discovering fresh delights. Below, Louise shares her thoughts on travelling and how they have chosen
to do so.
For many of us, there's a gradual evolution from tenting to caravanning and then perhaps to the humongous campervans you often see struggling around supermarket car parks or towing cars behind them. Some, of course, may branch out (or climb up) into rooftop tents, which is fine if you don't have to get up in the middle of the night, don't mind packing up each time you have to go anywhere, or don't have a family.
After several summers getting flooded out, spending an extra day on either side of your holiday packing and unpacking camping equipment, and envying those who just arrive, put the caravan legs down and sit smugly watching you and your partner argue over poles (or over who left them behind), you decide that enough is enough.
You take the plunge and purchase your first caravan. For us, while the children were small, this was the Bailey Pageant. As the children grew, so did the van, and we allowed ourselves the luxury of a twin axle Swift Conqueror with a substantial inflatable Kampa awning.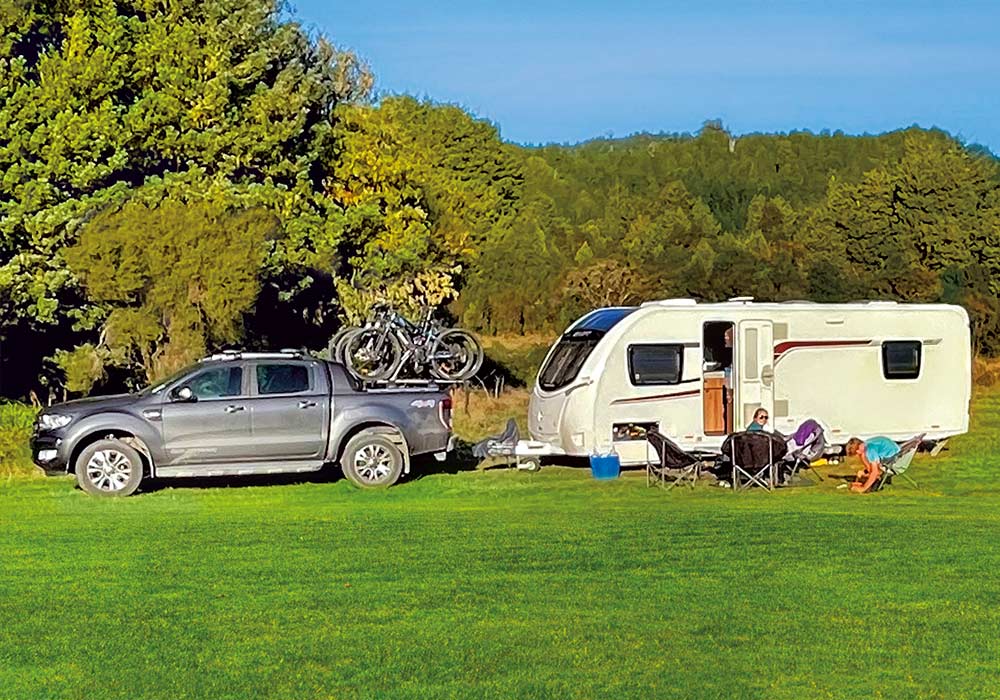 However, last summer we accepted that as our boys grew older and more independent. We were frequently going to be on our own for our wee adventures. It was time to downsize. We both liked the idea of a campervan, but having done some research, we conceded that they were too expensive an item to be left sitting on our driveway. It was during our deliberations that we came across the Swift Basecamp, marketed as a 'compact crossover camping vehicle'. This model was first launched in 2017, but there are still relatively few in New Zealand, although, their popularity is growing. It was immediately appealing because of its size, the practicality of the layout, and the fact that it was just a little bit funky – far different from the luxurious set-up of our previous van with its rear island bed, central bathroom, huge fridge, and roomy lounge.
We opted for the Swift Basecamp 2, although, there are also three- and four-berth options available. We purchased ours from Merit RV in New Plymouth, who we highly recommend. They were extremely helpful and included a free night's stay at Belt Road Seaside Holiday Park, complete with a sea view. Our purchase package incorporated, among other things, a self-containment certificate. We consider this a must, as we intend to make extensive use of DOC campsites.
Once we had decided on the Basecamp, I joined the impressively named 'Swift Basecamp Owners Official Group' on Facebook. This has proven to be an invaluable resource, where proud owners share their experiences and travels. Although this site is UK-based, there's a small, but growing, Kiwi cohort. Some of the information shared, such as caravan site reviews, is, of course, of less relevance. However, information such as how to avoid splashback shattering and what to do if your fridge lights start flashing will surely save us hours of angst at some stage.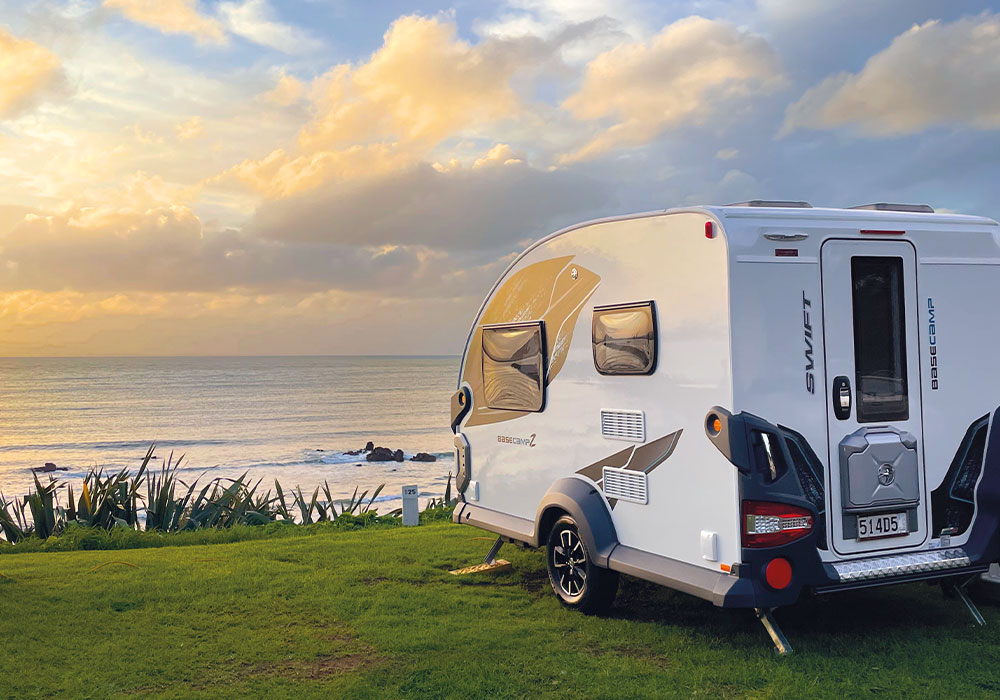 Members are also keen to answer any questions. However, this can at times generate more confusion. Our main dilemma was whether to get a mover, considering the light, compact nature of the van. There were two clear schools of thought on this – 'definitely' and 'not at all'. In the end, we opted not to, as we're both pretty fit and healthy.
Just like the Basecamp itself, the group is quite quirky. People like to christen their Basecamps with names such as Beryl or Bert, and in such a way, these vans take on a personality of their own.
Orange is also the favoured colour in terms of accessories, even though the decals have now changed to blue and grey. Thus, there are frequent posts displaying matching orange bedding, tea towels, cushions, and even placemats. I'm not sure this is quite what Swift had in mind with their design and marketing, targeting 'life's adventurers'.
The other purchase we thought essential was the awning, and again, the Swift Basecamp Owners Official Group came up trumps in terms of posts highlighting the advantages and drawbacks of various makes and models. We decided on a Vango awning since these are specifically designed for the Basecamp. There are two models available, the RVA-1 and the RVA-2. The RVA -1 is bigger and there's also the opportunity to insert an inner tent for further sleeping accommodation. However, since our whole intention was to downsize, we opted for the smaller, lighter RVA2.
For us, the advantages of the Swift Basecamp over a more traditional touring caravan are the fact it's small, light, and versatile, with a practical wide back door, flexible sleeping arrangements, seats that lift to provide extra storage during travel, and storage bags that can be lifted in and out easily for packing straight from home. In addition, it has a lovely large front window, which creates a feeling of openness. In fact, I would compare the Swift Basecamp to a Tardis – it's bigger on the inside. And just in case you are wondering, we haven't decided on a name yet.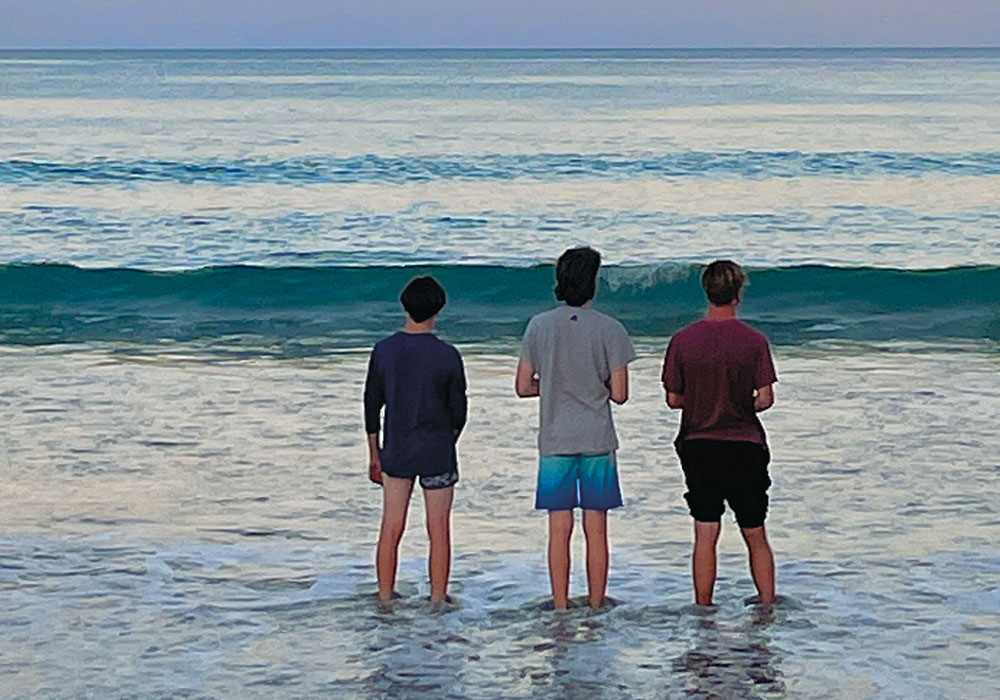 MCD finds out more about Louise and Eric's life on the road.
How did you first get into caravanning?
We started off with camping holidays. I still enjoy camping but mainly backpacking. We got our first caravan when the children were little. We found it a much more convenient way of holidaying, without the hassle of having to pack and unpack everything when we wanted to go away. Also, it's much quicker when you arrive at a holiday camp – not having to spend the best part of a day setting up and packing away. Additionally, it's more pleasant to stay in a caravan when the weather is inclement.
What keeps you passionate about taking to the road to explore New Zealand?
We love the flexibility that caravans offer. We can travel with all the gear we need – bikes, hiking gear, surfboards – and get to stay in some of the most stunning places at a reasonable cost. It's the closest you can get to taking your home away with you.
What are your three favourite spots in New Zealand?
We used to love going to Matai Bay, Northland because of its stunning weather and beach location and the fact that you weren't hemmed in by white lines. We love the DOC sites for this reason. However, Matai Bay was really busy the last time we went there, so we haven't been back since, as we prefer quieter spots and there are plenty of new places to discover. We loved Whakapapa Holiday Park. It was peaceful and the sites were secluded in the trees. It offered a fabulous base to explore the central plateau region.
Also, Piropiro DOC campsite at Pureora Forest Park. We use this as a base for the Timber Trail cycle. It was a little bit stressful arriving there in the dark, towing our twin axle Swift up the gravel road. It was so dark when we arrived that we had no idea how big the site was, so when we woke up, we were amazed at its expanse and the fact that there was hardly anyone else there.
I have to also mention Mount Maunganui, which, although isn't our most adventurous destination, has everything you need to keep everyone happy. We love our morning walks around the Maunga, and its beachfront location is a favourite for the boys' surfing.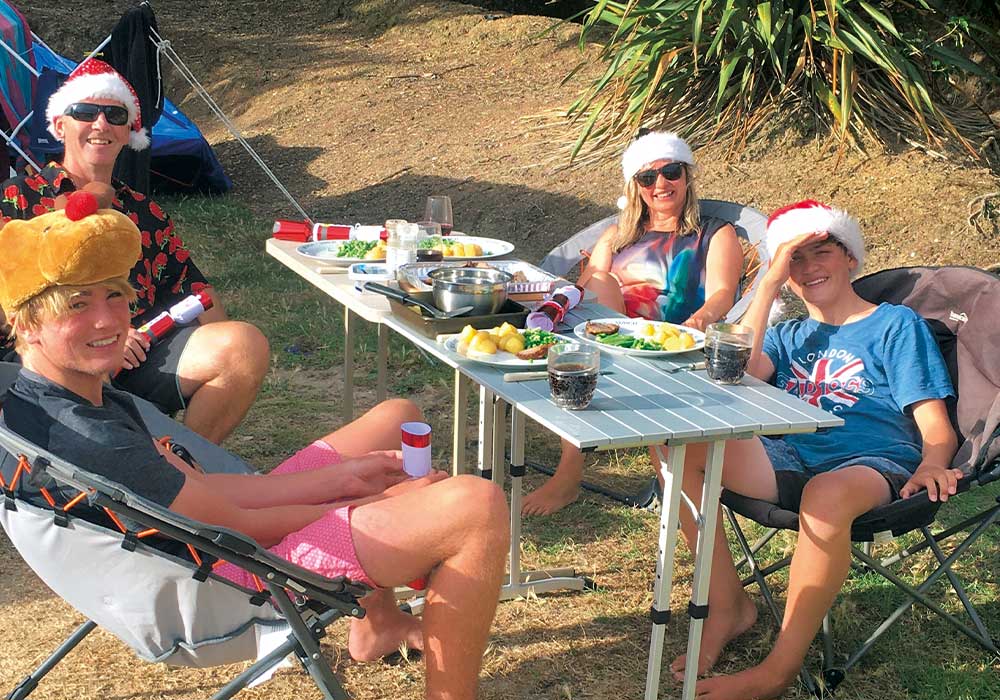 What are some useful caravanning tips you have received?
Don't listen to too many tips – it gets confusing.
What must-have features do you look for in a caravan?
Full-length single beds, so you don't have to struggle with cushion arrangements. Solar panels, an inflatable awning, an external barbecue point, plenty of storage, and a mover, unless you have teenagers to help.
What are your tips for working from a caravan kitchen?
Get your partner to cook. Use a barbecue when possible. If your journey means that you arrive in the evening, make sure that you have prepared your meal in advance. Our go-to meal is chilli. A cafetière and teapot give that little sense of luxury.