Bicycles are a great enhancer of RV life, as they're the ideal exploration vehicles to use when you reach a destination. But what's the best method to carry them? Paul Owen highlights the types of racks available and how each type represents a bike-carriage solution for a particular RV.
The phone call from the police at Huntly station turned out to be a helpful one. They'd found the bicycle that went AWOL from the rear rack of my motorhome on a journey from Orewa to Kinloch three weeks earlier and were inviting me to come and collect it. The bike had evidently dismounted itself during a traverse of some roadworks after vibrating loose from the locked restraints holding it. I didn't notice it was missing until I reached the destination.
Some excellent police work had finally tracked me down as the owner of the stray bike via the sales records of shops that sell the relatively rare Bottecchia brand. I was overjoyed to be getting my easily repaired 'Italian stallion' back. However, not all bike rack failures end so well.
Repair shops can tell some horror stories about bike racks and RVs. Sometimes, the bolts holding the racks can pull themselves and the nuts and washers securing them loose from the glass-reinforced-polystyrene (GRP) rear panels favoured by most motorhome manufacturers. In more extreme events, a well-secured rack has been overloaded by heavy e-bikes and has levered the whole rear panel of the motorhome away from the rest of the body. And it's not just motorhomes that are prone to a sudden shedding of bikes and racks – there's plenty of sorry tales that involve campervans and caravans as well.
The moral of these stories is a simple one: target what's simply the best bike transport solution for your RV and be prepared to spend what's required to secure that rack and its installation by a professional.
There's a wide range of bike racks available: towball-mounted racks, drawbar racks for caravans, racks made for one of the rear doors of a campervan, the popular rear panel rack for motorhomes and caravans – some with power height adjustment – slide-out racks for motorhome garages, and racks made to be carried on top of the vehicle towing a caravan. What are the pros and cons of each?
Towball-mounted bike racks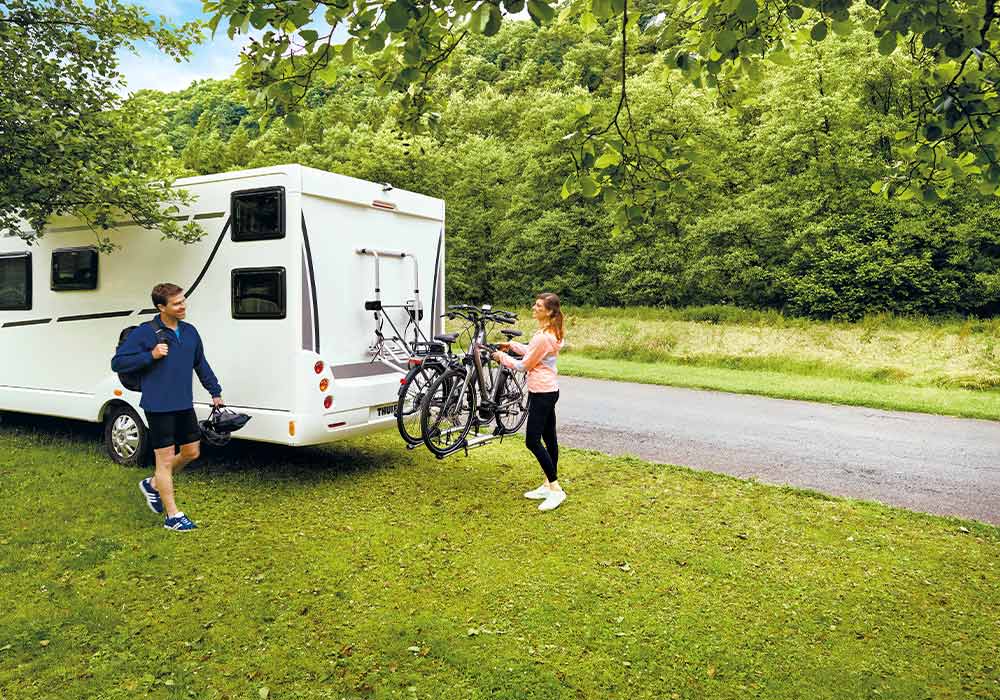 If your RV already has a towbar fitted, congratulations, you've just hit the bike rack sweet spot when it comes to versatility and affordability. A well-made towball rack can be removed in seconds when not required and snugs securely to the ball again with a little muscle applied to a lever. It can then be locked in place once onboard the towball, and the bikes can be mounted and locked to it.
Towball racks usually come with lights and a mounting plate for a supplementary numberplate, resolving any potential issues about whether following traffic can get a clear view of the indicator/brake lights or whether the police safety camera can read the rego number.
They're an affordable solution if you've already invested in a towbar installation, usually costing between $500 and $800. However, if you need to install a towball first just to mount a bike rack on it, the cost rises steeply and may prove prohibitive.
Pros
Easy bike loading due to low height
Can often be easily tipped backwards when required
Affordable secure bike haulage
Cons
Restricts departure angle clearance
Heavier than most bike racks
Bikes get covered by road spray
Racks for caravans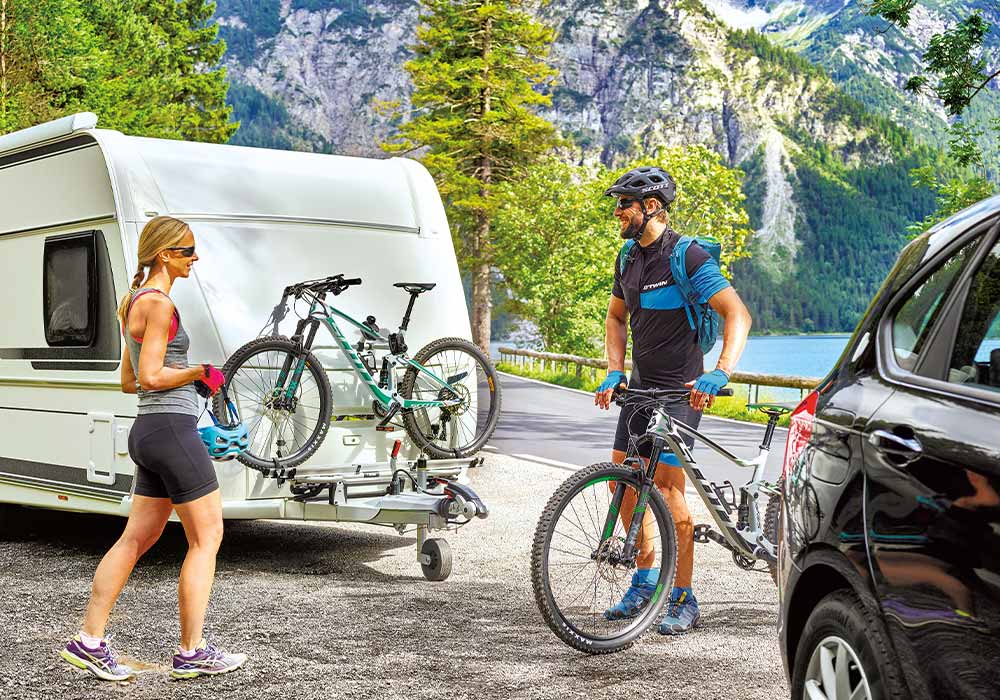 The first thing to consider when mounting a bike rack on a caravan is how it will affect the balance of the towed RV. Carrying two bikes and their mounting hardware can place as much as 70kg on either the front or the rear of the caravan when the bikes have electric pedalling assistance. So before proceeding, a decision must be made whether to place that extra mass on the front or the rear of the caravan.
The heavier the caravan, the less critical this decision will be. The towing stability of a 3500kg dual-axle behemoth won't be as affected by the addition of 70kg at either end as a 1500kg single-axle caravan, but it always helps to ensure that weight is distributed as evenly as possible across either side of the central pivot point of the caravan's axle(s). Check the permitted downward weight range of the tow hitch of your caravan to determine whether that rack is better placed on the front or the rear. If the bikes and rack will make the hitch either too heavy when placed on the drawbar or too light when mounted on the rear panel, find a safer bike-cartage solution than attaching them to the caravan.
The best plan B is to mount them on roof racks fitted to the tow vehicle. This will result in the best towing balance both for the caravan and the vehicle towing it. If using e-bikes, make sure the batteries are easily removable, as this will ease the chore of lifting the bikes up to the roof height of the tow vehicle.
Pros (tow vehicle roof-mounted bike racks)
Bikes stay relatively clean in transit
Side-steps any unsetting of the caravan's balance
Out of easy reach for many potential thieves
Cons
Loading and unloading can be a grunt
Roof racks must be purchased as well as the bike carriers
It's best to take a stepladder along.
Racks for campervans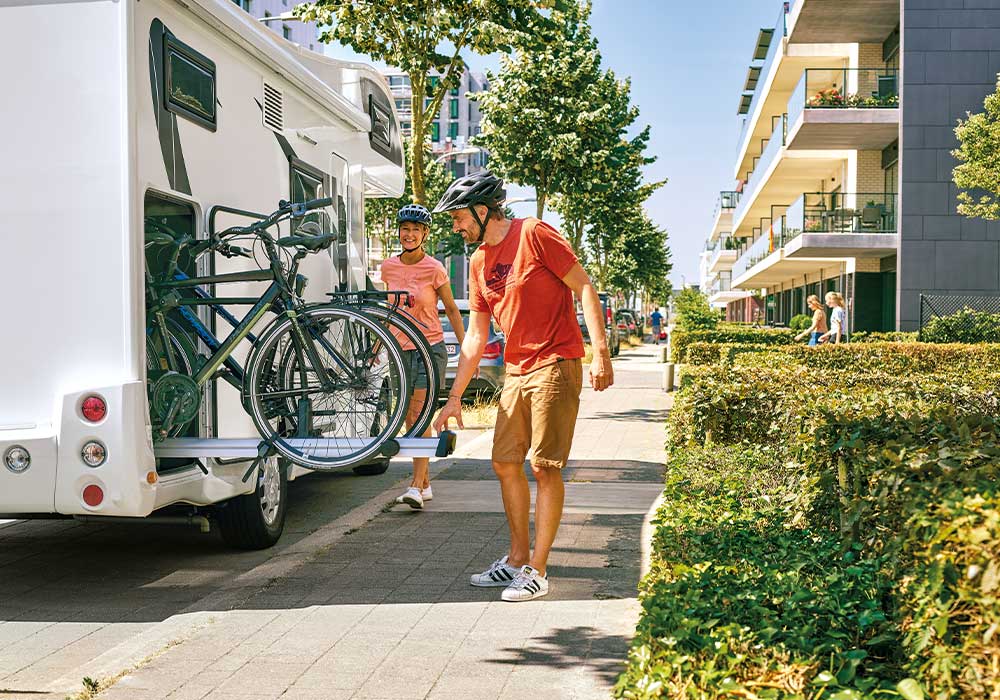 If your campervan has double rear doors rather than a lift-up tailgate, it's easy to find a rear bike rack for it. These usually mount to the right-side rear door and the bike carriers offset to the left on the tubular base rails of the rack so that the bikes are evenly distributed and there's little or no overhang on either side.
These racks can be either bolted to the door or secured with super-strong adhesives. The latter is the superior mounting method, as it can be done by anyone with rudimentary handy-person skills who's prepared to wait out the three-day adhesive curing process required. Glueing the rack mounts to the door also distributes the weight of the bikes evenly across the door, including to the outer edges where the metal is thicker and stronger. The alternative is a quartet of mounting points attached by bolts to the thinner central sheet metal of the door. These can pucker the door panel if mounted incorrectly.
Pros
Can cost as little as $700 if adhesive-mounted
Bikes ride high enough to be monitored through rear door windows
Bike carriers can be folded upwards when not required
Cons
Professional installation recommended for bolt-mounted racks
Bikes should be removed before opening rear doors
Low maximum payloads (usually 35kg) inhibit e-bike cartage
Rear racks for motorhomes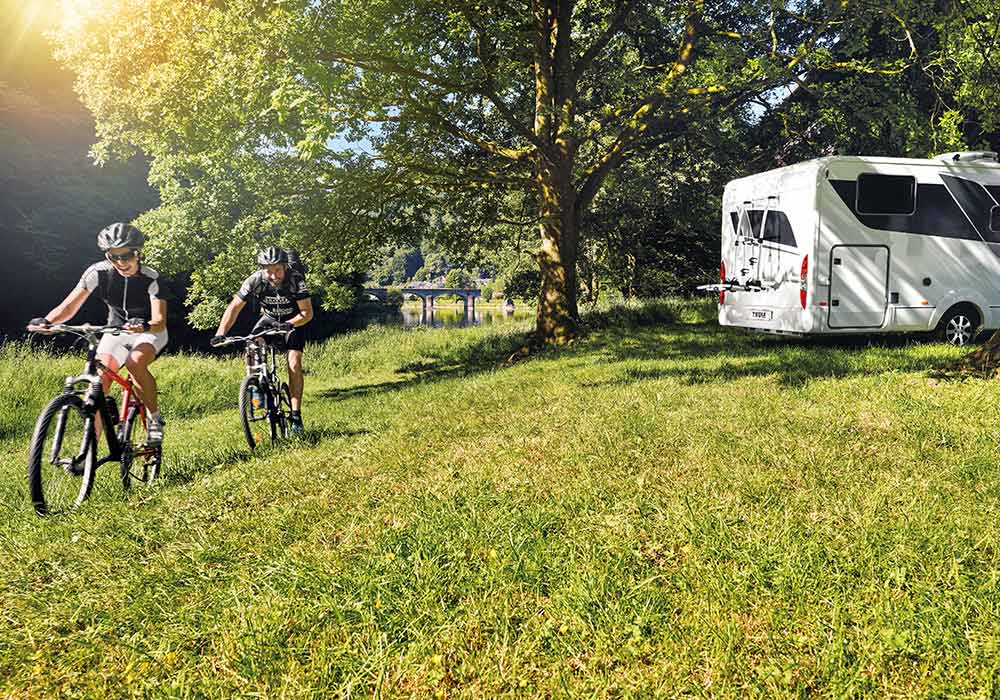 Where a campervan bike rack is usually rated to carry 35kg, those made for motorhomes can often carry a 65kg load and sometimes more. There are several types; the cheapest and most simple options carry the bikes in a fixed position. Others can be lowered for easier loading and unloading using a hand crank lever similar to that of an awning, while the top-of-range height-adjustable racks have 12-volt electric motors that do all the cranking for you.
Expect to pay between $1700 and $2000 for the power-operated height-adjustable racks, around $1200 and $1300 for one that you crank by hand, and $700 and $1000 for a rack that holds the bikes at a fixed height. Locking restraints are usually offered as an option on top of these prices.
The height-adjustable racks carry the bikes higher up the rear panel of the motorhome where they can't be covered in road spray but are still prone to collecting dust on gravel roads. The big advantage is that they're harder to steal up there, and as anyone who has cranked a couple of heavy e-bikes up to that position can confirm, an electric motor makes the process effortless.
Whether it's worth paying hundreds of extra dollars so that your motorhome's domestic battery does the mahi for you is worthy of careful consideration, however. Cranking the bikes into the raised position is beneficial upper body exercise and only takes a minute or so. Push-button bike rack operation adds several costs in terms of purchase price, house battery charge, and the extra five to seven kilogrammes of weight when compared to a hand-cranked rack.
Pros
Many motorhomes come with mounting rails already fitted for these racks
Height-adjustable racks keep road spray at bay
Bikes can be carried out of easy reach of light fingers
Cons
Professional installation is a necessary added expense
A powered height-adjustable rack is quite heavy at around 20kg
Can't usually check the bikes via the motorhome's side mirrors
Here's to safe bike transit via racks that are the perfect fit both for your bikes and your RVs everyone. Me? I tend to drive a bit slower than the recommended speed when traversing roadworks these days.