There seems to be no stopping the soaring popularity of exploring New Zealand under pedal power. This is partly due to the availability of e-bikes (taking much of the pain out of previously unattainable day-long bike trails) and the rapid evolution of beautifully accessible cycle trails around some of Aotearoa's most scenic spots.
While once upon a time, I was a keen cyclist – thinking nothing of popping on my bike to journey from Hamilton to Morrinsville or participating in the popular Hamilton to Whangamatā bike race – these days even the stationary bike at the gym has me averting my eyes and walking briskly past.
Further endorsed by sore knees and a lack of puff, this minimal enthusiasm for getting back on the bike could also be partially down to the fact I prefer horsepower (of the equine variety). However, as more friends and family discover the buzz of cycling, my reticence has meant I've missed out on several opportunities to join bike expeditions and share their joyful recollections of the experience.
So, while trying out a couple of e-bikes for an article, it came as something of a surprise to rediscover the fun of cycling. I'm pretty sure that without the benefits an e-bike offers, I just wouldn't have got back into cycling – it's fantastic being able to do half-day or day-long adventures and still be able to walk afterwards. And with the absolute smorgasbord of bike trails now available in New Zealand, it would be sad to miss the opportunity to see some of the most beautiful 'off the road' spots imaginable. Whether you're new to cycle trails or an experienced adventurer, hopefully, this collection of some of our firm favourites proves inspiring.
Great Rides Of New Zealand
If you want to experience the glorious landscapes of New Zealand, take a closer look at the Great Rides Of New Zealand (nzcycletrail.com) and meander through the 23 Great Rides and accompanying sights and activities to add on along the way. It's an almost dizzying collection of stunning cycle trails, ranging from one- to six-day adventures, with plenty of information available online on suitable fitness levels, the terrain you will encounter, and tips on where to refuel (from wineries to homespun hospitality), as well as accommodation options if applicable. A New Zealand cycling map is available online (nzcycletrail.com) so you can search by location, grade, or experience.
Hauraki Rail Trail
If flat, easy riding is your ideal way to ease into a cycling experience, you'll appreciate this wonderfully laidback trail that follows old railway lines between historic gold towns (Thames, Paeroa, Te Aroha, Waihi, and Matamata), as well as tracing the Shorebird Coast along the Firth of Thames.
Offering approximately 160km of trails, the Hauraki Rail Trail is split into five sections, with each section making an ideal day ride. The easiest one to begin on is the 35km ride from Kaiaua to Thames (tip: plan a stopover at Miranda Holiday Park and Hot Pools). If you love collectables and antiques, allow additional time at both Waihi and Paeroa, where you'll find a wealth of treasures. One of the most memorable parts of the trail is the amazing 100-metre-long Karangahake Rail Tunnel (a head torch is recommended). There's a helpful list of RV camping sites and freedom camping sites on the Hauraki Rail Trail website haurakirailtrail.co.nz.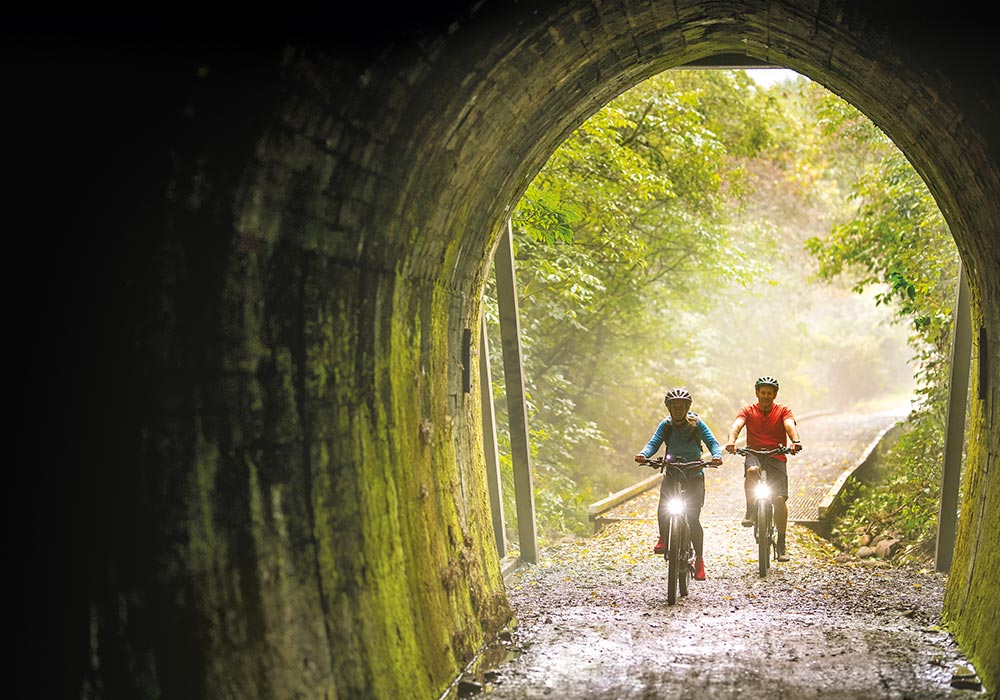 Waikato River Trails
This continuously evolving trail expands monthly and is a simple way to immerse yourself in the natural beauty of the Waikato region. Made up of five sections that follow New Zealand's longest river, it's a visual delight with native bush, exotic forest, boardwalks, streams, and suspension bridges. Instructions are simple: just follow the river. Each trail is named after the lake the trail is connected to, for example, Arapuni and Karapiro), and you can ride individual sections in either direction. In its entirety, Waikato River Trails goes from Ātiamuri to Lake Karapiro.
Heartland & Connector Rides
A beguiling mix of mostly on-road routes through scenic landscapes and small towns, Heartland & Connector Rides provide enjoyable options for those wanting to see some of the most memorable pockets of New Zealand. With options such as the Molesworth Muster Trail (from Blenheim to Hanmer Springs, taking in glacial outwash plains, waterfalls, and one of New Zealand's largest and most remote working farms), do check the cycle map and plan rests and food stops along the way. Many of these trails link up to some of the Great Rides trails.
Cycling in The Catlins
Renowned for its captivating natural beauty with abundant wildlife and forests as well as sandy beaches and waterfalls, cyclists are spoilt for choice here. Kick-off perhaps with a short journey, such as the one-hour easy-grade loop around Owaka or the Cannibal Bay tour where you can ride along the beach and possibly sight local sea lions (but remember to keep your distance). You can choose from waterfalls or thick green forests to some of New Zealand's most famous rock formations. The Clutha Gold Trail is one of the Great Rides of the Ngā Haerenga New Zealand Cycle Trail. The Katea Loop is also well worth considering. The 16.5km loop takes you through rural back roads of The Catlins and some pretty jaw-dropping landscapes.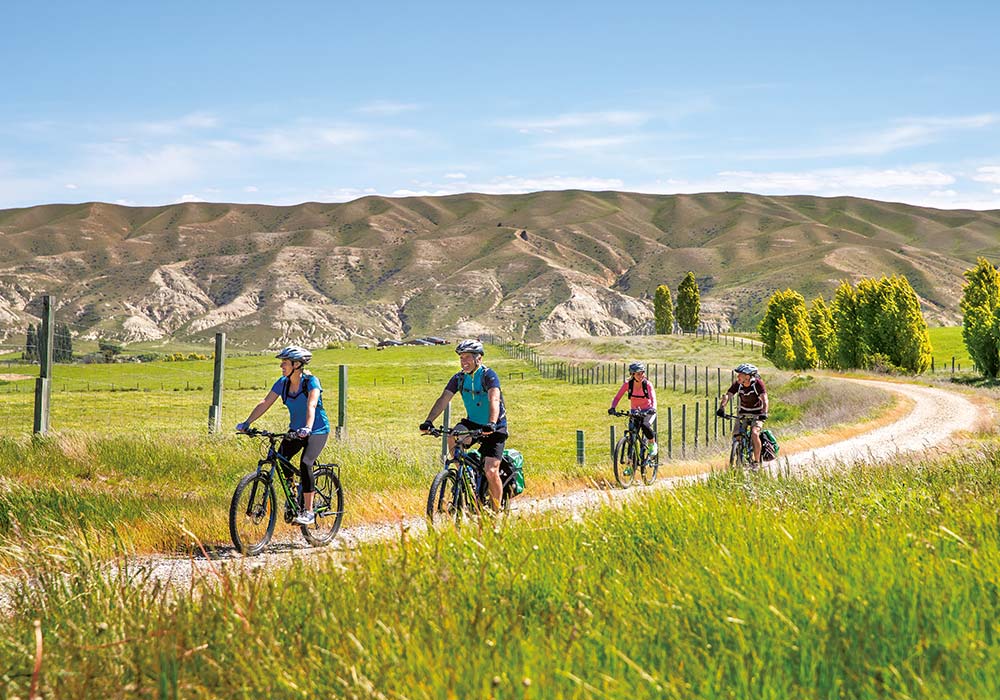 Queen Charlotte Track
New Zealand's longest dual-purpose (walking and cycling) track, this particular option possibly offers some of New Zealand's most spectacular riding and scenery. Take a good look at the track options available, as these vary from easy sections available for all levels to more exhilarating downhills, which will likely get your heart pumping. Each of the three sections can be done independently, or the full length of the track can be biked anywhere from one to three days, depending on skill and fitness levels. The Torea Saddle to Anakiwa is the most challenging section with a steep uphill start out of Portage, so be prepared or opt for other trails (you can skip sections and enjoy a boat ride to transport you and your bike to your next starting point). Check queencharlottetrack.co.nz for updates on track conditions before setting off.
West Coast Wilderness Trails
It's true: the west coast does have a reputation for being wild and rugged, so there's plenty to entice the adrenaline seeker. However, there's also a tantalising collection of almost perfectly smooth and accessible trails along glacial rivers, ancient rainforests, moody lakes, and stunning wetlands. Checking in at 135.5km in total, the West Coast Wilderness Trail is best tackled in bite-sized pieces. There are plenty of shorter rides. Departing from Hokitika, the Mahinapua Magic ride allows for an easy detour to the Treetop Walkway, an exhilarating experience among temperate rainforest giants.
Otago Central Rail Trail
This is where it all began – as New Zealand's original Great Ride. Despite being the country's first off-road cycleway and walking trail, it's still one of the firm favourites for many. Covering 152km from start to finish, paths are two-way so you can enjoy cycling sociably as a pair (keeping an eye out for other oncoming cyclists). It's a great option for a family, as the compacted gravel pathways make for easy cycling and it's largely flat with no steep hills of any consequence to fear. If planning for this unique experience, don't forget that Central Otago has one of the most distinctive climates in New Zealand. Summer temperatures are among the hottest, while winters are the coldest, so prepare accordingly.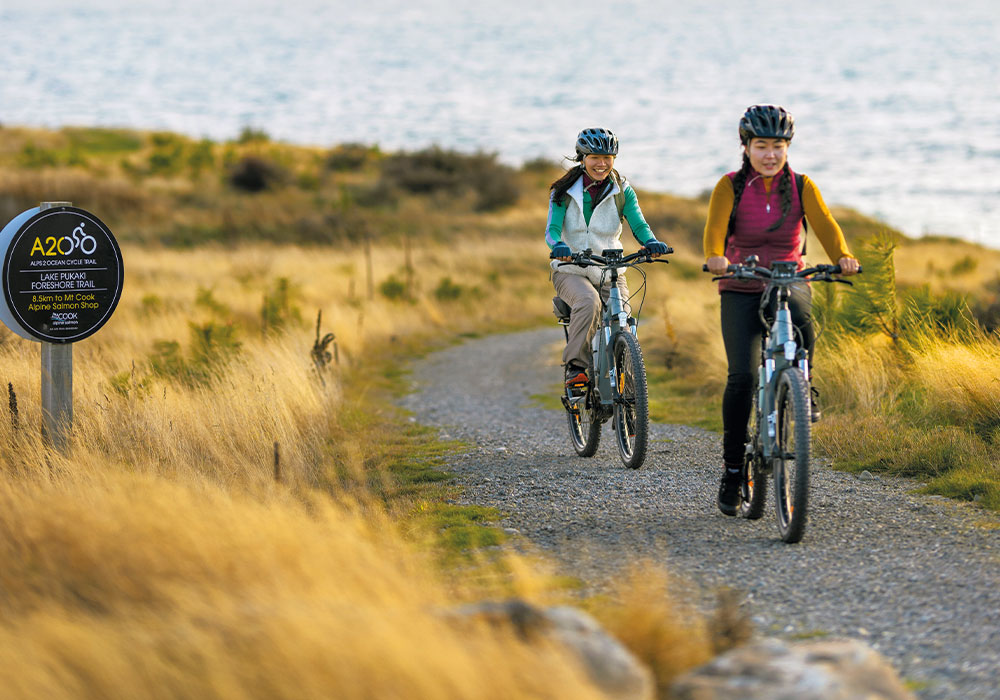 Alps 2 Ocean Trail
This world-famous trail (as the name suggests) takes you from the Alps to the Ocean. Starting at the majestic Aoraki Mount Cook in the National Park, this is likely to be one of the most picturesque trails you will encounter. Travelling along through Twizel and the shoreline of Lake Ōhau, the final destination is Oamaru. It's a sizeable undertaking in its entirety and you'll likely need to allow five to seven days to cycle the entire trail. However, there are plenty of options for day excursions, with nine sections to choose from. As with all bike trails, check the informative website for updates before heading off, as some sections of the trail are still rough and uneven from the effect of recent weather. The alps2ocean.com website is packed with information and the latest trail conditions.
Great Taste Trail
The name says it all. Located at the tip of the South Island, this is an opportunity to sample the work of many artisan growers, from award-winning vineyards and local craft breweries to cafes and restaurants that are well worth including as a refuelling stop. The majority of the 200km long trail is off-road and most of the coastal section is flat easy riding. There are occasionally a few more challenging Grade 3 sections in the hill valley, so take a look at the trail map at thegreattastetrail.nz.
However you choose to explore New Zealand, having a bike onboard your RV, or choosing a location where you can hire one, opens up a wealth of fresh opportunities to truly get up close and personal with all that New Zealand has to offer.