New to the New Zealand market, the Sasquatch brand is a niche build with unlimited potential and a low environmental footprint, writes Peta Stavelli
Inspired by his love of vans, and unable to find what he and his family were looking for, Canadian-born Nick Sunseri set out to create the ultimate live-in, low-impact van, specifically designed and built in Aotearoa for Aotearoa's off-road landscape.
Nick wanted maximum function, minimalist design, natural finishes, and a capable vehicle that didn't compromise his principles.
"We wanted something that reflected our personality. We looked around the market for something natural, something Scandi-inspired and minimalist," he says.
"We wanted to buy something that contained less plastic. We also wanted a premium build; something built to really last. And when we couldn't find it, we decided to build our own."
The first Sasquatch was designed and built with a family in mind – namely Nick's own family.
"Our intent was to test our new product ourselves, so we could use that information for future designs. We started our first trip in Christchurch and slowly made our way back to Wellington and had a ton of fun with our two little girls.
"As a family of four, we loved how open and spacious it is and learned a lot about other features we'll offer for future customers. Our intent was to make the
van a super comfortable place to be, especially on those rainy days when you're stuck inside."
How Myths are made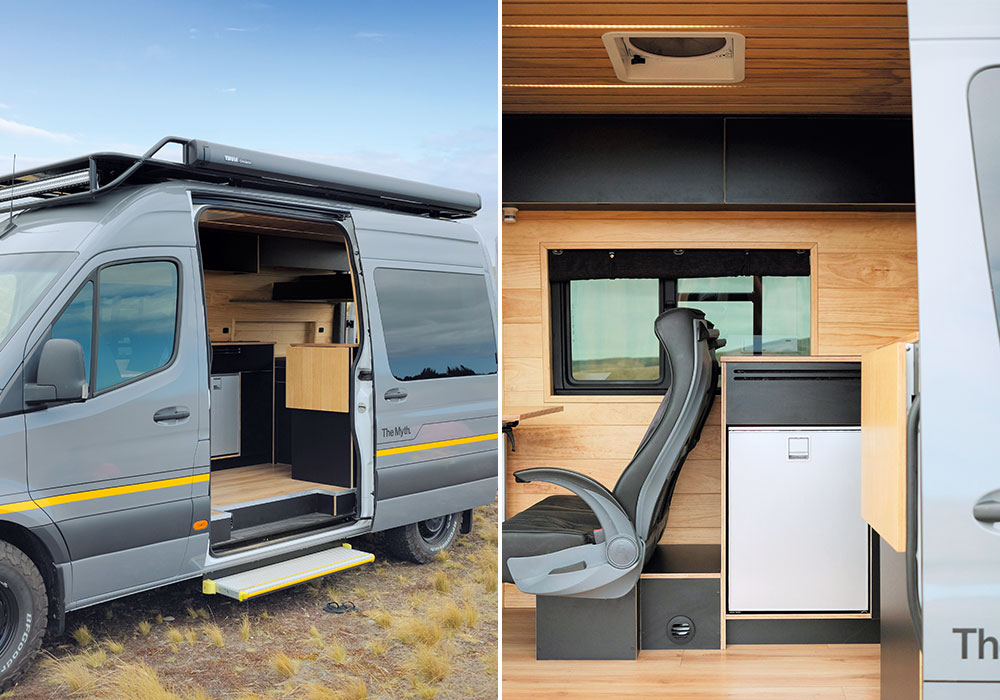 Now Nick is offering the same opportunity to others who want to build a vehicle that reflects their own values. Having launched and showcased his prototype Sasquatch van – The Myth – at the recent NZMCA Motorhome, Caravan & Leisure Show at Mystery Creek, Hamilton, the new creation generated a lot of interest.
Nick admits that growing up in Canada and exploring North America has seen him inspired by a lifelong love of the Kombi van.
"I've always loved Kombi vans and we had one in the family, and as a kid, I watched The A-Team on television."
The popular 1980s television series The A-Team saw the team's souped-up GMC van become as much a beloved character as the principle actors. It also inspired subsequent generations of van lovers to create their own dream vehicle, and Nick admits he's one of them.
So along with creating something for people who wanted the best for themselves and their environment, Nick also wanted a high-performance vehicle built for endurance.
Bigfoot with a small footprint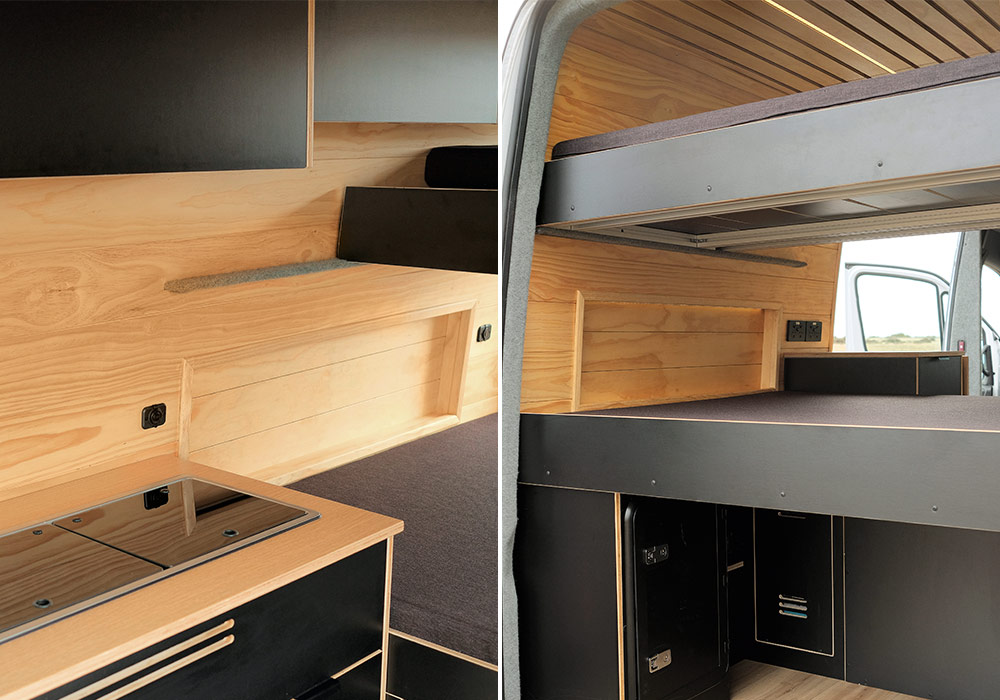 Nick decided on a Mercedes Sprinter base, which he then kitted out to sleep a family of four, using high-end materials with natural finishes.
He has used custom-machined HPL ply cabinetry and natural pine walls. The walls and floor are fully insulated and only premium brands have been used throughout, such as the Isotherm fridge, Dometic cooktop, Eberspacher diesel heater, and a custom-built electrical solar system using Victron, Renogy, and BEP components.
The van is designed to be off-grid capable with large (280 amp) lithium batteries and a 200-watt solar panel, LED lights with dimmers, and USB ports conveniently integrated into the bed areas and on the walls.
The vehicle has a Thule awning, as well as a roof rack and ladder, specially made for the brand in Christchurch. All-terrain BF Goodrich tyres complete the package.
Nick says Sasquatch vans are made to explore off-grid, traversing the landscape and leaving nothing (except tyre tracks) behind, in the same manner as the elusive Sasquatch after which the design is named.
True to these values, the vehicle has a compost toilet, discreetly hidden away in a cabinet. Compost toilets are designed to be low-impact and as easy on the environment as they are on the senses. Used correctly, they don't generate smells.
And – believe it or – these can now be found in 5-star off-grid accommodation, as I recently saw on a UK television show in which the expert presenters gave a luxury off-grid cabin with a compost toilet, their maximum score of 10/10. This confirmed for me that – as Nick's market research has obviously shown – people are prepared to pay for an experience that reflects their desire for low environmental impact, including when they are on holidays.
"Creating the first Sasquatch gave us a lot of insight into the market here in New Zealand," says Nick. "We spent a lot of time initially searching for the right team of people to help us build it: van builders, designers, and fabricators. Because we're trying to build vans that are a bit non-traditional to the current offering here, it was so important to find people who understood our vision. In the end, we spent about a year from concept to final product, just making sure that all the details from the colour scheme to the branding were on point.
"We're so thrilled with how our first van came out and very excited to push the limits of design and capability on our next build."
For more info, visit sasquatchvans.co.nz.
| Make and model | Sasquatch, The Myth |
| --- | --- |
| Chassis | 2022 Mercedes Sprinter 314 CDI |
| Berths | 4 |
| Length/width/height | 5.9m/2.02m/2.82m |
| Fresh/grey water | 60L/60L |
| Unlade mass (tare) | 3025kg |
| Payload | 475kg |
| Price | $235,000 (2024 model) |