With a fresh palette in the vibrant colours of a Kiwi summer, the new and nimble KEA Nomad, built locally by New Zealand manufacturer, Action Manufacturing, hits a high note, writes Peta Stavelli
If dreams were free, I'd probably be exploring the country in something very much like the KEA Nomad, which accurately reflects my personal preferences for a wee roadster that's both fast and fabulous.
I've consistently highly rated both short- and long-base versions of this type of van conversion that offer all the comforts of home in a vehicle, which is as at home in city traffic as it is on the back roads. To me, this versatility of design spells possibility and ease for the ultimate short or long getaway for tramping, camping, surfing, sightseeing, or snow.
Kiwi through and through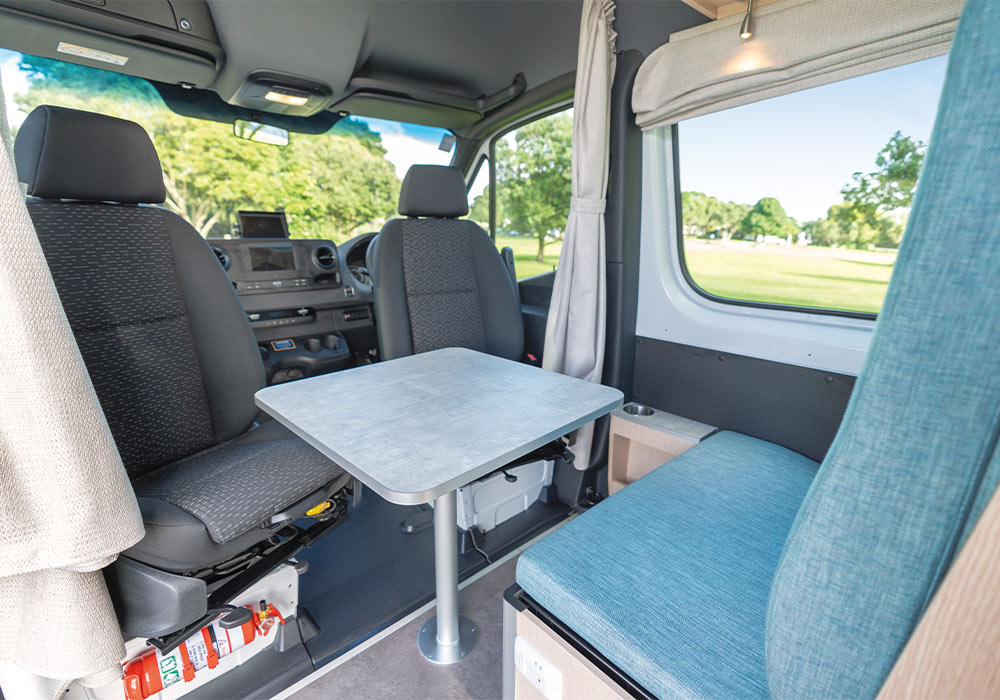 This iteration of the popular KEA Nomad, built by Action Manufacturing – which has been manufacturing the brand for many years – channels the colours of the country at the height of summer – light turquoise sea and white sand. To my way of thinking, the result is as fresh and lively as any test vehicle I've recently seen.
However, the decor is only part of the picture because there are some clever design details as well, and the whole resides on a top-of-the-line Mercedes base, which makes it a real winner in my mind. Having driven a few different RVs over the years, I'm a bit partial to a Mercedes base. I love the power and the smooth transition.
But let's take the country of origin of the base out of the picture for the moment. The majority of RVs built here are on imported bases, usually Fiat and sometimes Mercedes, occasionally from other big-name manufacturers such as Peugeot.
This is a Kiwi-built vehicle, and there's a wonderful back story about the Hamilton-based manufacturer. Action Manufacturing is the largest vehicle specialiser in Australasia, with 75 years of experience under its belt. In addition to manufacturing KEA motorhomes, Action supplies St John with its ambulances and Mainfreight with its rigid truck bodies, as well as many more businesses that are household names.
Departure design details
There's one other small piece to the puzzle missing, and that's the relationship of KEA to RV Super Centre, which sells the renowned KEA brand. Both come under the umbrella of Tourism Holdings Limited (thl), which owns the greatest number of RVs worldwide. Again, this massive story of Kiwis leading on the world stage deserves a larger story. For now, having established the pedigree of the KEA Nomad, let's return to the vehicle itself, which is innovative, as well as attractive.
One of the cleverest design details is the wonderful folding passenger seat, which is belted for road travel and which unfolds with remarkable ease into a fabulous day or night bed when needed.
RV Super Centre's North Island manager, Vicky Joubert, suggested this would make a wonderful place for a nana nap. I'm both a nana and a napper, so she had my laser attention as I watched it unfold into the perfect day bed for a sneaky slumber in a patch of sunshine. This is both a cool and functional design at its best, and I love that KEA is moving with the times in producing departure design details such as this, which are the future of small-space innovation, both recreational and domestic.
Of course, this small but important detail boosts this compact vehicle's accommodation capacity from two to three, making it ideal for active couples, small families, and grandparents who like to bring a friend or grandchild along occasionally.
The functional living spaces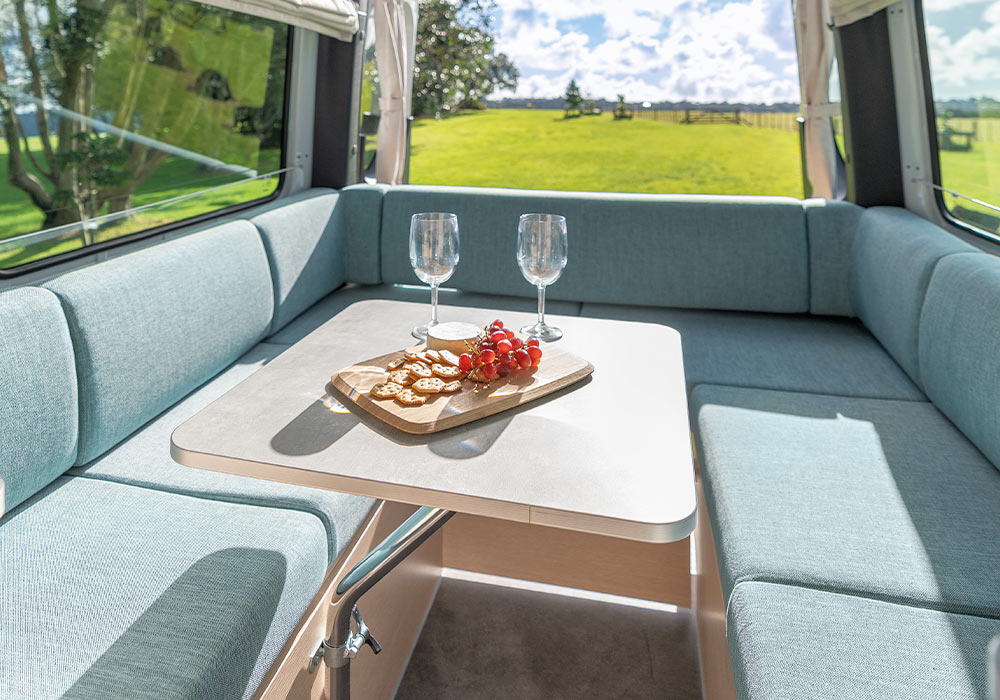 This is an all-in-one small space with separate areas defined by the swivelling cab seats and the converting bed chair, which create the possibility for a second lounge area and the wet bathroom in the middle of the vehicle. I'd also make good use of this and the Webasto heater combination for drying my activewear while underway.
In keeping with good design and the expectations of Kiwis for good cooking spaces, this small van, with its nicely trimmed blonde wood cabinets, delivers in both fit-out and function. Plus, there's a brand-new stainless-steel barbecue, which slides out and is my idea of culinary creativity. I'd be giving this the workout it deserves when the weather is kind enough, even though there's a good stove with rangehood and a microwave in the well-fitted-out kitchen inside.
A standout feature is the sense of light coming from the all-round windows and the enhanced indoor-outdoor flow generated by the large opening side door. A departure from the norm used in RVs to block out the light and afford privacy is the introduction of unfussy and practical Roman blinds in a robust fabric and subtle sandy colour. Very nice and perfect in combination with the pale turquoise upholstery, with both perfectly expressing the colours of our country.
The big bed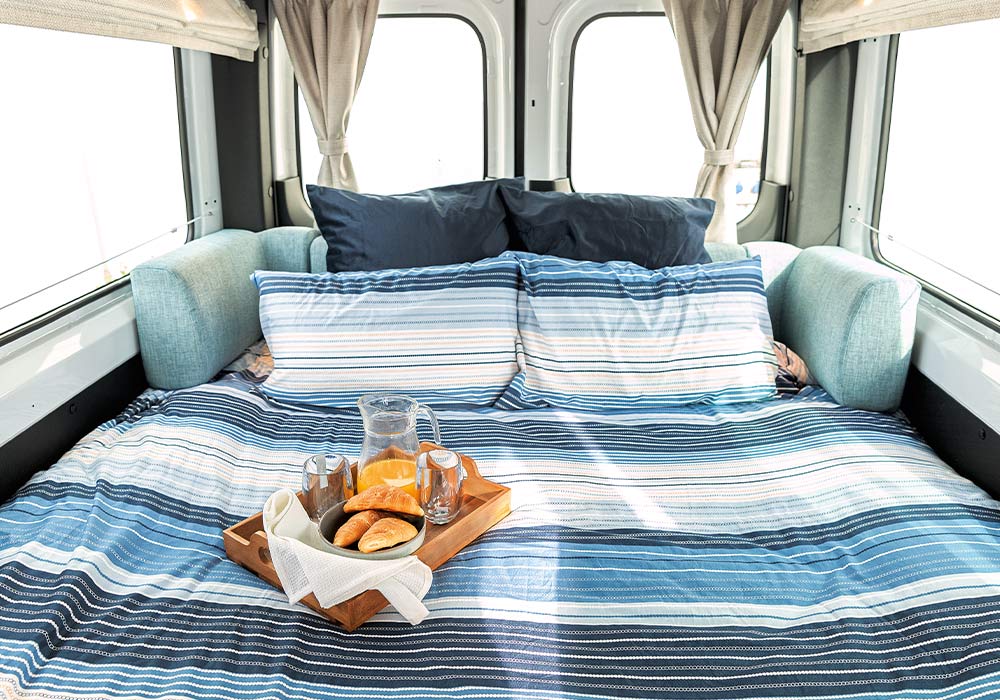 If, like me, you enjoy a large communal lounge, you'll find this one very open and inviting. It seats a crowd in comfort and then converts easily to a queen-size bed at night with the simple deployment of the tabletop and a second hidden board. I've used this type of bed before and it's extremely easy to convert from day to night mode. Ah, but it's possibly at its best during the day when the rear doors can be opened onto the lounge, and the moveable table mode is in operation. It looks like a wonderful place to sit, eat, work and – once again – underscores the practicality of this small and versatile vehicle. Home office on the road, anyone?
The lighting is user-friendly with control possible for a single light to multiple lights. You can also watch TV from the large bed, if you so desire, but you would need to upgrade to a satellite for better coverage when you're in the countryside.
Mercedes' design moves with the times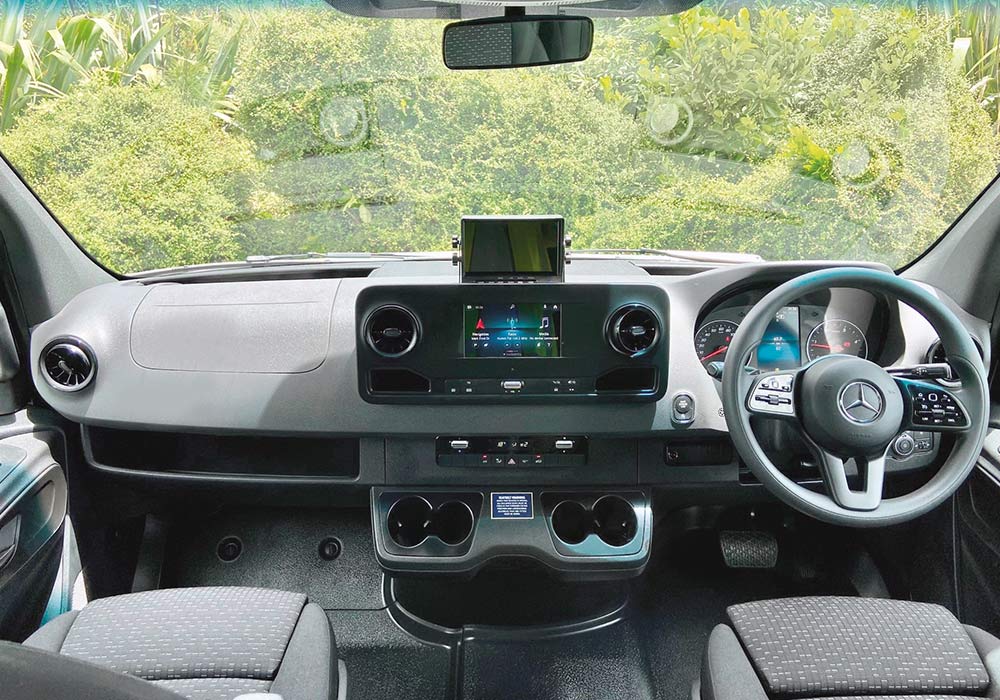 It's a fine line to negotiate the space between attractive yet unadorned surfaces and plain and boring spaces, but Mercedes has managed this with its latest cab design. It's sleek and functional, and even as it's spare, it still places function over form. Standouts for me are the double drink holders – yes, seriously. If you've recently tried to juggle both a hot takeaway drink and your essential water bottle while on the road, you will immediately see how sensible this is.
I love the finger lever for auto-shift and the foot-operated floor brake. It all makes such perfect sense. I like the matte black finish and the absence of carpets, although, these are optional. I also really like the Mercedes infotainment with built-in Sat Nav and full-time camera, which is a bonus to the rear-view camera. Oh, and I love the two-litre powerful engine, which I know will boost me through both mountain and hill climbs as well as for safe overtaking on a busy stretch of road.
Sales consultant Edwin Golena took over from Vicky to take me through the finer points. He underscored the subtle gear changes and powerful suspension, which offer a smooth ride for Mercedes drivers. It's a diesel engine and Edwin says it's proven to be economical with likely nine to 10 kilometres to the litre, perhaps better on the highway.
In summary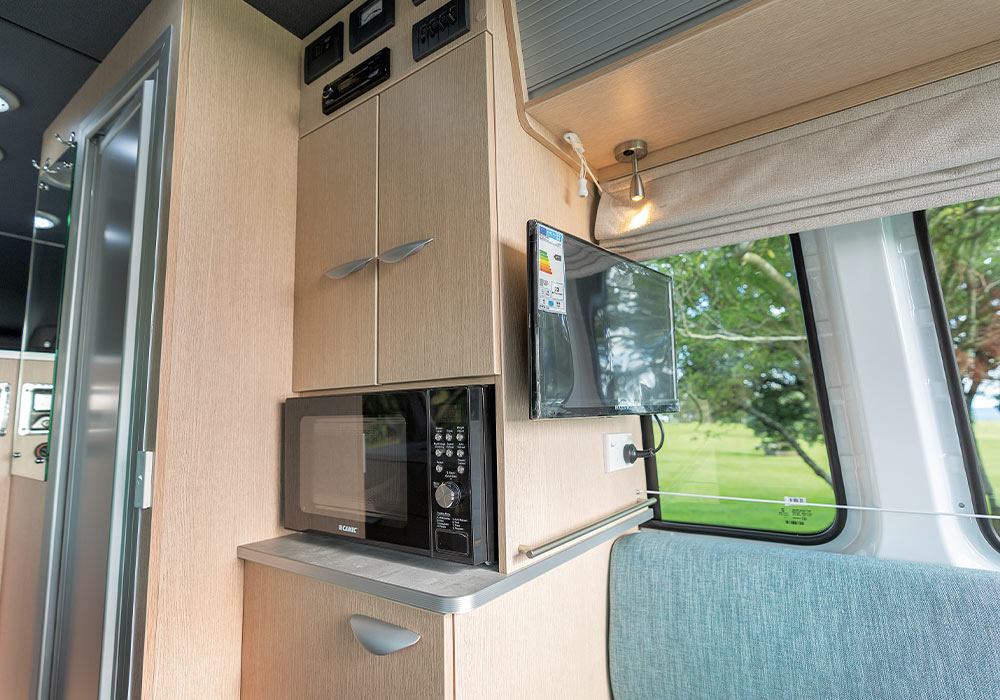 This type of vehicle is my ideal and it would suit me down to the wheels and rims. It's compact enough for the home garage or urban parking space, and it will also slide easily into the last parking place at the busy shopping centre. It's got everything you need for the long haul, yet it still has enough grunt to take you anywhere you want to go and would master both the main highways and the steep and winding back roads.
Did I mention that it's locally made? Of course, I did. Support your Kiwi manufacturers, I say. They're world-leading.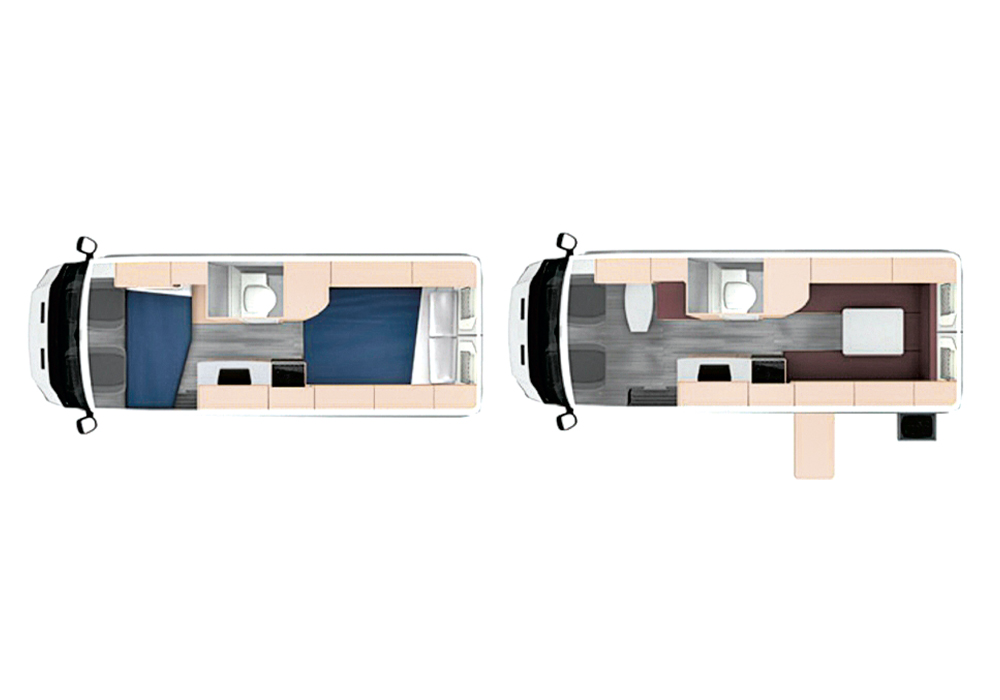 | Make and model | 2023 KEA Nomad M700 |
| --- | --- |
| Chassis | Mercedes-Benz Sprinter |
| Engine | Mercedes-Benz 2.0L turbo diesel |
| Berths | 3 |
| Length/width/height | 7m/2.04m/2.80m |
| Fresh/Grey water | 85L/104L |
| Price | $144,990 |