Paul Owen discovers the Hymer ML-T 580 from Wilderness Motorhomes rivals many RVs in double the price bracket for 4×4 bespoke quality and toughness.
There's been a new kind of EV in the motorhome sector for quite some time, and it emerged well before the current tidal shift towards electric vehicles. It's the 'expedition vehicle' segment, once the preserve of backyard boffins who turned military-grade all-wheel-drive trucks into comfortable motorhomes capable of all-terrain travel. These days, instead of building an expedition vehicle yourself, there's a plethora of niche motorhome builders catering for would-be adventurers, mostly located in North America, Australia, and Germany.
They'll build you something one off that's ready to tackle Siberia's infamous 'Road of Bones', the wondrous wilderness of Outer Mongolia that's only criss-crossed by horse tracks, the bone-shaking Pamir Highway traversing most of the countries that end with 'stan', or Australia's skeleton-strewn Canning Stock Route.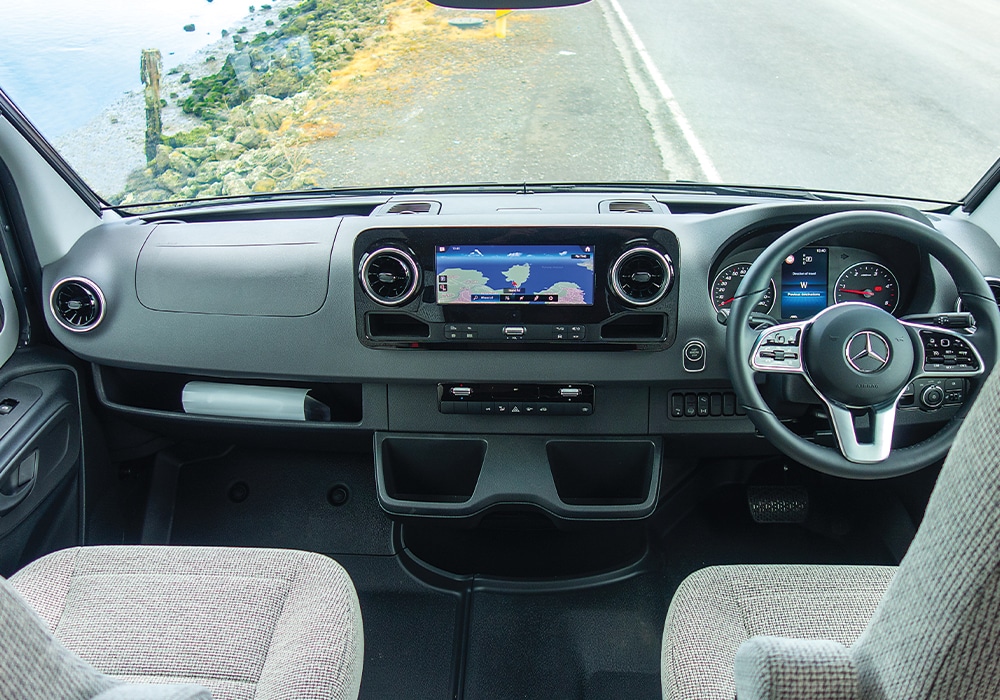 There's just a couple of catches. Be prepared to delay that expedition for some time before your ready-for-anything bespoke motorhome finally reaches completion. And the biggie: expect to pay between $500,000 and upwards of a million for it depending on the size, building materials (carbon-fibre cabins are a current expedition vehicle trend), and equipment fit-out of your dream global home on wheels. Or you could just buy this $287,900 Hymer ML-T 580 instead (well that was the price for the 2022 model we reviewed).
For it was just a matter of time before a mainstream motorhome maker with an undisputed reputation for build quality joined the expedition vehicle party. Hymer might not sound quite as romantic as the EarthRoamer, Action Mobil, EarthCruiser, and Bliss Mobil brands already playing in the 'expedition' space, but the ML-T 580 is genuinely equipped to be a turnkey alternative to the bespoke all-terrain motorhomes made by them.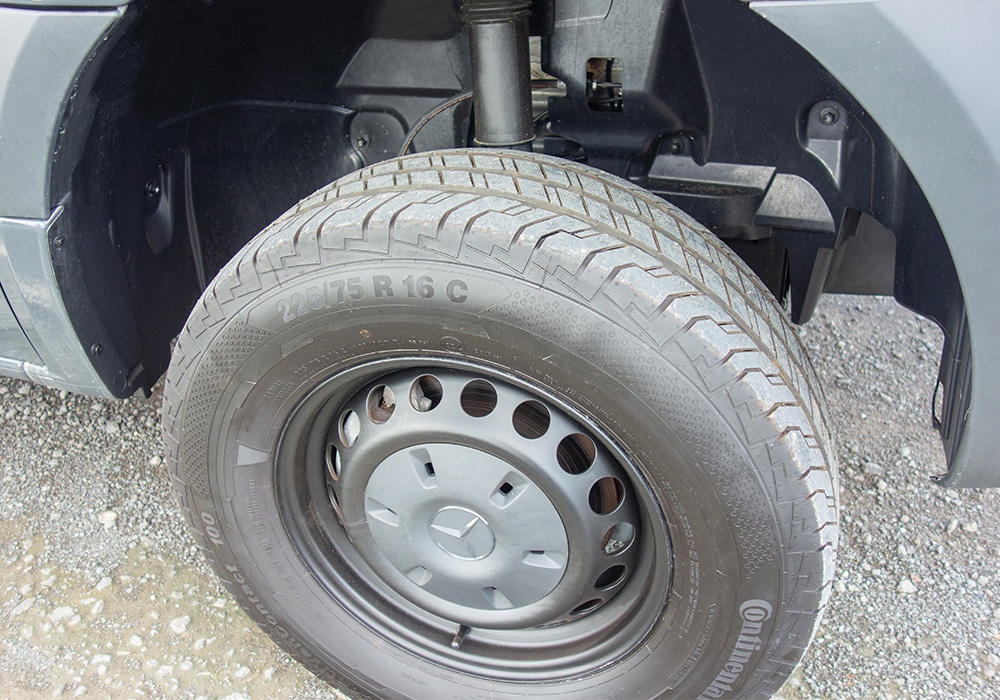 For it was just a matter of time before a mainstream motorhome maker with an undisputed reputation for build quality joined the expedition vehicle party. Hymer might not sound quite as romantic as the EarthRoamer, Action Mobil, EarthCruiser, and Bliss Mobil brands already playing in the 'expedition' space, but the ML-T 580 is genuinely equipped to be a turnkey alternative to the bespoke all-terrain motorhomes made by them.
High-rise sprinter platform
This ML-T 580 is based on the Mercedes-Benz Sprinter CDI 416, and as a 4×4 version enjoys the traction-enhancing qualities of an added front differential, transfer case, and front driveshaft, all of which have been made and developed by Merc's Austrian subsidiary, Oberaigner, which used to be an independent company but proved so successful at developing all-wheel-drive Sprinters that Daimler-Benz fully absorbed it into their operations.
Oberaigner-enhanced Sprinters have been available since 2014 and have proved popular with NATO-aligned armies and overlanders alike, and many have found that a Sprinter 4×4-based motorhome or campervan is just as capable offroad as a larger truck-based vehicle, yet it provides vastly improved ride quality and fuel use during on-road time.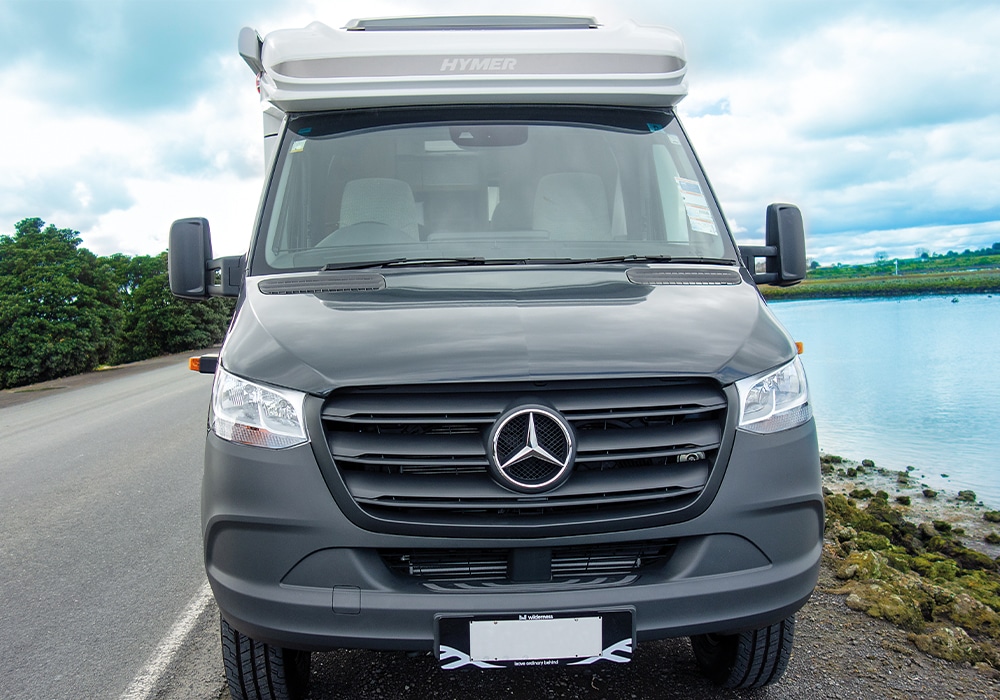 This certainly applies to the ML-T 580, for it delivers the ride of a magic carpet on its raised suspension and 16" wheels (the latter are steel hoops in the photographs but a set of 16" alloy wheels is included in the New Zealand price of the Hymer). Ground clearance is raised by 16mm to 192mm on the 4×4 versions of the Sprinter range, a difference mostly experienced visually when inspecting the more generous gaps between the tops of the wheel arches and the tyres. It's not something you feel while driving the ML-T 580. This Sprinter maintains the same flat attitude as its 2WD siblings when cornering, the stability aided by the crosswind assistance system that got fitted to the Sprinter range along with a host of other driving aids during a comprehensive upgrade for the 2019 model year.
Other driving aids include active brake assist (detects when more stopping force is required in an emergency and automatically adds it), active lane keeping assist, traffic sign recognition, highbeam assist, rain-sensing wipers, and cruise control. There's also a large central touchscreen displaying Merc's MBUX multi-media interface as well as the multiple views from the reversing camera, and semi-automatic climate control.
Oberaigner fit beefier front axles, a larger 93L fuel tank, and the chassis is uprated to enable a 4100kg Gross Vehicle Mass rating including a generous 810kg payload. The ML-T 580 therefore requires Certificate of Fitness checks instead of fitness warrants, and falls outside the government's clean car programme, which would otherwise require a clean car fee to be paid at the time of the first registration for New Zealand road use.
You have to manually engage the drive to the front wheels to send torque to all wheels of the Sprinter via a button on the dashboard. The change requires coasting down to a speed below 15kmh, putting the transmission into neutral, pushing the button, then selecting drive again. The low range gear ratio in the transfer case is a modest one at 1.45:1 and is identical to that of a Subaru Outback.
Hardcore overlanders might consider this to be not low enough, but I found the 120kW/360Nm 2.2L diesel engine of the Mercedes happily chugged away while idling at dawdling speed with it selected. Said off-road enthusiasts will feel obliged to applaud the neat design of the Oberaigner transfer case, and the way it tucks neatly into the back of the Mercedes seven-speed automatic gearbox in a manner that doesn't reduce ground clearance.
Meanwhile, the Oberaigner era of the Sprinter 4×4 is about to come to a close. From the fourth quarter of 2022 onwards for right-hand drive models, Mercedes will completely upgrade the powertrain. The seven-speed auto will be replaced by a newer nine-speed transmission, driving the same '4matic' adaptive all-wheel-drive system as used in many Mercedes passenger car models. Will this more road-oriented four-wheel-drive delivery system prove to be as robust and trustworthy in overland use as the much-revered Oberaigner mechanicals used in this ML-T 580?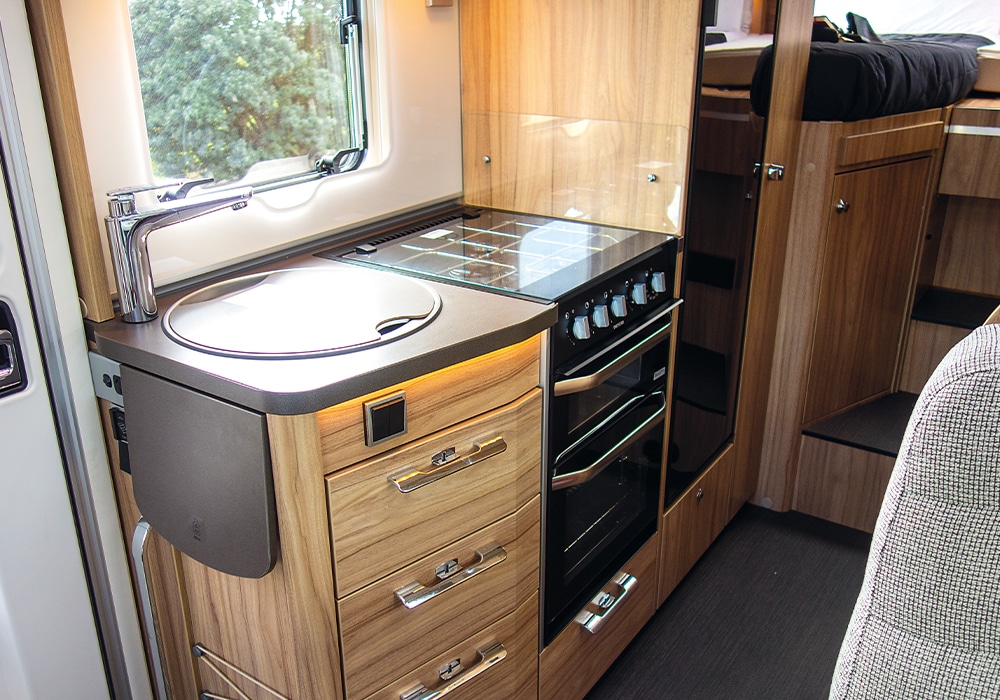 Wood-free construction
Hymer's big calling card, and the major justification for the premium price positioning of its wares, is its PUAL construction technology. The walls and roofs of Hymer motorhomes are constructed by separating two huge pieces of aluminum plate with a highly pressurised injection of polyurethane insulation foam. The foam is injected under the pressure of 500 tons and this allows it to spread evenly between the plates, then set to achieve an insulation foam inner core between the aluminum plates that is 34mm thick. Holes in these single-piece aluminum sandwich body parts are then cut for windows, doors, and skylights, and they're comprehensively glued together over a GRP sandwich floor with its own 46mm thick insulation layer.
Hymer has been making motorhome bodies this way since 1978 and hasn't yet come up with a better way to make them during the past 44 years. Nor has any other motorhome body builder. Such are the insulation values that result, Hymer says that the PUAL technology is "the bodywork concept for any climate."
Design highlights of the ML-T 580 body include the 'Skyview' roof and integrated LED lights above the habitation area, the wide entry door with its handy button to deploy a perfectly positioned entry step, the power-operated awning, and the outside shower and gas BBQ feeds. Other highlights include the generously sized garage, checker plate floor, access doors on either side, and the handy exterior lockers that provide easy access to the fuses, switches, and the twin 9kg gas bottles. There's a strong impression generated by these design details that this adventure motorhome has been created by folk who often venture into the badlands of Central Asia upon occasion to find what could be improved on it.
Aside from the two-year/200,000km Mercedes-Benz warranty of the Sprinter 4×4 platform, there is also a comprehensive two-year Hymer warranty and a six-year guarantee against water ingress. New Zealand Hymer distributor, Wilderness Motorhomes, also ensures that the vehicle comes to you with full electric and gas compliance, and the necessary self-containment certification.
Fully dressed
There's a nice balance between adventure and luxury to be found inside the ML-T 580. With the overall length of the motorhome confined to an easy-to-park 6.98 metres, Hymer has fully aimed this model at couples. There are two spacious beds at the back, each 800mm wide, with one 1900mm in length, and the other 1840mm long. They come covered by multi-zone memory foam mattresses, supported on each side by a matrix of sprung plastic cups. A large wedge of extra foam can be deployed to convert the two spacious singles into a single king-sized double if required.
The beds are preceded by a toilet / washroom area complete with a proper sized height-adjustable shower on one side, the latter coming with a wooden pallet platform to stand upon and a fully sealed door that completely prevents water from escaping. On the other side you'll find a roof-to-floor wardrobe and other compartments suitable for storing clothing, making the floor space between the two areas a natural place for drying/dressing.
The rear bedroom and washroom / wardrobe areas are of similar size to those of longer motorhomes and take up roughly half the longitudinal length of the cabin. This meant that Hymer had to get creative when it came to fitting in the kitchen and the L-shaped lounge. The rear of the kitchen bench overlaps some of the shower cubicle and has a flip-up bench extension that colonises space used by the entry door. There's everything you need: three-burner hob, full oven/grill, and a 142L fridge with a 15L.
There's also a stack of large drawers and a couple of overhead cupboards, and the former have soft-closing and are secured by large latches that automatically give a satisfying 'click' when fully shut. The lounge can fit five at the table that can slide north-south or east-west as required, but it's a bit of a pinch if all are fully grown. There is the possibility of converting the lounge seating into a bed sized for a couple of children, and the forward-facing bench of the lounge provides a couple of seat belts for their travel. A 22" TV taking its feed from the satellite dish or the Chromecast device hookup is included in the price of the ML-T 580.
Rotating the front cab seats to face the lounge isn't quite as easy as with some other vans, as Mercedes mounts them further apart to improve access to them from inside the motorhome cabin. It's therefore easier to open the cab door before rotating either of the front seats, with the push-button parking brake making the job easier.
Camping wild
With reasonable water storage (120L fresh, 100L grey), plus twin 95Ah batteries, twin gas bottles, a 150W solar panel, as well as a 1000W inverter, the ML-T 580 is capable of independent camping for long periods. Thanks to the increased ground clearance of the body and the terrain conquering abilities of the Sprinter's 4×4 power train, you'll have a wider pick of potential parks for the night than less extraordinary motorhomes.
Floorplan Hymer ML-T 580
SPECIFICATIONS
MAKE & MODEL:
HYMER ML-T 580
CHASSIS:
Mercedes-Benz Sprinter 4x4 cab/chassis,
selectable all-wheel drive
ENGINE:
2.2 litre turbo-diesel, 163bhp
GEARBOX:
Seven-speed automatic
BERTHS:
2
LENGTH/WIDTH/HEIGHT:
6980mm/2220mm/2900mm
FRESH/GREY WATER:
Fresh 120L/Hot 20L/Grey 100L
GVM/PAYLOAD:
4100kg/810kg
UNLADEN MASS (TARE):
3290kg
PRICE:
$287,900 for MY2022
For more information, visit https://www.wilderness.co.nz/