From river crossings to freedom camping, this smart all-rounder will take you anywhere, writes Paul Owen.
The word 'adventure isn't just a clever buzzword for 'challenging travel' – the term also defines an increasingly popular mobile lifestyle. Over in the passenger car world, SUVs have been dominating the sales charts for a while now, often because they make statements like 'Look, I can go skiing, biking, and surfing' for their owners. As for motorhomes, New Zealand has its very own ready-for-anything Adventure version, in the form of the $172,000 Explorer Navigator, which MCD originally reviewed in 2021.
The Navigator is the motorhome equivalent of a Range Rover or a Toyota Land Cruiser among SUVs. It delivers impeccable build quality in a refined package, with some outstanding driving dynamics and ease of use. Based on a single-cab Ford Ranger ute platform, it was a big surprise to this driver to find that not only did the Navigator mimic much of the driving experience of the Ranger, it also surpassed the unladen Ford ute when it came to suspension performance. Long transits between camping spots will never be a chore in this Kiwi-made and developed home on wheels.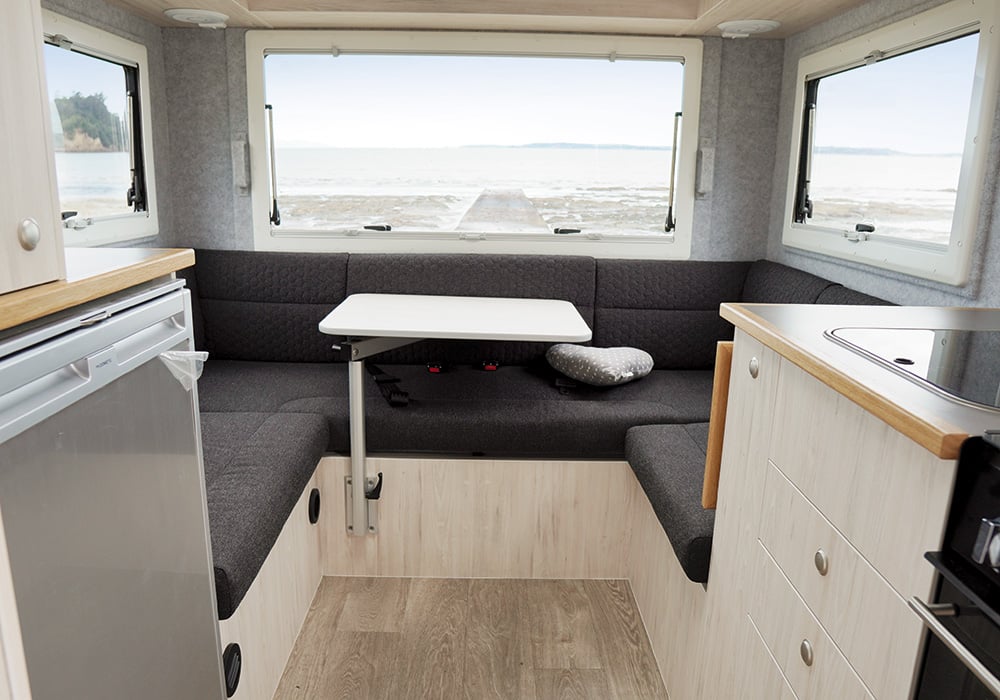 CONTINUOUS UPGRADES
The bespoke manufacture of the Explorer Navigator allows Explorer Motorhomes to constantly refine the product. Company director Simon Bishop says improvements are sometimes suggested by owners, but often result when either he or his partner, Mike Nicklin, use one of the motorhomes. "One time, for example, I bumped my head on an overhead storage locker in the rear lounge. As a result, extra head-room has now been added there." The list of changes since Simon and Mike purchased the company back in 2014 is a long one, but each has been a definite step up, to the point where an Australian company, also named Explorer Motorhomes but which is fully independent, has adopted the design of the New Zealand-made motorhome with Simon and Mike's approval. "It's all about constantly finding little ways to make a better motorhome," says Simon. "I'm really big on the details."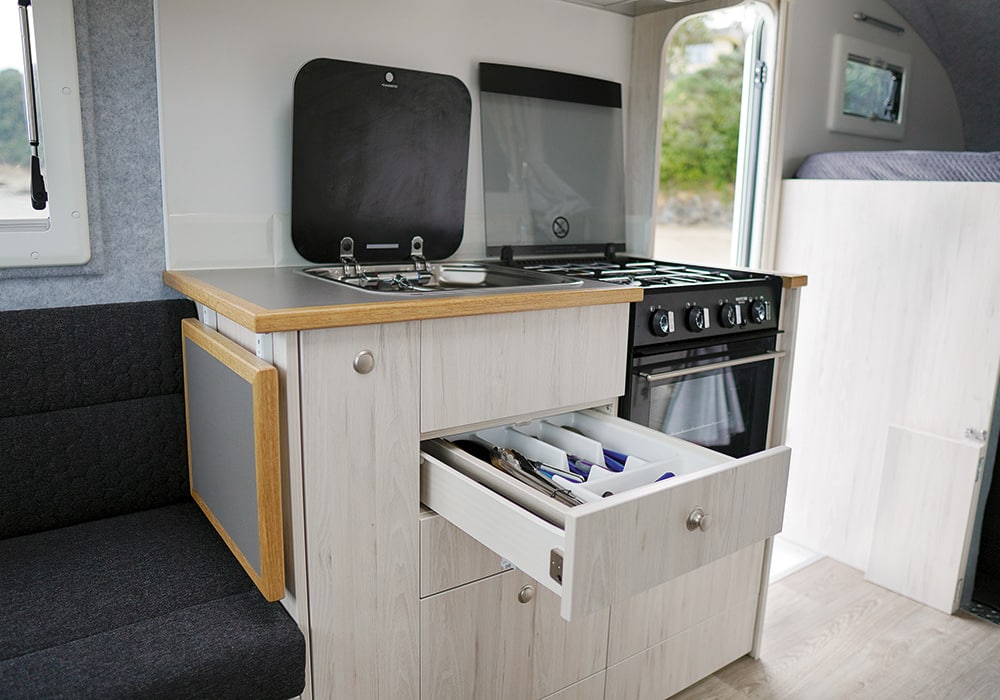 ENTRY
If you want to check the standard of the build quality of a motorhome, start with the fit of the side doors. The Navigator's door closes smoothly to create a snug fit, fully sealed and dust-proofed with rubber strips. You can lock the motorhome door by simply using a button on the Ford Ranger ute's key fob. Other nice touches include the robust handle to grip as you enter, complete with a brand-name foam backpad to prevent finger rings from scratching the stylish interior joinery. There's also a fly-screen, and a rubbish bin at the base. The fold-out step is manually operated, but a power step is an $810 option at entry level.
Not that 4WD enthusiast Simon recommends ticking that box: "Our motorhomes are capable of wading through river crossings to depths of 800mm, but fitting a power step will reduce that ability." A further finishing touch here – rubber flaps on either side of the step prevent roost accumulating from the wheels.
LOUNGE
It's natural to gravitate to the rear lounge, where generous windows on three sides offer plenty of light and wide views. There's room to seat six or seven people, and looking back towards the door you appreciate the spacious design. The latest improvements here have involved refitting the wardrobe, the fridge cabinet and the entertainment area to increase wall space, so that a larger 22-inch TV can be mounted facing the seating area. There's a choice of two tables, including a $850 option with a corner Lagun leg, which swivels to different positions. Canny buyers might prefer to use the standard table, mounted on three folding legs. This stows away neatly near the entrance door, ready to be taken out- side when required.
In the lounge area, the seating easily transforms into a second double bed. It takes less than a minute to pull out the two platform additions (stashed under the rear bench), and then rearrange the cushions to create the mattress. Stowage includes a large compartment under the left-side bench seating, four overhead lockers on either side, and a rear overhead shelf. The space under the driver's side bench is reserved for a 10L gas hot water heater, which has an electric element that takes over heating duties when the vehicle is plugged into mains power. The optional Eberspacher diesel heater ($3200) resides next to the gas water heater, feeding warmth through two vents, one in the lounge, the other in the bathroom to create a handy drying room. All windows open, and are double-glazed with pull-down shades and blinds.
KITCHEN
One of the best reasons to choose the Navigator is the superior kitchen. You get a proper oven (not just a grille), a three-burner hob and a vented rangehood. There's a useful pull-out pantry, and the drawers now feature the soft-close action that every interior designer craves. The 136L Dometic fridge, on the other side, runs on either battery or mains, and has an ice-box that can swallow a 2L ice-cream container. The preference for a two-way fridge instead of gas-only reflects Simon's passion for more efficient options – such as lithium house batteries, Redvision electrical management computers, and solar panels. "With 320 watts of solar power, a 200 amp/hour lithium battery, and the Redvision monitoring and management from REDARC, you've got an electrical system that is absolutely the bee's knees."
WASHROOM
You notice the length of the Navigator in the wetroom. This roomy area creates a personal wash space comparable to larger motorhomes. It also comes fitted with a drying rack and a wall cabinet. There's a washbasin in one corner, a flexible shower hose in another, and decent room to move about in. If you need more, tick the $600 outside shower option available.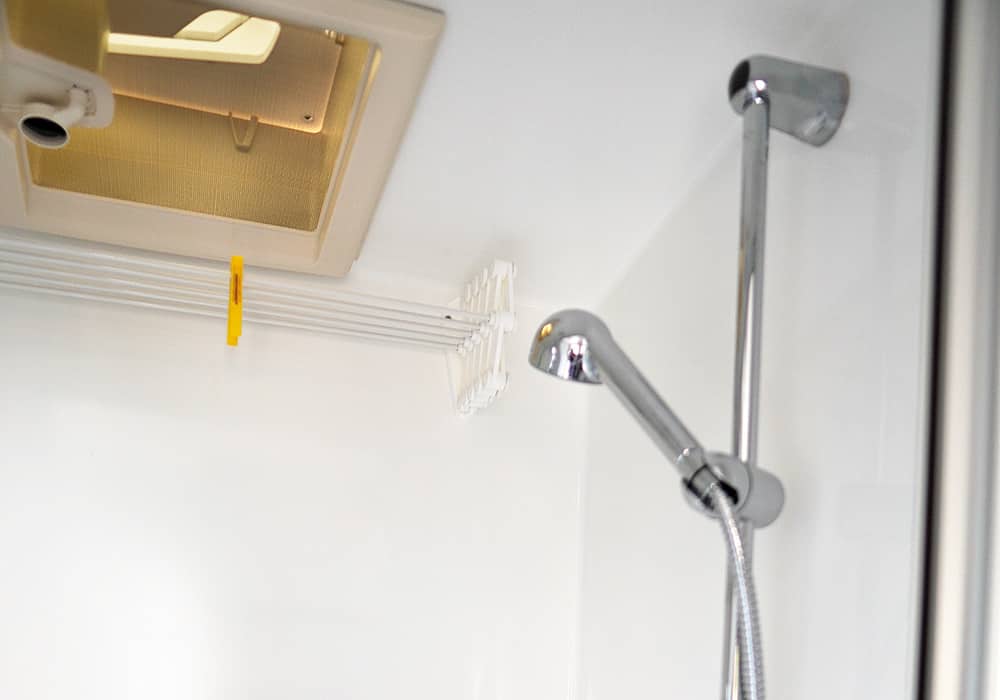 BEDROOM
When fitted over a lower ute cab (rather than that of a large van), the motorhome height reaches a generous 2.9m, allowing for a spacious bedroom above the cab. You access this via a well-designed step that can be folded away. There's also a sturdy grab handle, and those who might find the single step a bit too high when descending can gently lower themselves backwards to the floor by taking their weight with the handle. The Luton double bed measures 2.0m x 1.5m in the Navigator. I found the foam mattress super-comfy, and at least as good as any mattress bed I've experienced. The discreet windows on either side open for ventilation, and the sit-up space is roomy enough to quell any feelings of claustrophobia. A handy shelf can hold glasses and the inevitable morning cuppa.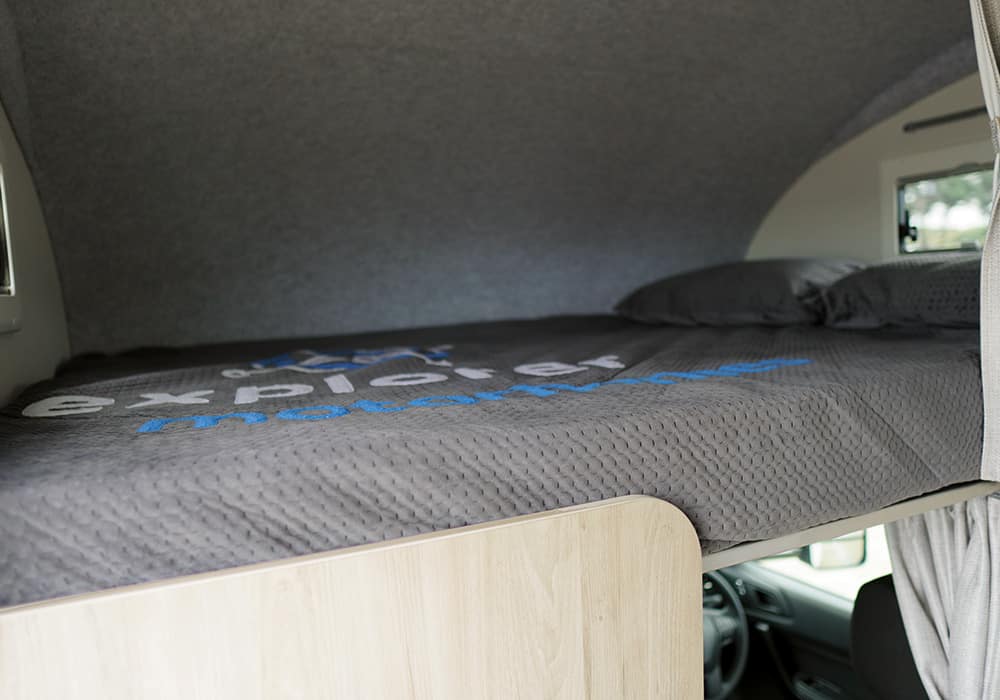 REAR
The outside rear compartment is 1620mm long x 460mm deep x 530mm high. It has two doors for access, a larger one at the rear and the other on the driver's side. It's perfect for folded camping chairs, fishing rods or golf clubs. As for bikes, it's probably best to fit a towbar rack, one that swivels backwards when parked so you can access the larger door of the rear compartment. This Navigator came with the $2,000 tow- ing package, the ball rated to pull up to 2000kg (braked), or 750kg (unbraked).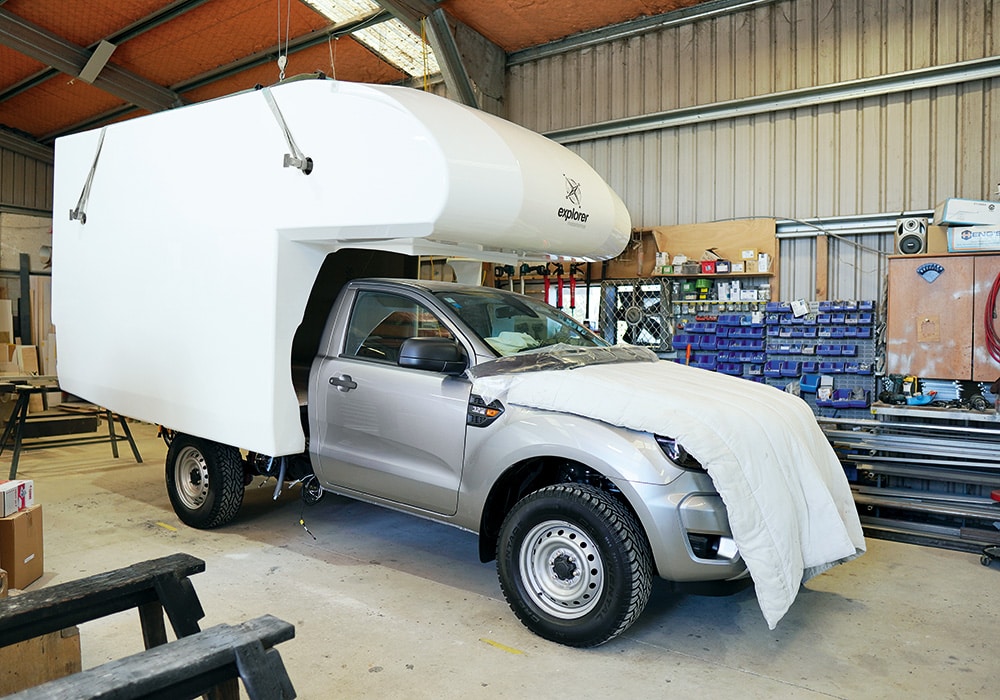 CHASSIS AND RUNNING GEAR
The Explorer delivers a limousine-like ride, courtesy of beefier springs and shock absorbers fitted all round. The new suspension comes from the highly rated Aussie supplier, Pedders. Simon also recommends that buyers upgrade the handling with the $2100 alloy wheel/AT3 light truck tyre package, as the stiffer tyre sidewalls help keep body-lean in check when cornering.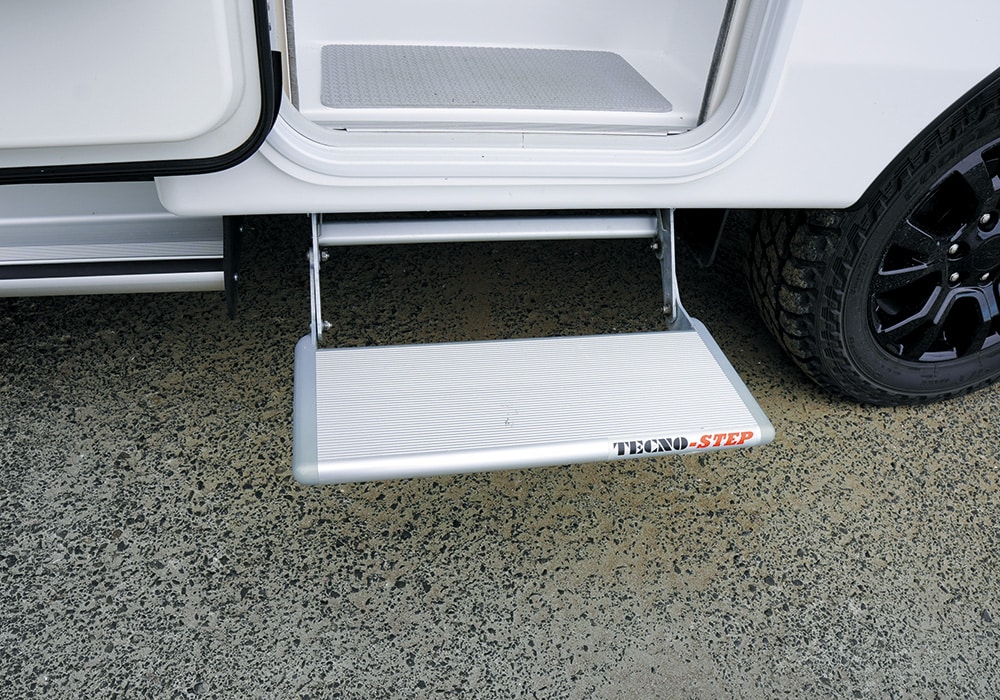 FREEDOM CAMPING
In a nutshell, the all-terrain features create more opportunities to freedom camp while parked up far from the madding crowd. A limiting factor might be the 5kg gas bottle, but only if you haven't splashed out on the solar panels, Redvision system management, and the beefiest lithium battery options first.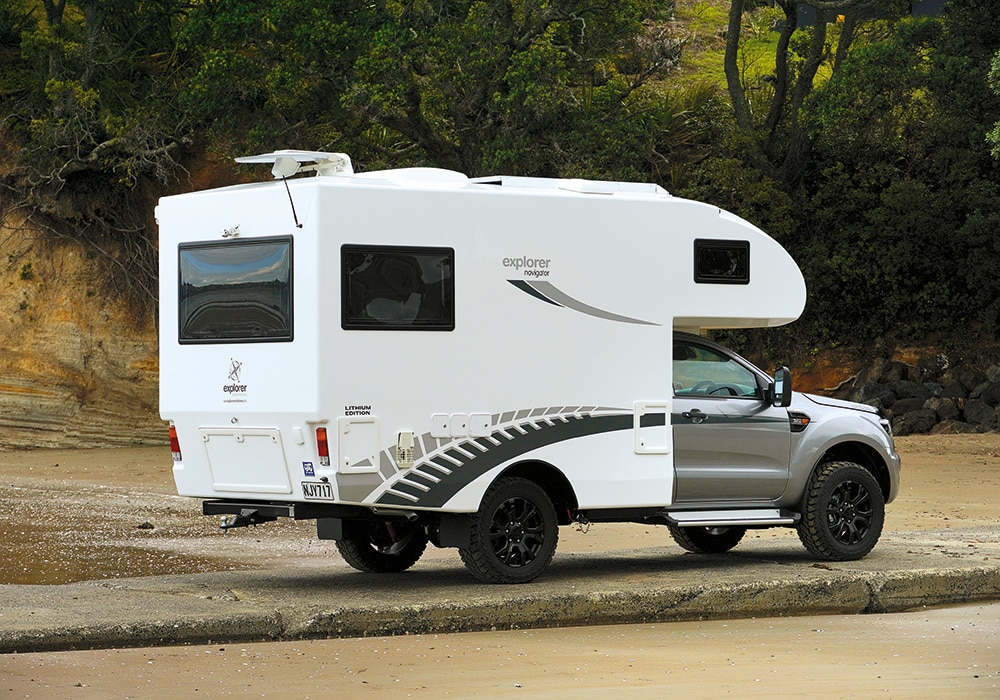 SUMMARY
There's quite a long waiting list of orders for the Navigator, and it's easy to see why. It's the comfy and capable motorhome that can go where others fear to tread.
PROS
Proudly made in Dairy Flat
Huge resale value potential
Goes where you want to go
CONS
Long lead time on build
5kg gas bottle
Reversing camera costs extra
Explorer Navigator Specifications
| | |
| --- | --- |
| Chassis | Ford Ranger single-cab/chassis 4WD |
| Engine | 3.2L turbo-diesel, 197bhp |
| Transmission | 6-speed auto |
| Berths | 4 |
| External length | 5900mm |
| External width | 2080mm |
| External height | 2950mm |
| Water: fresh/grey | 80L (extra 50L optional) / 80L |
| Gas tanks | 1 x 5kg |
| GVW | 3500kg |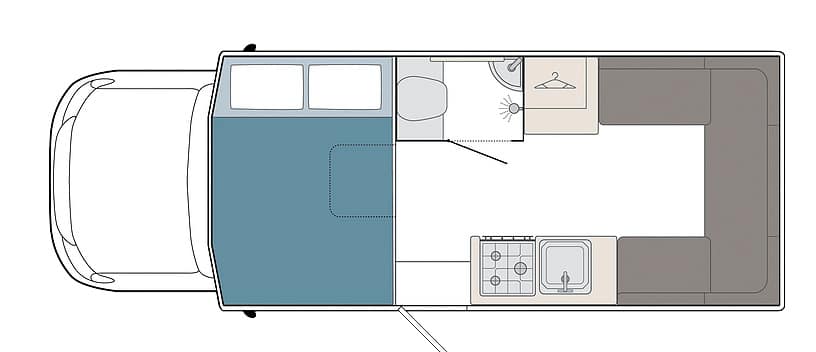 Price as reviewed: $172,000
Visit explorermotorhomes.co.nz for more information.