When we think of a Legion, we tend to think of masses of Roman infantry traversing all manner of terrain. Roman Legionnaires were battled hardened and armed to the teeth and knew a thing or two about going places, which brings us neatly on to Legion Caravans, particularly the Legion Kiwi 22ft Rear Club, which Ben Selby recently spent some time investigating.
They may be built in Australia, but each New Zealand-bound Legion, including the Kiwi model (as the name suggests), is tailored to Kiwi conditions and specified to the nearest detail by the team from Christchurch RV Centre, New Zealand's sole Legion caravan dealer.
According to Christchurch RV Centre office manager Allicia Beirne, the Kiwi 22ft Rear Club has been a hot property since it launched in late July.
"The Kiwi 22ft Rear Club arrived here at the end of July and has been the topic of much positive interest since landing, with a number already sold and on the road," she says.
"Each Kiwi caravan has been specified by us and because of the hot dipped galvanised chassis, it boasts a great deal of durability, which is appealing to the adventurous New Zealand lifestyle."
Another aspect that appeals to potential caravan purchasers is the fact that instead of having to fork out extra dollars for a whole raft of optional extras, this Legion Kiwi 22ft Rear Club offers a comprehensive all-inclusive package at its set price, with all of the mod-cons you often pay extra for included in the price. It's a welcome addition to the market with no hidden extras or disappointment at missing features.
Starting off in terms of what you see, the Kiwi 22ft Rear Club is a striking bit of kit to behold. At 9090mm long and with a tare weight of 2700kg, it certainly makes a statement.
Everything from its bespoke Legion decals to durable materials including dent-resistant wall cladding, twin-axle set-up with alloy wheels and heavy-duty rated tyres, right up to the one-piece fibreglass roof makes for a stunning-looking caravan.
The chassis, as already established, is hot dip galvanised. Its full grid box section underpinnings and roller rocker leaf springs mean that it not only looks the business but can also handle the business.
At the front, there's space for two 9kg gas bottles and a large storage box, which encompasses a toolbox and thru boot. These are both easy to access and can be opened and closed with no problems.
Around the side is a pull-out awning, security door, sealed windows and doors, and a barrage of heavy-duty locker doors to maximise storage capacity.
There's also an extra shower outside, a gas bayonet, and two 240-watt solar panels. Every possible convenience has been considered and catered for to ensure hassle-free enjoyment.
At the rear is a bolt-on spare wheel, two double-glazed sealed rear windows (which allow plenty of light into the rear dining area), and that all-important reversing camera sits just below the curved angular roofline. Thanks to the addition of this welcome piece of technology, and whether hauling your Legion on the black top or off the beaten path, you'll always have plenty of vision as to potential hazards at the rear.
First impressions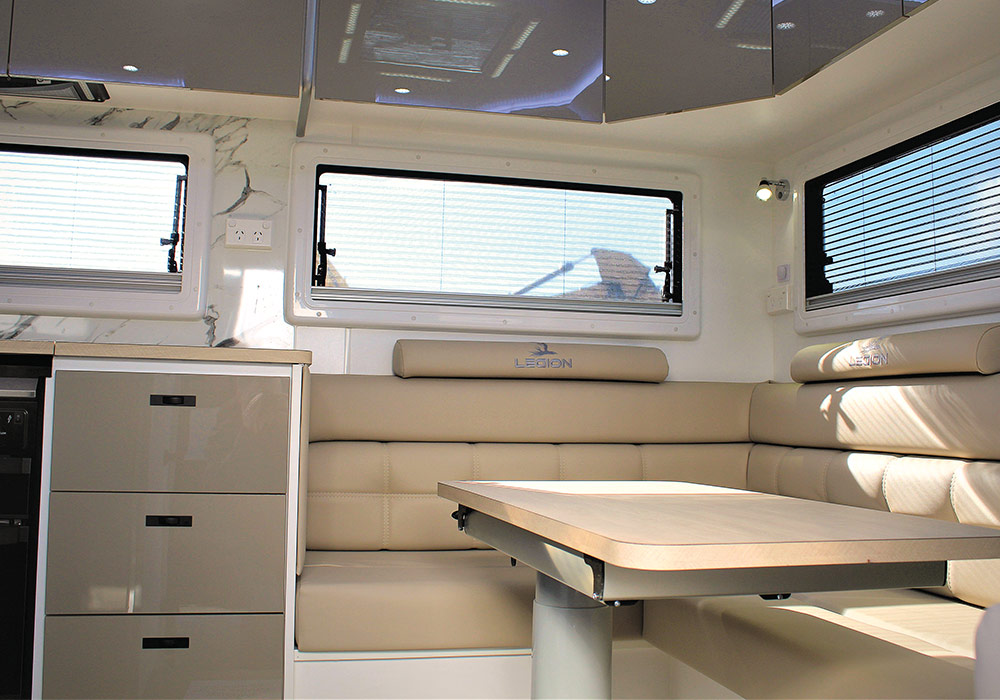 Not all caravans live up to the promise of their smart-looking exteriors, but the Legion Kiwi continues to exceed expectations. Enter via the aluminium steps and, lo and behold, you have one of the most luxuriously appointed rear club caravans in this market segment.
All of the materials used, from the dining table to the benchtop and cabinet doors are built to an incredibly high standard. Legion also accentuates its thoughtful design features by also paying attention to the aesthetics, using plenty of warm colours on the upholstery, and kitchen top for an instant feeling of welcome calm.
Adding to this, your surroundings can be fully illuminated by way of the beautifully placed LED and strip lighting for added ambience. The lighting is a classic example of the extreme care that has gone into the placement of every detail and adds to the overall mood of luxury and comfort.
The seats are not only trimmed in faux leather but also manage to be incredibly comfortable. Although the table is fixed in place, it can be adjusted with ease to suit the crowd. Regardless of how you choose to position the tabletop, from every angle, there's plenty of head and leg room, making it the perfect gathering spot for when the weather chucks it in and family and friends need to enjoy time together or a meal in the comfort of this cosy open area.
Chef's delight
The angled kitchen blends modernism and minimalism to great effect and you'll likely be finding excuses to spend time in this well-appointed and cleverly designed space.
The Legion Kiwi delivers a 22-litre gas/240-volt cylinder for hot water, a 95-litre underfloor grey water tank, and two 95-litre freshwater tanks, as well as a 2kW Diesel Room Heater, a pull-out washing machine, gas oven, and a three-way fridge freezer. That's a lot of technology and convenience, all of which come as part of the package.
There's also a full oven with gas hobs and grill to whip up some culinary delights. The inclusion of a 24-inch LED TV and CD/USB player on the wall next to the kitchen sink is more than ideal for being inspired by holiday cooking shows. Talking of TVs, the master bedroom area also sports a 19-inch LED offering for enjoying late-night movies in comfort.
Slumber time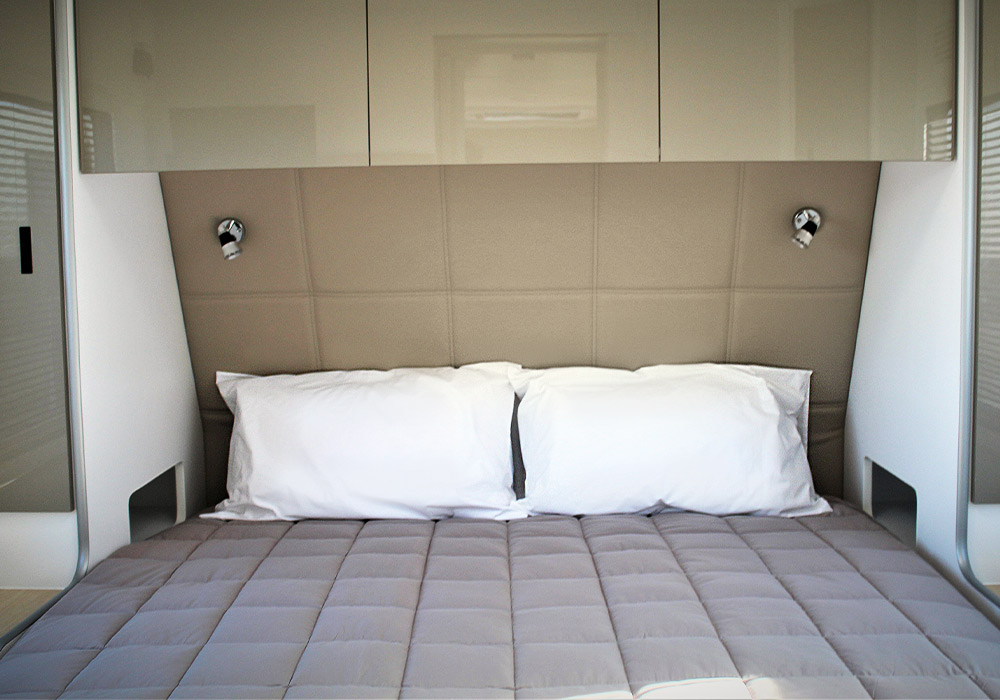 The generous queen-sized bed comes with a quality innerspring mattress, offering a considerable level of comfort. Every inch of space is made good use of, with ample cabinets around the bed for convenient storage and underbed storage.
Unlike many sleep areas in caravans, this space is bright and appealing, with a skylight allowing light to flood in and offering a view of the stars above at night.
There are also charging and power points in this space, as well as both inside and outside the caravan, and if you want to add music to your atmosphere, there are two outdoor speakers to share the experience if you're set up for outside dining or entertaining.
Clean lines
Through to the bathroom, where the separate shower (with a 12-volt fan) and toilet both have a power hatch above.
Again, the space is light, welcoming, and well-designed. Sliding doors allow the toilet and shower areas to function as an ensuite or be closed off from both the living and bedroom areas for added privacy.
Let there be light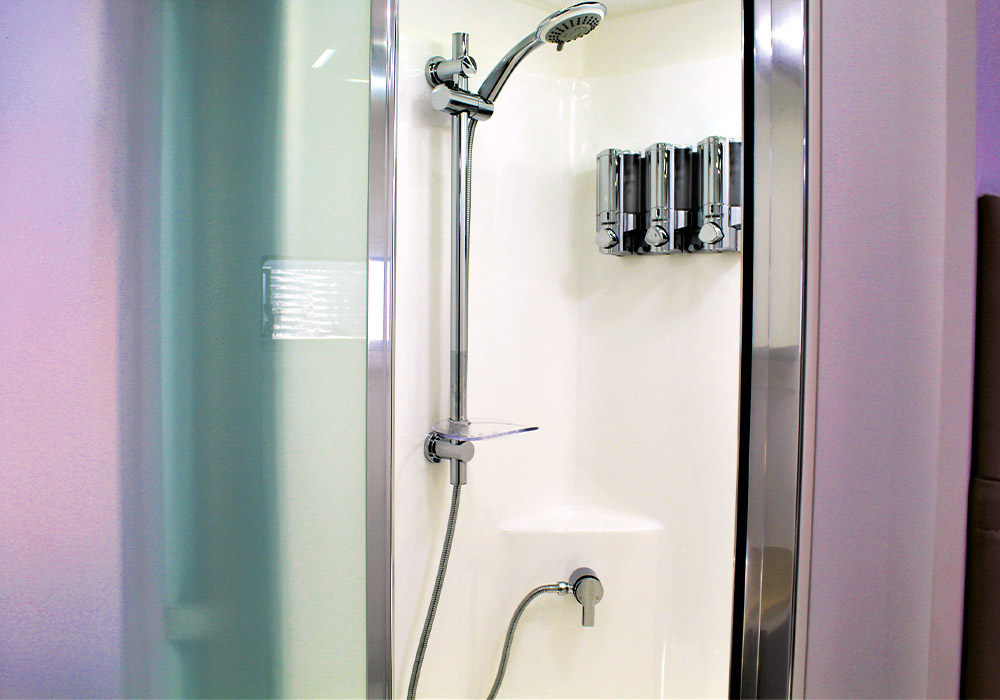 Well-appointed skylights are a key component of setting the spacious feeling for the Legion Kiwi. Featuring in the dining area (as well as the master bedroom), these skylights keep the entire area feeling light and open.
This all contributes to the Legion Kiwi 22ft Rear Club in truly making it feel like a home away from home. I know that's a cliched expression, but you can really enjoy this like a home of one's own. There's plenty of headroom regardless of where you are standing. Even taller folk won't have to bend down to access areas like the toilet, shower, or bedroom.
The Legion Kiwi will easily hook up to any four-wheel-drive, ute, or SUV with a tow rate of 3500kg, and thanks to those well-designed underpinnings, the Kiwi will stay straight and true on all manner of terrain.
There's a lot to love about the Legion Kiwi 22ft Rear Club. With plenty of charm and rugged simplicity mixed with all the trimmings you need and then some, for this kind of flat price, it's well worthy of being on your caravan shortlist. Right, Legionaries, advance!
Christchurch RV Centre is 100% locally owned and operated, with more than 50 years of setting the pace in the industry and specialising in sourcing and delivering on-road, dirt track, off-road, and serious off-road RV brands.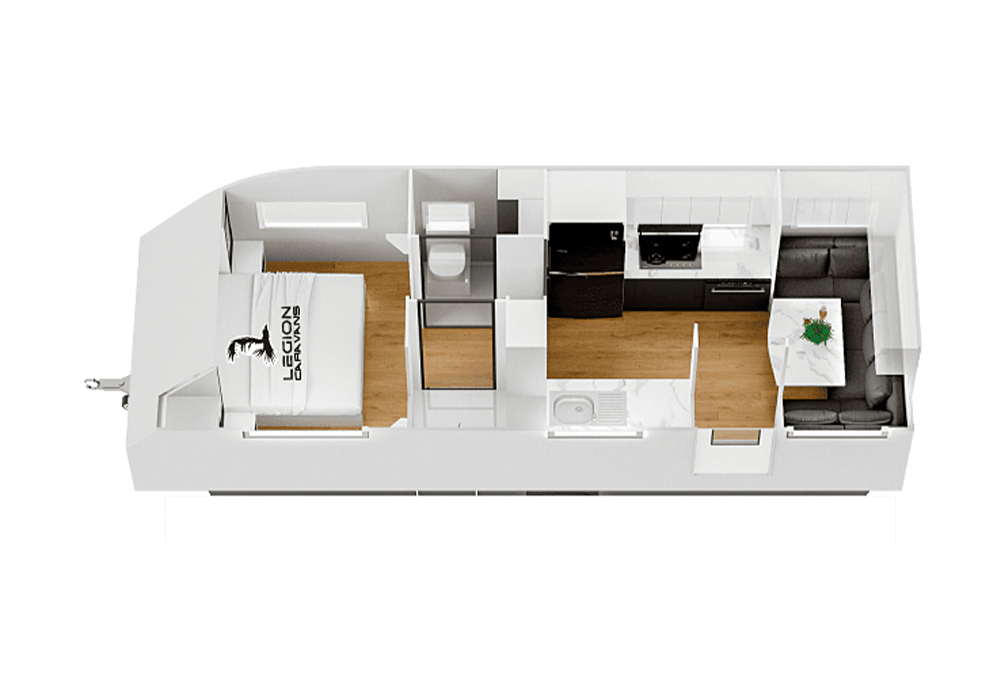 Make and model
Legion Kiwi 22ft Rear Club
Berths
4
Length
22ft (6.7m)
Tare weight
2700kg
Fresh/grey water
2x95L tanks underfloor
95L underfloor
Unladen mass (tare)
2700kg
Price
$128,990