The KiwiLine Stargazer Teardrop from Rolleston Caravans brings a classic camper with an intriguing back story, channelling Kiwi ingenuity and presenting it at its best in an all-new design, writes Peta Stavelli
Wherever they go, Teardrop Trailers attract a crowd. Ask any owner what it's like to appear at a busy campground, and they'll tell you their wee roadster is always popular with fellow campers, and there are many reasons for that.
The Teardrop is a compact camper; it's small – so small that it's usually built on a regular trailer base. But what it lacks in size, the clever design makes up for in creative use of space, carrying all the ingredients owners might need for a great getaway – and then some, especially in new models such as the KiwiLine Stargazer, which is a manifestation of one man's experience and attention to detail, together with the team that backs him.
Building a home away from home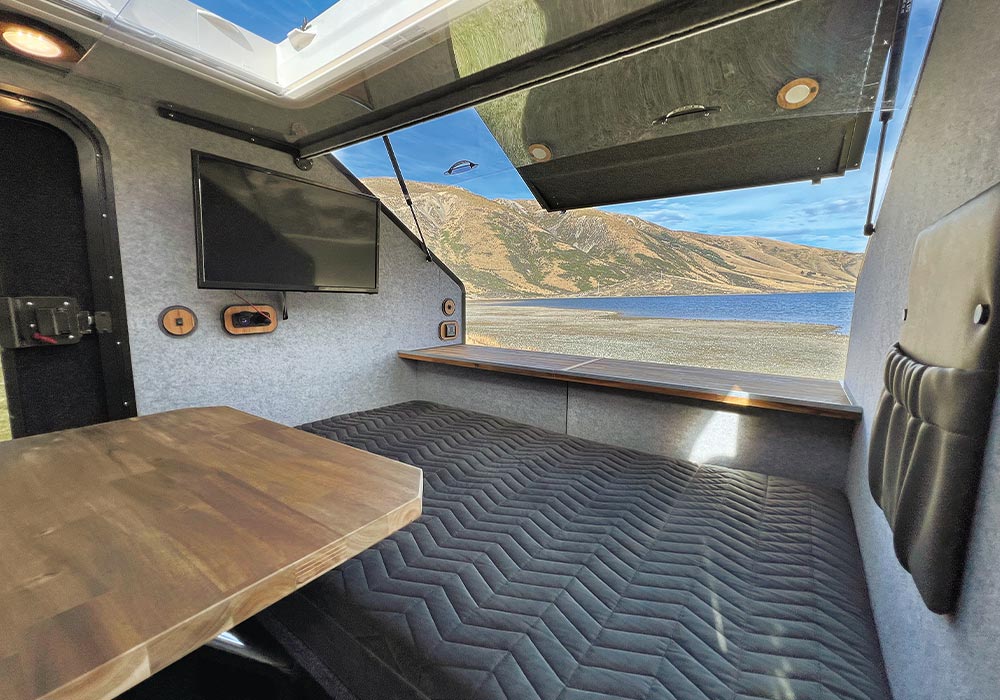 There's something romantic about the idea of any holiday getaway, but by the very nature of its history and design, Teardrop campers epitomise the concept of an accessible getaway vehicle. Ask the designer of the brand-new KiwiLine Stargazer, Gary Hitchcock, who says, "They're a great conversation piece. Everyone comes over to have a nosy."
Gary had long been a convert to the Teardrop when he built his own version in 2017. At the time, he hadn't had a holiday in 25 years and longed for something he could use as a home away from home. Gary had previously designed packaging, but it was when he began work as a technician at Rolleston Caravans that his life changed again in a way he had not imagined, entwining his hobby and his occupation as one.
Back then Gary occasionally took his Teardrop trailer to work to give it tweaks in the company's workshop. His employers at Rolleston Caravans were intrigued by the ingenuity and possibility it represented. Within a year, they suggested to Gary that they might give commercial production a go, and so began his new design career, this time creating a crafty little camper for commercial sale.
The ultimate in small-space design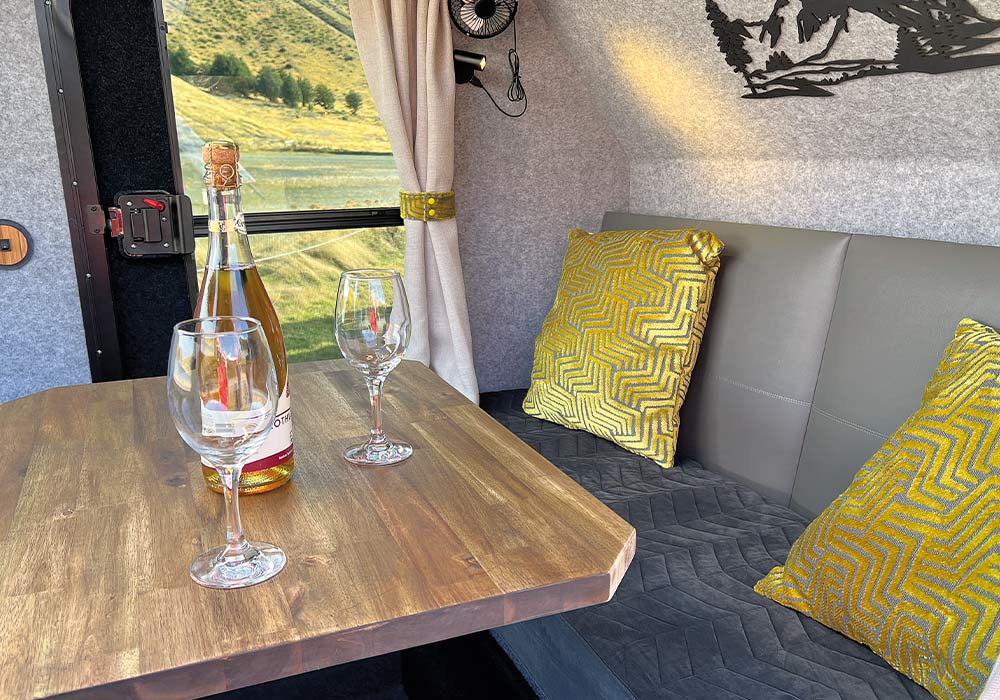 Whereas Gary had cobbled his own vehicle together from op-shops and tip shops, here at Rolleston Caravans, he had a chance to express the ultimate in small-space design using high-end materials. Having used a Teardrop of his own design over many years was a real advantage. Gary was able to bring forward all the things that worked in his camper and elevate other aspects of the design.
He kept the double floor, which not only provides great insulation but also offers excellent storage capacity without sacrificing useable space. He also wanted to keep the function he had so enjoyed of indoor-outdoor flow and to open the new vehicle up to make it as light as possible. To facilitate this, the original concept of an opening rear door panel with an outdoor kitchen incorporated into the hatch has been modified. The back now opens up unimpeded to bring in the view. The old rounded Teardrop shape more usual to the design has been replaced with a new concept and external shape that allows for roof racks, or a roof tent, and also for a built-in skylight.
All about the base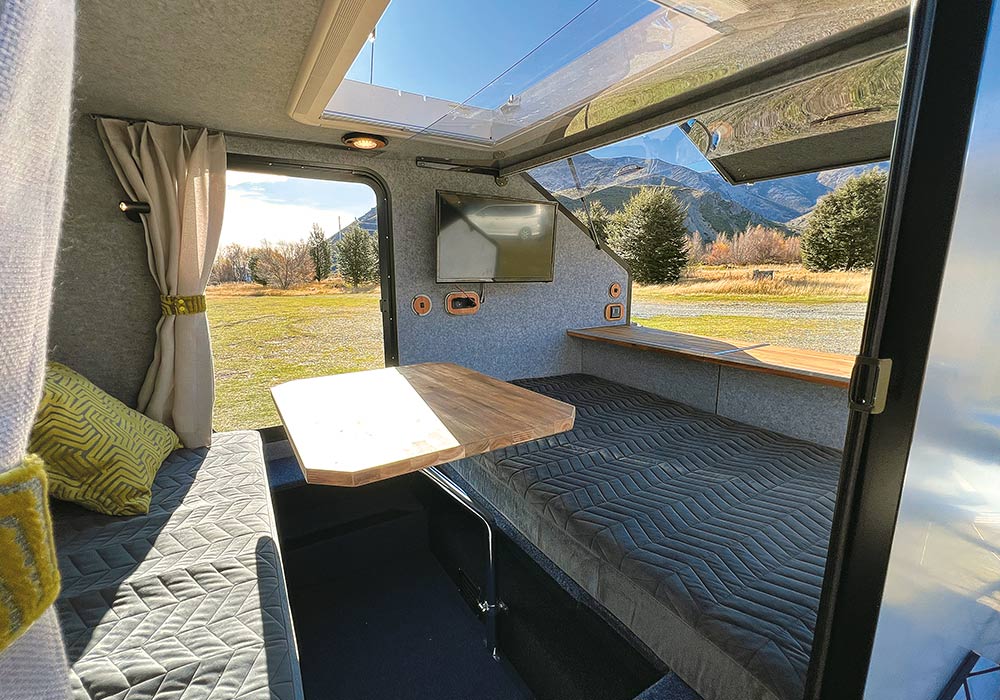 Of course, any good build begins from the base up and this one is no exception. The KiwiLine Stargazer is built on a Dura-Galv galvanised chassis and frame – the team at Rolleston Caravans built it themselves. From this strong, long-lasting base, they've built a vehicle that's robust and capable of taking the camper pretty much anywhere they want to go. Buyers can choose their preferred suspension from either leaf-spring or off-road, at the time of ordering. Similarly, customers can choose road or mud tyres to pair with the standard disc brakes. The exterior walls are ACM Composite with a treated plywood interior. There's an extra-wide skylight, or perhaps the buyer would prefer the optional roof vent. By now, you'll be noting the flexibility of options on offer, such as the number and type of door, foldable or swing-away table, and whether or not you will need a bike rack, extra gas bottles, rear camera, etc. You get the picture.
Kitchen, bathroom, and bedroom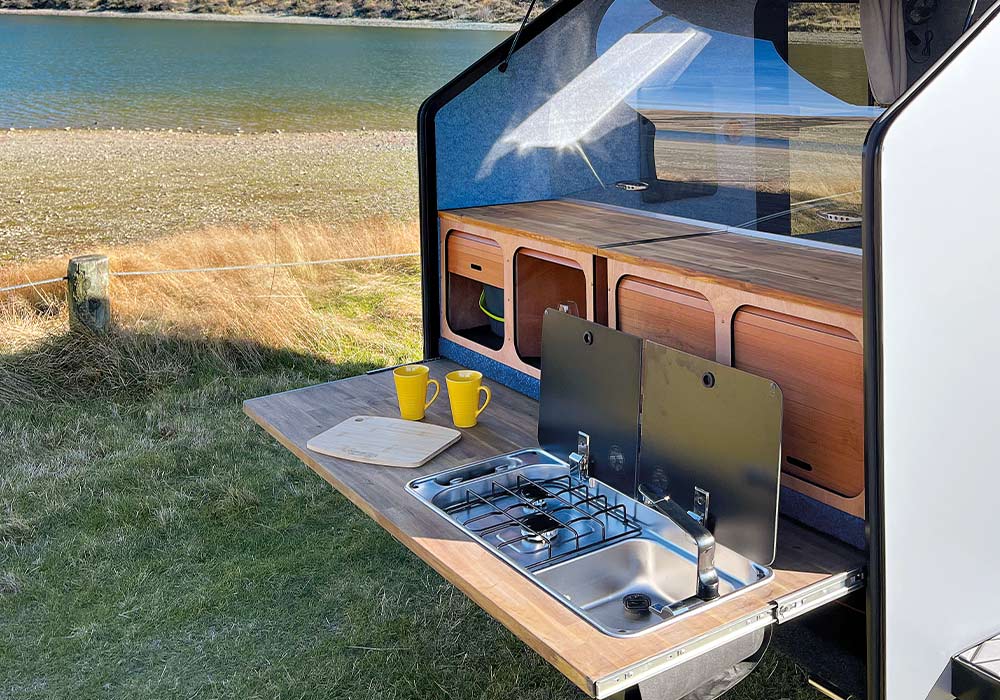 A kitchen, bathroom, and bedroom in a vehicle just over four metres? You must be kidding. Well, yes and no. The bathroom is an external shower, with or without gas heating, as the buyer prefers. The kitchen is also an inside/outside affair, which is so cleverly designed it will only be your imagination that's lacking if you find yourself off the beaten track and out of culinary options. Rolleston Caravans seems to have thought of everything, and it will be over to the customer to choose from numerous possibilities from basic to luxe. For example, you may find a basic gas hob that suits you nicely, or then again, you might want gas certification, a fridge, and an outside toilet to be included, perhaps along with two different options for solar power. You choose.
Everything that matters most (to you)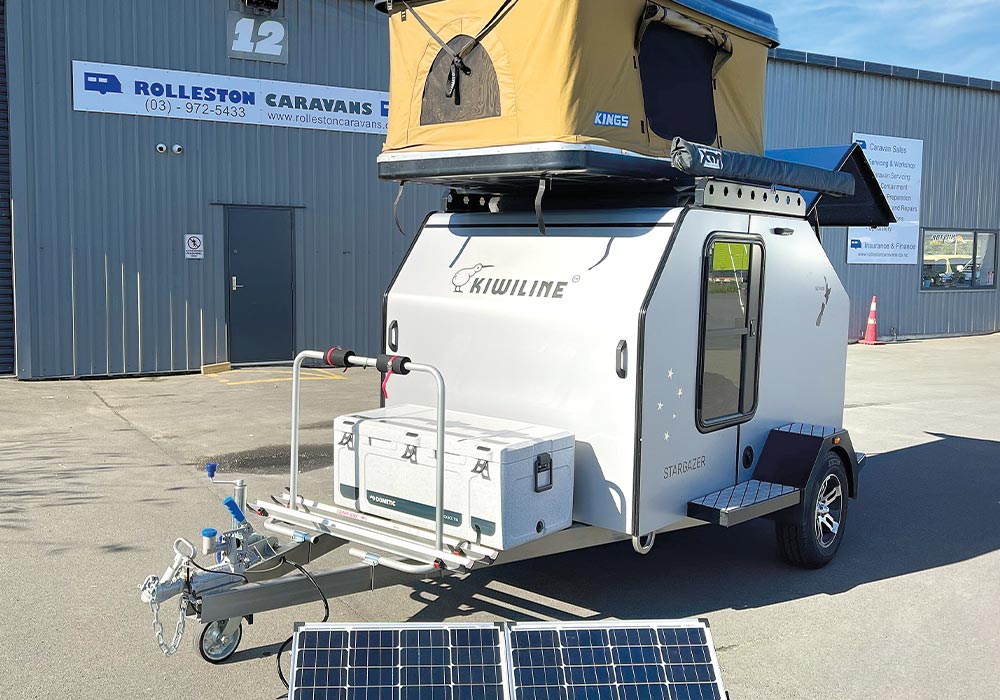 When it comes to camping, it comes down to the individual to work out their needs and must-haves. Rolleston Caravans have factored this in to create the perfect base vehicle you can kit out or build on as money allows. You can have a roof tent, with or without, an awning, and a bathroom tent. You can also include bike racks if you choose. These numerous options offer so much flexibility and possibility for adventurous individuals and couples, and even for families, to create the getaway of their dreams.
Of course, there's always the dual option of using this wee beauty as a covered trailer and – as I see it – there are many more ways this great little getaway vehicle will serve your recreational needs now and into the foreseeable future, perhaps as your family grows or your fitness diminishes.
I can see possibilities here for both extreme and recreational cyclists, for ultramarathon runners and hunters and fishers, or even as a mobile hut for farmers and foresters, for those who like to ski or to surf in summer and snowboard in the winter.
In summary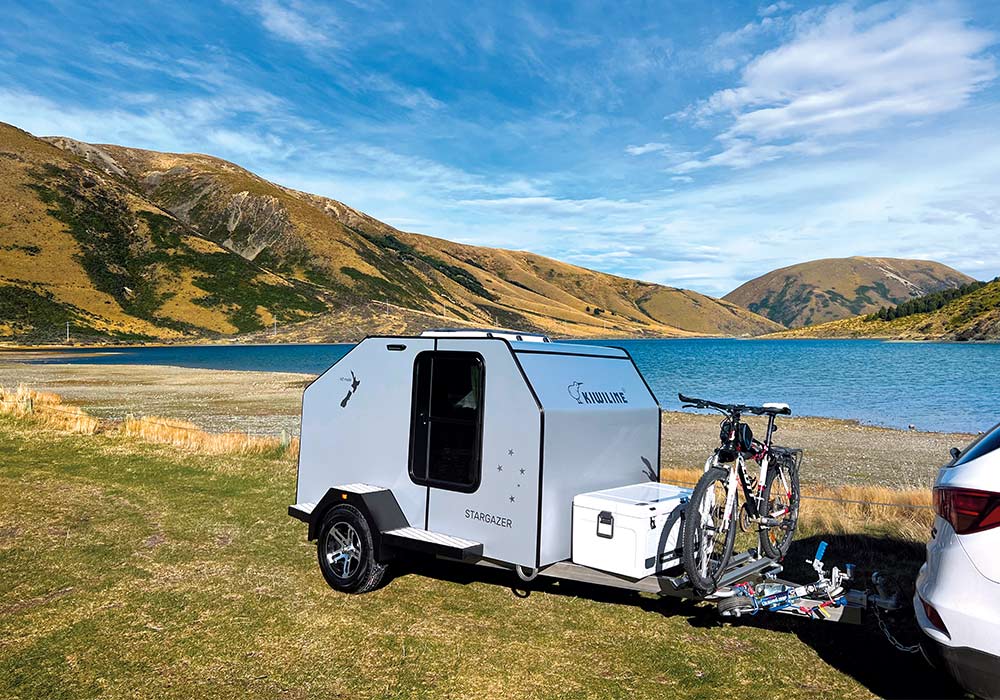 The possibilities for the KiwiLine Stargazer are endless, and at this entry-level price, it's an affordable way to upgrade from a tent into your first recreational vehicle, just as Kiwi families have been doing for decades – going from tent to camping trailer, to caravan, or motorhome. But this time with a bit more finesse and up-to-the-minute technology built into a timeless twist on an old favourite – the Teardrop.