There's a new range in town – a caravan range that is – and all the names have been drawn from mountain ranges. They're rock solid, writes Peta Stavelli.
The anticipation had been building for a while as we waited for the Aussies to arrive on our shores. Finally, our ship came in, and with it came the latest offerings from Hilltop Caravans, which are sure to shake up the Kiwi market.
Coastal Motorhomes and Caravans Ltd has the franchise for this new-to-us roadster and the company's own reputation for solid, custom-built motorhomes signalled that anything the family-owned and operated Whakatane company put its name to was also going to be well-built and solid. Rock solid.
Since all of the new vehicles in the Hilltop Caravan range are named after Australian mountains, we decided we might as well begin our own journey of discovery at the highest point: enter the Kosciuszko.
Kosciuszko – fun for all the family bunk model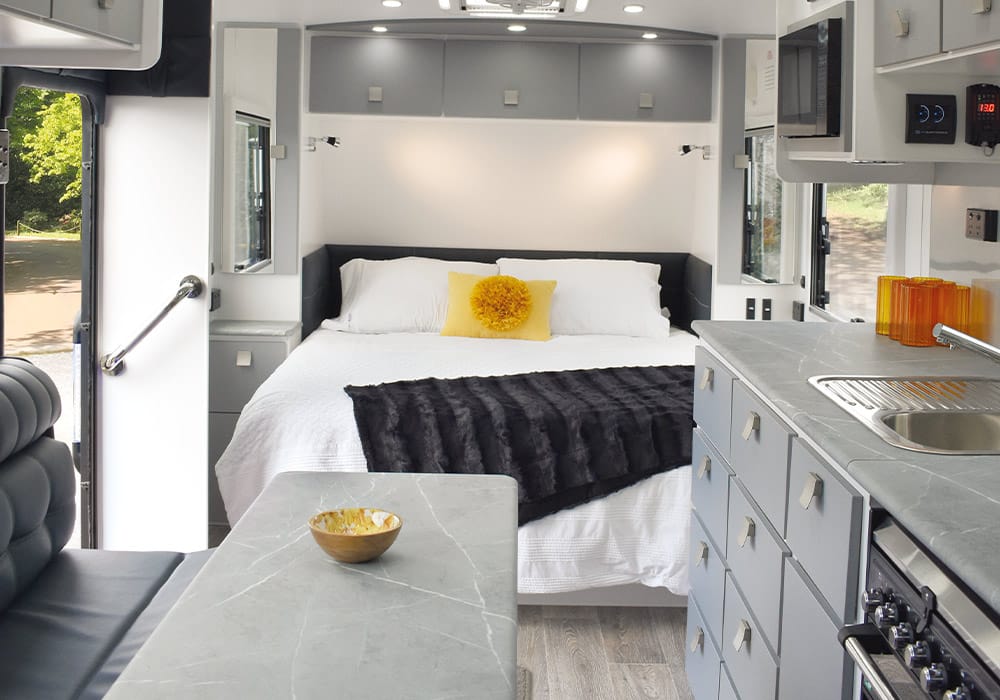 Mount Kosciuszko (2228m) is the tallest mountain on mainland Australia. If you're anything like me, you'll be keen to know how this compares with our own highest peak, Aoraki Mount Cook, and you'll be pleased to know that, not only is Trans-Tasman rivalry alive and well when it comes to the size of our peaks, we're winning. Aoraki Mount Cook is 3724 metres tall.
With that out of the way, I can now say with all honesty that when it comes to building rugged, off-road caravans, suitable for all conditions, the Aussies beat us hands down. This is a big claim, but I say it in all seriousness and without any desire to offend our excellent Kiwi manufacturers, many of whom have perfected the building of road caravans.
When it comes to off-roading, while we may have our potholes, across the ditch, the Aussies have the extensive and gruelling red-dirt roadie. Outback roads are often unsealed, and campground access can be via some very gnarly tracks. Off-roading, Aussie style, is a serious undertaking, and that's before you even get to the snakes, spiders, and lurking crocodiles.
Underscoring the first impression that fun is taken very seriously by the Hilltop team is the deep and solid-looking stone-guard panel, which spells business. Of course, you've also got the high road clearance and dual axles to add to the solid offering. The Kosciuszko caravan – at 7.2 metres – is the largest in the Hilltop range and it comes with two or three bunk options, so it does promise fun for all of the family.
Colour my world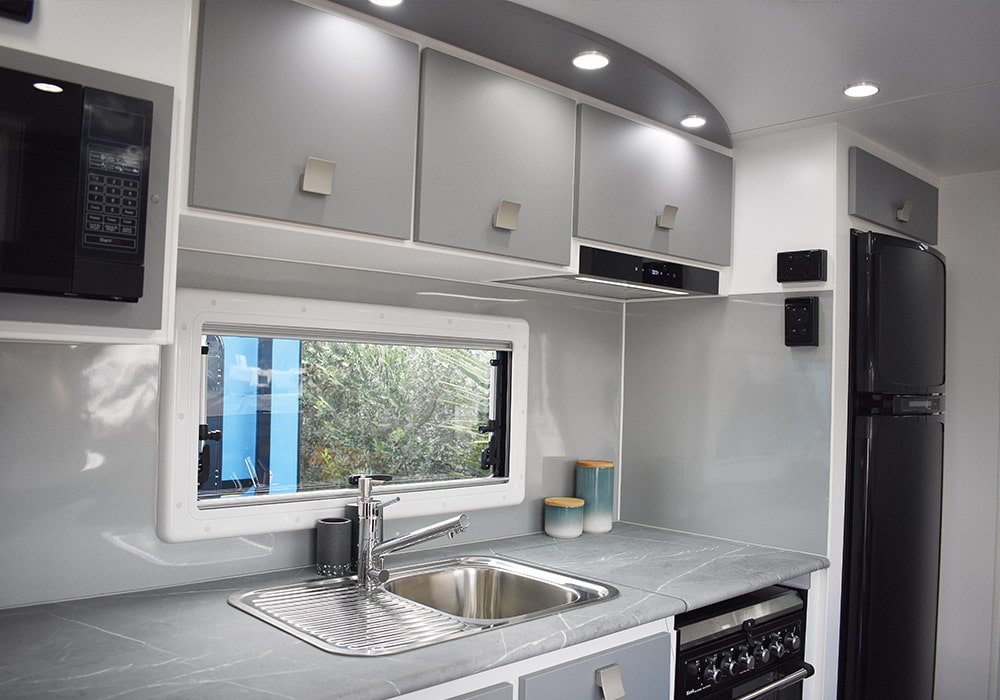 There's another first impression which tells me that the Hilltop team is doing things differently and that's the external colour offerings. The vehicle I'm viewing is a deep cobalt blue trimmed with black, but for those with less desire to make their mark in the campground, there are the more understated white and grey exterior colours to choose from. All models can be personalised, inside and out, if desired.
There's a great deal more about the Melbourne-based family business, which is different: the craftsman-like construction method using locally-sourced timber and steel and focusing on time-honoured building methods while building relationships with suppliers of quality materials – many of whom are also family-owned businesses. The Hilltop family maintains close relationships with buyers and holds regular get-togethers. They recognise the value of personal stories, and I love that these honest endorsements can be seen on their website, including one from a couple who have completed more than 50,000km, on and off-road. It was all of the above that convinced the Coastal team that this was the company they wanted to forge an alliance with.
Hilltop construction, and why it matters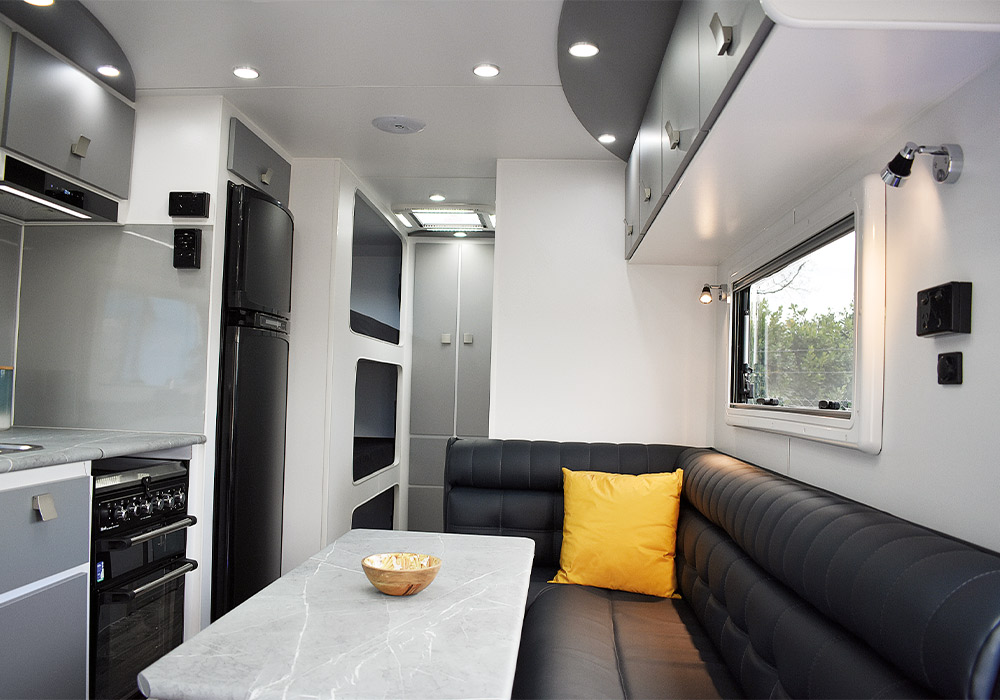 It took me a while to get my head around it, and I was glad to have Paul and Toni Farrell from Coastal Motorhomes on hand to explain Hilltop's construction method. This consists of 42x19mm timber spaced to create maximum strength and also to be light. Curved woods add even greater structural integrity, and the cabinetry and furniture are fixed from the outside (in all four corners). Another highlight of the wall-fixed storage units is the piano hinges, which add longevity on long hauls and are also a nod to true craftsmanship. Coastal's own custom offerings have always been known for their solid, durable, and craftsman-like construction, so this Hilltop alliance makes sense for their brand.
You can also see the point of difference in the door and drawer handles, which are square and easy to grasp. I also loved the rounded but solid look of the triple-bunk tier. Hidden away in each cubicle are USB ports and reading lights, and each cubby hole has its own window. To me, this set-up is the ultimate in family comfort and leisure because the kids have their own room with ample storage at the opposite end of the caravan to the adults.
And the fixed queen-sized adult bed in the lounge area is a cracker. While many are used to the idea of a private bedroom suite, I don't think it's an issue to have the main bed in the lounge of a family vehicle. Take it from me, by the time the adults get to hit the sack, they'll be too exhausted from all of their holiday adventures to care. Besides, the kids will be tucked up happily in their own cubicles at the other end of the caravan.
The living and bathroom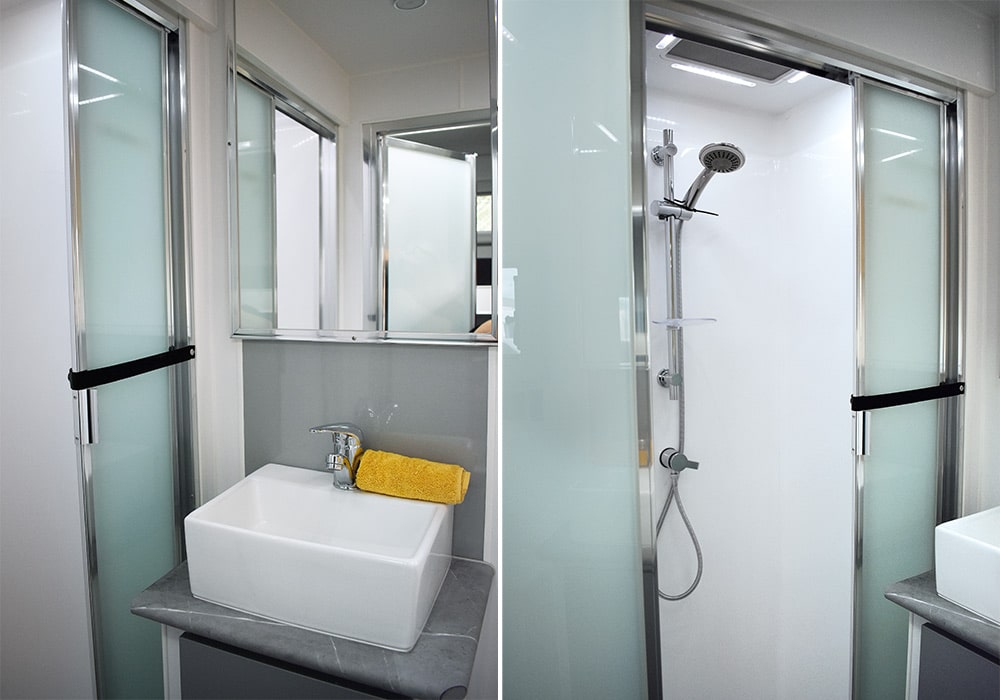 In the kitchen living space in the middle of the caravan, beside the entrance door, is a fabulous, roomy L-shaped settee and table sure to fit the whole family. You can choose from leather, vinyl, or fabric coverings to suit your purse and needs, but whichever way you go, this spot will be the family hub, and the cook will not be left out.
Opposite the banquette is the streamlined and functional kitchen with deep benches, full-size appliances, and loads of storage. I liked this set-up very much. It seemed workable with plenty of prep space – practical and light-filled, with both a range-hood and opening window to ensure the disbursement of cooking odours.
The bathroom has a generous shower. It's unfussy but functional and – this means a great deal coming from a solo mother of many – easy to clean and care for. After all, the cleaner and cook (whoever this may be in your family) is on holiday too. Additionally, there's an outdoor shower available in all models, and I think these are just the bee's knees – so very practical when it comes to getting off the worst of the sand or mud. There are also outdoor speakers and gas bayonets in some models.
Additional comforts and concerns
Standard inclusions are Rocker roller suspension, a rear-view camera and screen, solar panel, water filter, 2kW diesel heater and house batteries, TV, and auto-satellite dish, to name a few. If you're going for a personalised Hilltop caravan, you'll be able to choose finishes, inside and out, and also opt for extras when it comes to solar panels, batteries, spare toilet cassettes, inverters, fans, and stone guards. Ask the team at Coastal, Whakatane, or Rolleston Caravans, Christchurch, about all the additional features and models on offer.  After my first inspection of the Kosciuszko, I also viewed the Hilltop Feathertop for inclusion in another issue of Motorhoms, Caravans & Destinations, and I'm convinced after checking both of these models out, that this new-to-us Aussie offering is a winner for the Kiwi market.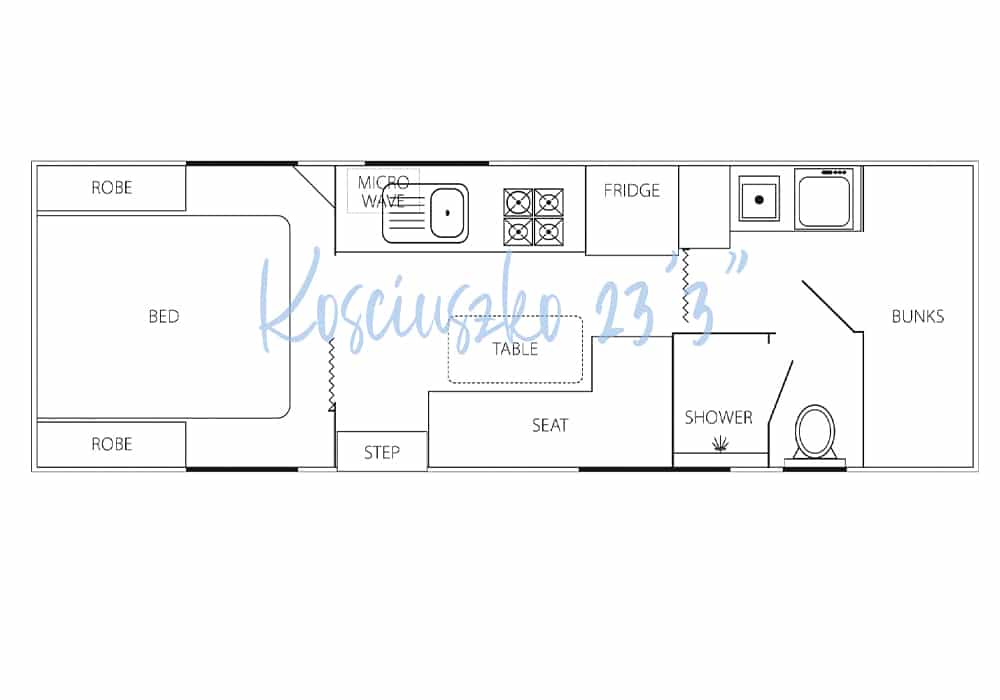 | Make and model | Hilltop Kosciuszko |
| --- | --- |
| Chassis | Australian FP (galvanised steel chassis) |
| Berths | 5 |
| Length/width | 7.2m/2.475m |
| Fresh/grey water | 200L/100L |
| Unladen mass (tare) | 2700kg |
| Payload | 3500kg |
| Price | $128,600 |