If you're looking for a caravan that has a craftsman-built feel and doesn't feel cramped, look no further than the 2023 Coachman Laser Xtra 545, writes Peta Stavelli
It's hard to believe it's more than six months since we last saw the Coachman range at Gateway Caravans. Back then, co-owner Melissa Growden was on hand to take us through the finer points of the vehicle.
She was able to supply a lot of professional insight into the Coachman brand, but we also spoke about how easy the Coachman was to tow, and she threw in a few anecdotes to back up the claim.
Just to recap, not only did Melissa say it was the easiest vehicle she had towed – and she has towed a lot – but it was also tow-tested by an older female client who was so delighted with its performance, she bought it immediately.
This assurance will be a comfort to anyone starting out, or for anyone who doubts their own capacity to tow. But there's another thing about this vehicle that will delight those on the hunt for a spacious road-friendly caravan: the size. Not only is the 2023 Coachman Laser Xtra 545 single-axle and 6.09 metres (20ft) long, but it's also wide (8ft) so you get the benefit of a 20ft caravan, but with extra space.
But before we talk about the amenities, let's look at the construction methods, which set the Coachman range apart.
The nuts and bolts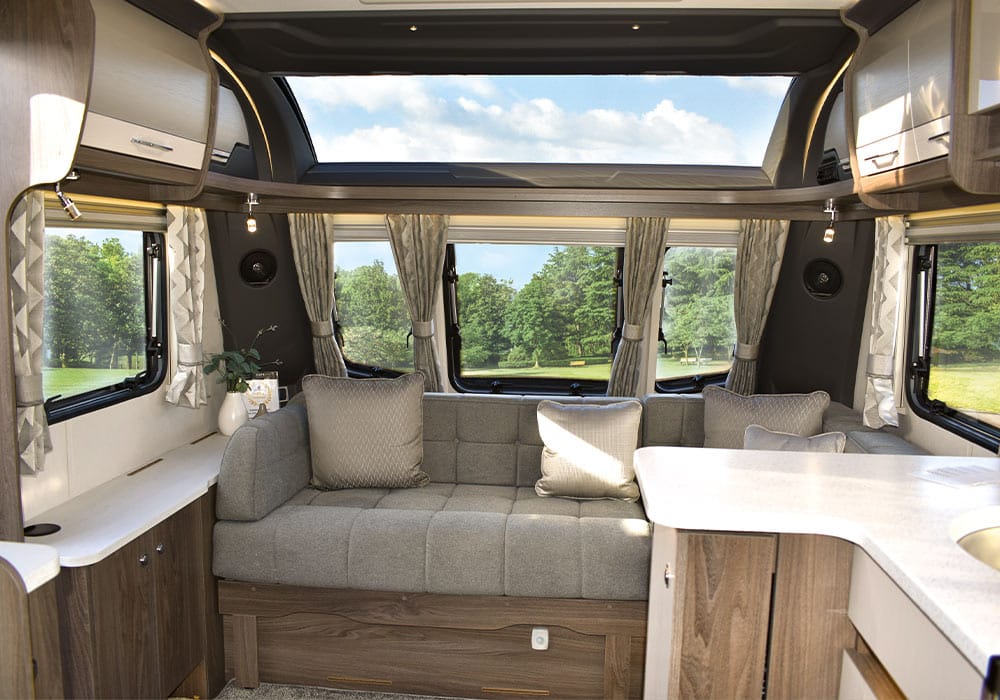 If the devil is in the detail, the mark of any craftsman-built construction is often most visible in the joints. Coachman vehicles feature dove-tail joints. And the sofas – don't get me started on the sofas. I've said it before, but the Brits in general, and Coachman, in particular, really put together beautifully constructed sofas. These are ergonomically designed with rolled fronts and traditionally upholstered in the same way as high-end home lounges to be exceptionally strong and comfortable.
When I'm appraising a vehicle, I get to sit inside it for a while, and this is always something that stands out with this brand.
Coachman's commitment to superior construction means that production is slowed to ensure quality control. It's worth reiterating that Coachman caravans are built using Advanced Bonded Construction (ABC) to create a robust and durable vehicle specifically designed to reduce any likelihood of water ingress. The company offers a 10-year water-ingress warranty as standard. And whatever it is they are doing, they seem to be doing it right. Coachman Caravans are multiple award-winning in the luxury caravan category. Particularly in terms of this smaller vehicle, which is just perfect for two, it's worth noting that in 2022, Coachman won the gong for the best caravan for couples in the UK.
First impressions
Well, it took a while for us to obtain any first impressions, as this vehicle was extremely popular on the day we visited Gateway Caravans, but when we did gain access, the overall feeling of space and light is the first thing that impresses.
Light floods in from large windows beside the lounge and also above the kitchen sink. Then there are four skylights, which add the soft, warm light permeating throughout. I used to find British caravans a wee bit oppressive with their dark wood and nubby fabrics, but great steps have been made in recent years to offer a more contemporary appeal, while also keeping a lid on tradition and durability.
The team at Gateway always dress their vehicles nicely and this is not only good when it comes to photographing the vehicle, but it also helps me – and I suppose the same is true for any potential buyer – imagine themselves occupying the caravan.
It certainly helps when it comes to first impressions, and while I was immediately impressed by the sense of spaciousness (there's a trick to that, and I'll tell you about it shortly) even as my eye was drawn through the caravan to the cosy and luxurious rear bedroom.
Home comforts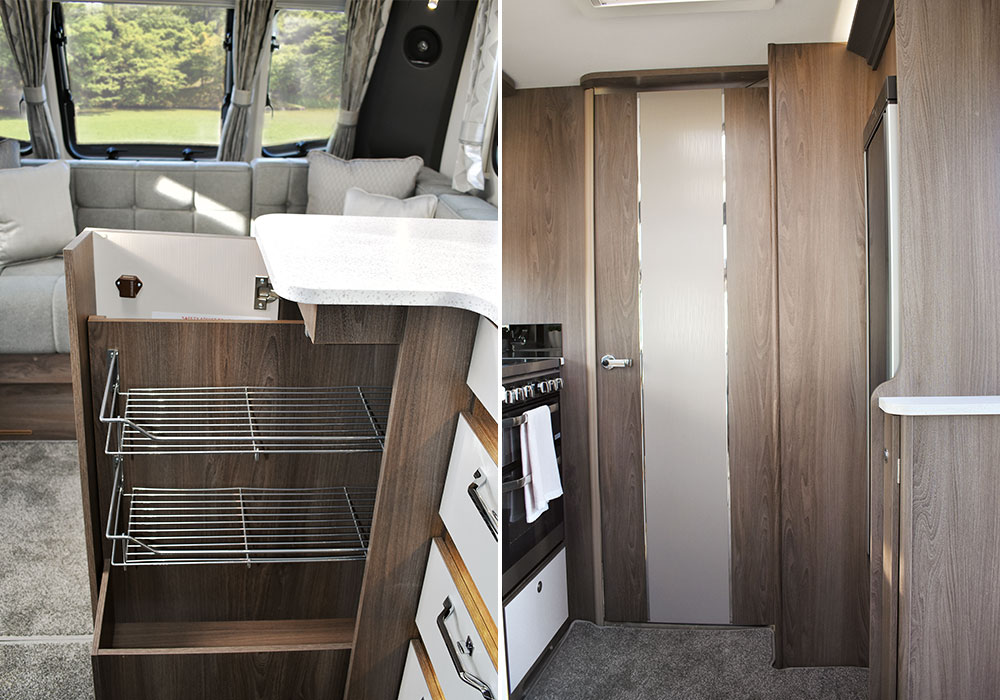 Stepping inside the Coachman Laser Xtra 545, the L-shaped lounge (with complimentary scatter cushions) is immediately to the left. Effectively, this means that two double lounges are on offer, so there's plenty of room for you – as a couple, perhaps – and some guests as well, to sit in comfort.
But when the conversation falters and it's time for bed, your guests, grandies, or occasional travel companions can be accommodated in this easily converted second double bed.
If you look at this arrangement on the floor plan, you'll see that this design offers a great deal of open floor space, which, in turn, means ease of movement and a feel of spaciousness in a small area.
The kitchen repeats the L-shape detail with the short bench extension creating a sense of comfort and enclosure for the bed conversion as well as a larger-than-usual preparation area for the chef du jour.
I also liked the pull-out pantry and the heavy-duty round sink cover, as well as some other stand-out details in what is a well-designed kitchen space. To mention but a few other details, there's a flush-housed microwave, the tall, slimline, three-way 133-litre Dometic fridge, and a large Thetford oven and grill with three gas hobs and one electric. So, it's a comprehensive kitchen set-up assuring you'll have all of the comforts of home while you're on the road.
Bathroom bliss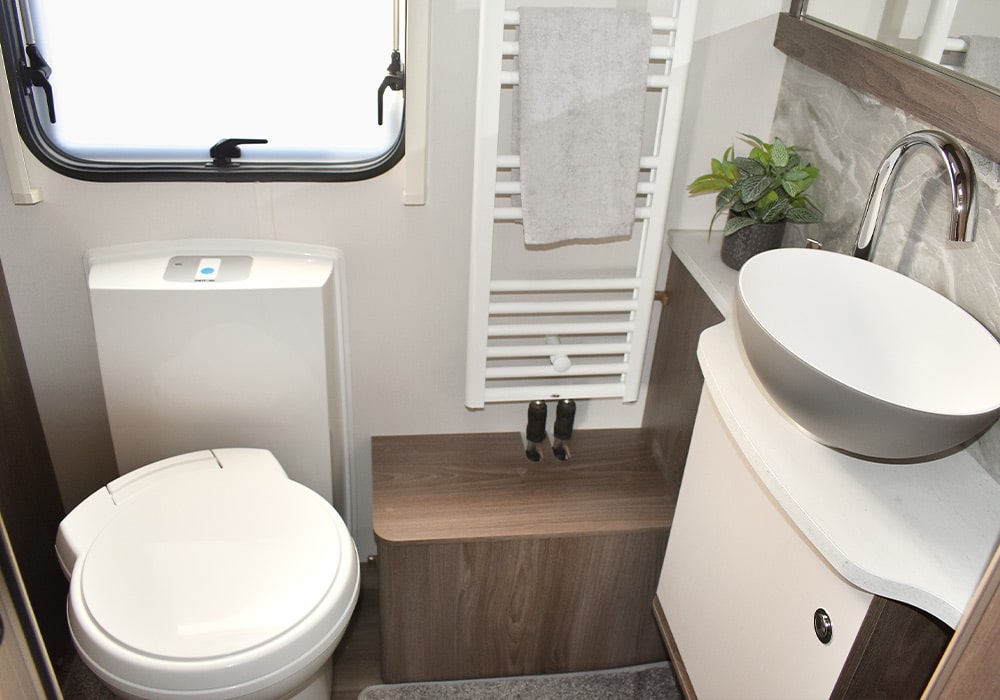 I'm not sure what sleight of hand – or indeed body – MCD's sales manager, Dave, employed but he certainly got there before me and I didn't notice he was missing until he poked his head out from amidships and implored me to: "Come and look at this bathroom. I think you'll be impressed."
He was right. I was impressed.
This side bathroom opposite the kitchen should, by rights, feel cramped but it doesn't. Again, it's the employment of clever design, which makes all of the difference. The offset door, the large separate shower, the attractive oval basin, and the tall, ladder-style tower rail all impress.
Of course, there's also a generous mirror (always a clever design trick to enhance small spaces) and a generous opening window. I still don't know how Dave arrived there first, but the thing that matters most, I suppose, is that the two of us were very taken with the bathroom design.
Master suite with island bed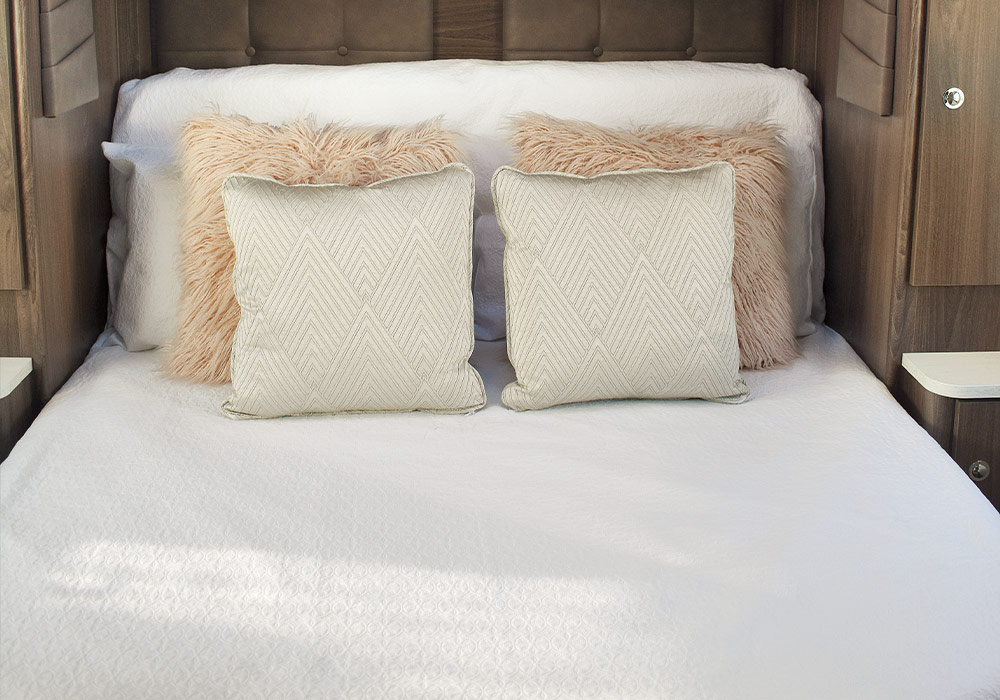 Need I say more? It's the dream of most Kiwi RV'ers to have an island bed set-up in their rig. Speaking from experience here, it's no wonder the island bed is the favoured option, especially for older travellers. Not only is it easier to make up than a French bed, but it also affords less disturbance in the wee small hours, if one or the other occupant needs to go to the loo.
I don't resent it for one minute, but if you're anything like me when sleeping in a French bed, it's a case of one up, all up during night-time ablutions. And then it's the job of the fittest (the co-pilot, who's also the neatest) when it comes to making the bed of this awkward design the following day.
In this particular case, the Coachman's north/south island bed is also retractable, which enhances daytime movement. The bed head is recessed, which makes for great overhead lighting and storage and the opportunity for tall wardrobes on either side, which also have side tables built in. Smart thinking, here. Speaking of smart, there are USB ports and LED lights throughout.
The extras that seal the deal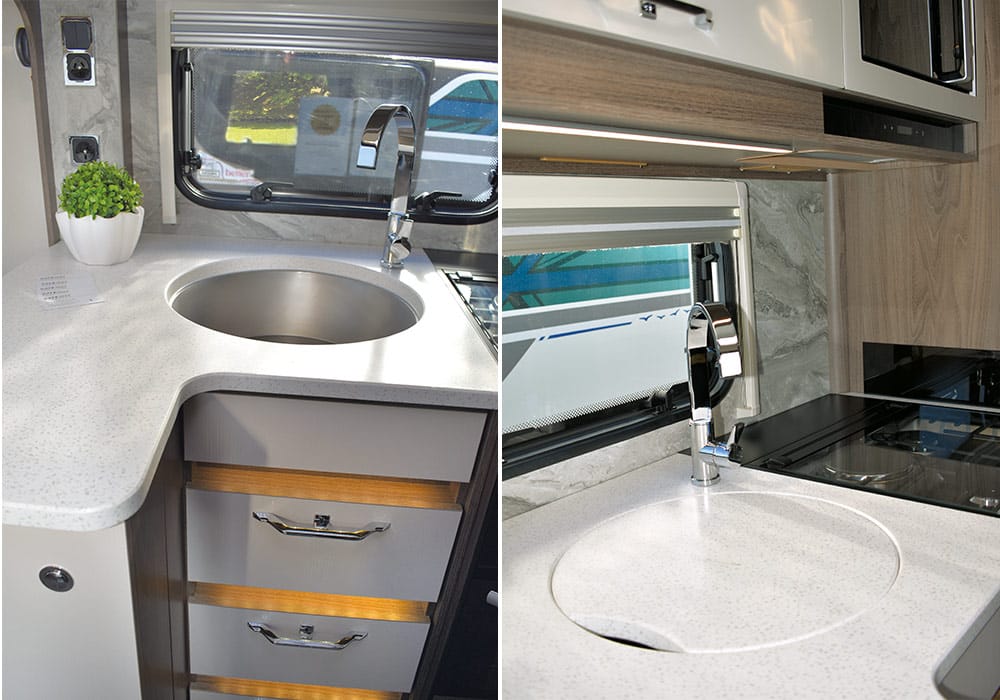 The entertainment package is extensive with Pioneer stereo with AM/FM, Bluetooth, USB, DAB, and Spotify.
There's a mobile phone charging unit to suit iPhone 8 and Samsung 7 and above. There are, of course, USB ports throughout. Energy-efficient LED lighting has been used exclusively. The windows are double-glazed, and extra heating is supplied via the electric and gas ALDE central heating and hot water system. And if you buy right now, you can take advantage of the inclusion of the
mid-winter deal Package One upgrades worth $4250 in the purchase price.
So hop to it. Whakatane is one of the warmest places in the country right now, so you might like to plan a late-winter getaway to check out the stock at Gateway Caravans.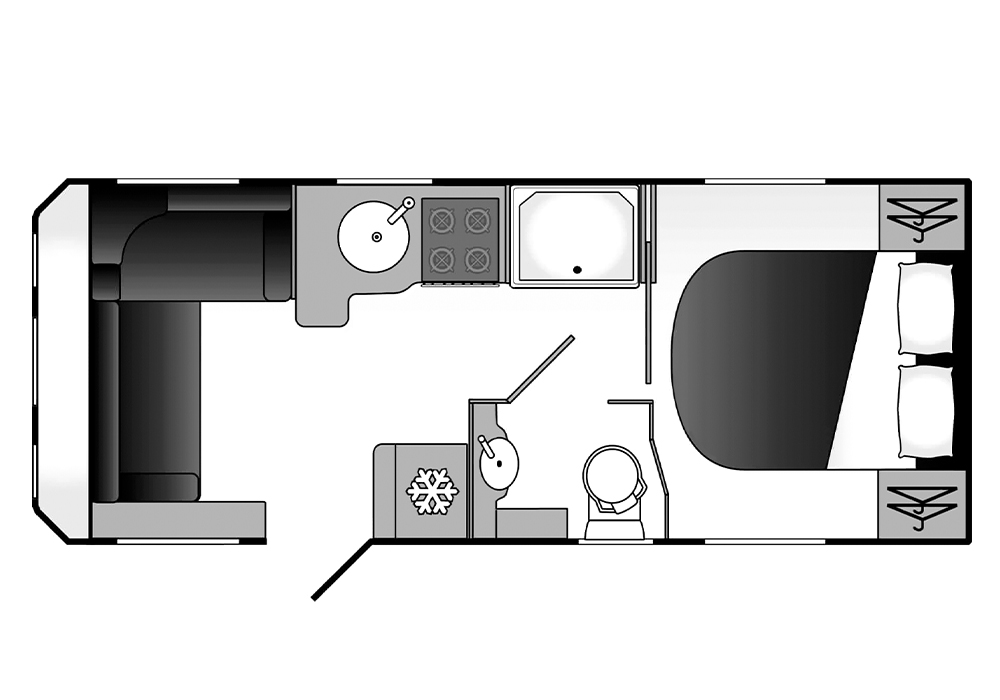 | Make and model | 2023 Coachman Laser Xtra 545 |
| --- | --- |
| Chassis | AL-KO |
| Berths | 4 |
| Length/width | 6.09m/2.440m |
| Fresh/grey water | Various |
| Unlade mass (tare) | 1579kg |
| Payload | 221 kg |
| Price | $98,995 |