The 2023 Jayco Silverline 21.65-3OB has experienced a slick upgrade. Peta Stavelli takes a closer look and discovers it's stronger than ever, thanks to new rigid floor construction, which means this luxury 'liner' is sure to last even longer.
The first thing that you notice when viewing the new Jayco Silverline is a swatch of luxury leather samples at the entry door. I emphasise this only because luxury and refinement exude from this all-new upgraded iteration of the classic (top-of-the-line) Silverline. But don't be seduced into thinking this hard-working caravan has gone all soft. I can assure you it's only soft on the inside. Outside, the dual-axle, stone guard, and hot-dipped galvanised chassis announce this classic still means business, and the designers have ensured that new construction methods have made it stronger than ever.
What's in a name?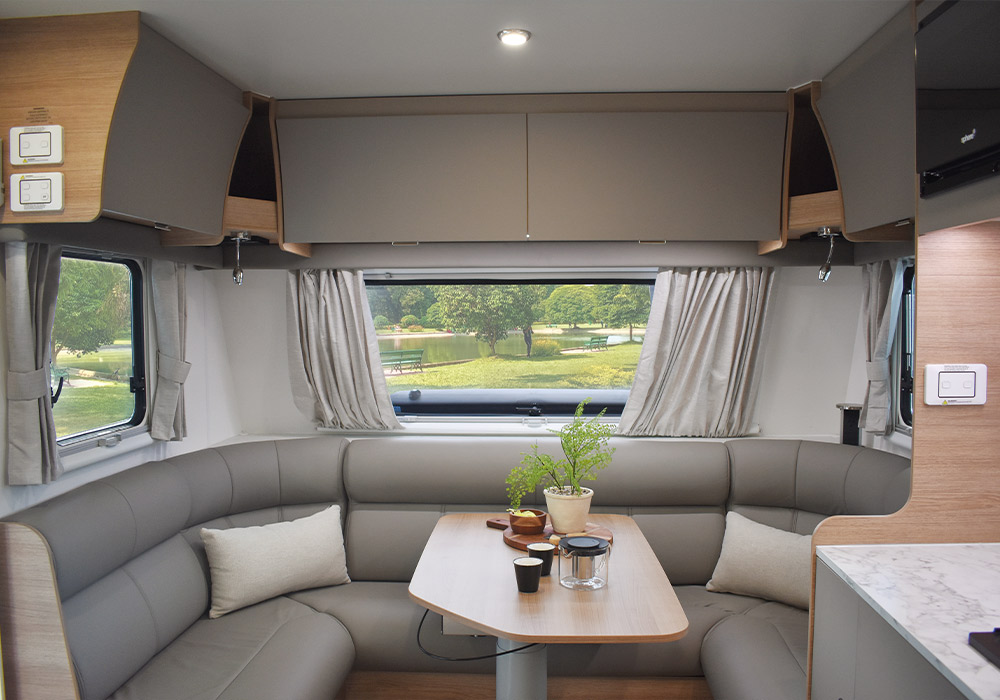 Just returning for a moment to the full moniker of this behemoth. The full name of this version, the first to arrive in the country at Jayco, Auckland, is the Jayco Silverline 21.65-3OB. The OB stands for outback, and regular readers of the magazine will know that this type of Australian caravan for the outback needs to be built tough.
Building an even tougher version of this caravan has been the focus of Jayco's leading designers who settled on creating even greater integrity and strength with their new floor design. This single-piece floor is moulded and manufactured from (wait for it) recycled plastic, which provides thermal insulation. I like this very much. Obviously, there's the recycled aspect, but of equal importance for a prospective buyer is the structural integrity a one-piece floor offers. The fewer joins, the greater the strength and that's the assurance you need when you're off-road or on rutted outback roads.
Another change is to the exterior, which is first heralded by the rear panel – also a one-piece mould – and a sleek integrated design. The result is flash but not flashy, a classy look that made me even more keen to see inside.
On the inside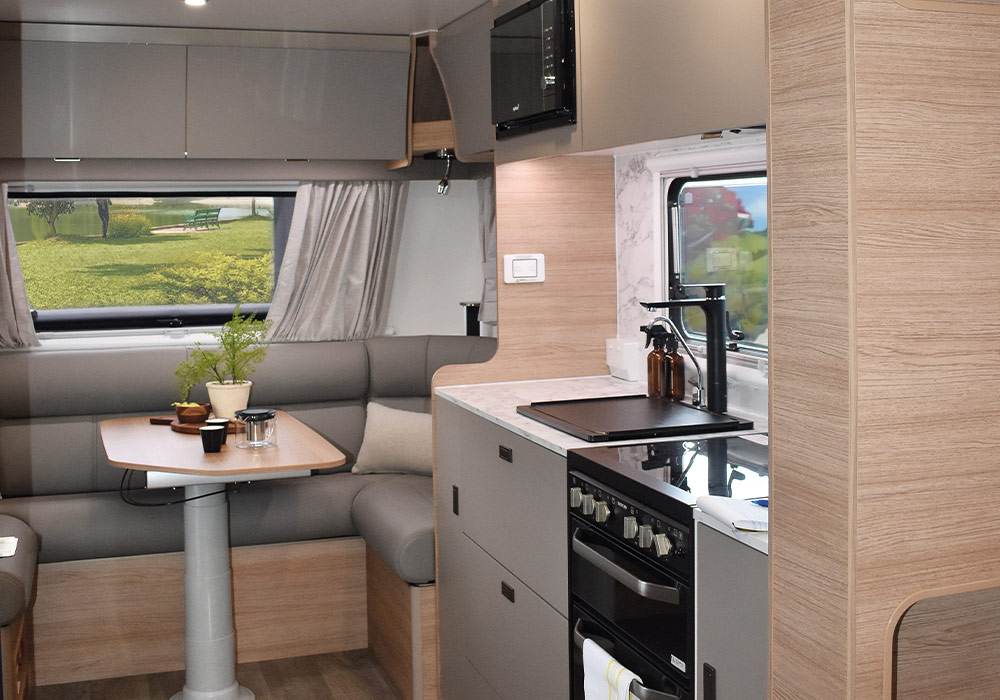 I mentioned the leather swatches: there are three options and two different stone-look bench tops to choose from, too. All are neutral, classic, and combined to present a luxurious interior, which is also practical and hard-working. Extra-wide steps lead to the habitation door and directly inside to the front-facing leather banquette and swivel table on the left. This area is light, open, spacious, and clearly designed for easy entertaining with a pedestal table that moves as you need it to and provides seating for a crowd. At night, the area can convert to a second generous bed, as needed.
The adjacent kitchen continues the look of luxury with marble-look bench tops and a deep, dark butler's sink. This is on-trend and attractive and also practical with large, wide, wipe-down surfaces and everything within easy reach. There's a pull-out pantry, three deep overhead cupboards with that oh-so-clever single door that's so easy to use and attractive. The overhead lockers all have concave doors. This is very clever thinking. It's barely discernible, yet it helps these important storage options 'disappear', even more so because they have a matte finish.
Clever tricks like this add to the sense of space in a small area, which is augmented by the slide-out. Overall, it's a great design. Speaking of great design, two oval hatches beside the stove are perfect for condiments and these will stay in place when on the road. There's a full oven with a separate grill and a generous 216-litre three-way fridge-freezer. Of course, there's also a microwave at a good height for safe use and an extractor fan. This is a well-equipped cook's kitchen, and it has my tick for exceptional layout and style.
And so to bed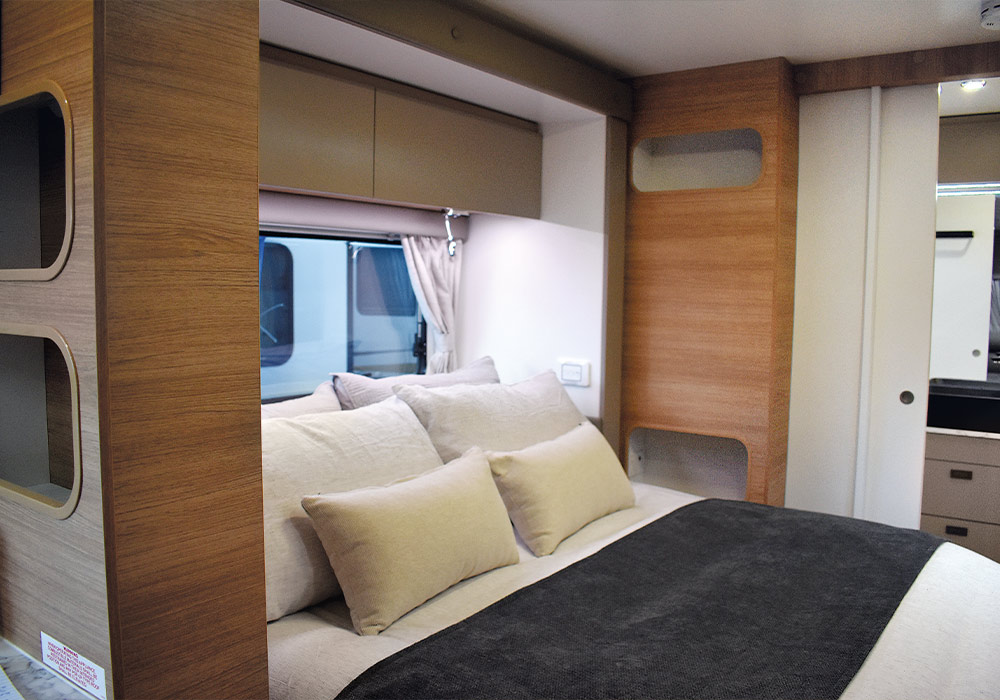 I'm going straight to the wonderful window seat in what's overall a fabulous full-bedroom suite with a slide-out, which continues the luxe look. This sunny, practical, bench seat just elevates this space. I could immediately see myself sitting there while getting my socks and shoes on. I'm sure others will have something more exciting in mind for this designer bench, such as a plant or candle. Wardrobe space is wider than in prior models and there are also shelves, drawers, and space for hanging your clothes. Under-bed storage below the queen bed is always a bonus, and this is
no exception. But hidden away here with easy fingertip access via the hydraulic lifts are two 100amp lithium house batteries, which come with Projecta battery management systems and an MPPT solar regulator. Buyers can also opt for a 3000-watt Projecta inverter to be added at the factory stage.
Back to the best of bathrooms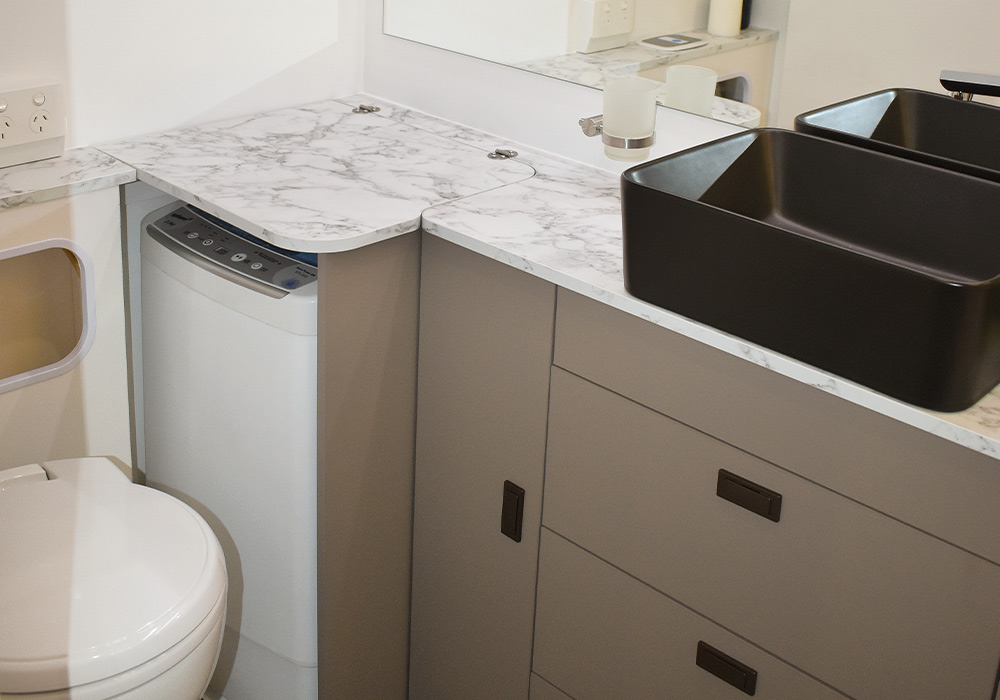 It's no secret that I like a good rear bathroom. This type of design affords so much generosity of space, as it goes right across the full width of a vehicle. Yes, it's true – I'm claustrophobic, but I challenge anyone to better this for an RV bathroom, which comes close to the area offered in the average domestic bathroom.
Of course, only good design can elevate even the best rear bathroom, and this one has a truly eye-catching mirror of such generous proportions that I struggled to take myself out of the picture while photographing it.
I really rate the Silverline's bathroom. It's well-lit, bright, spacious, beautifully laid out, and practical, too, with an extractor fan, full-size shower, and a well-hidden washing machine adjacent to the toilet. Its position next to the main suite also means it's a luxurious and private ensuite as well. This bathroom is grand in every way and
to my way of thinking will make a real splash with potential buyers.
The new Silverline in summary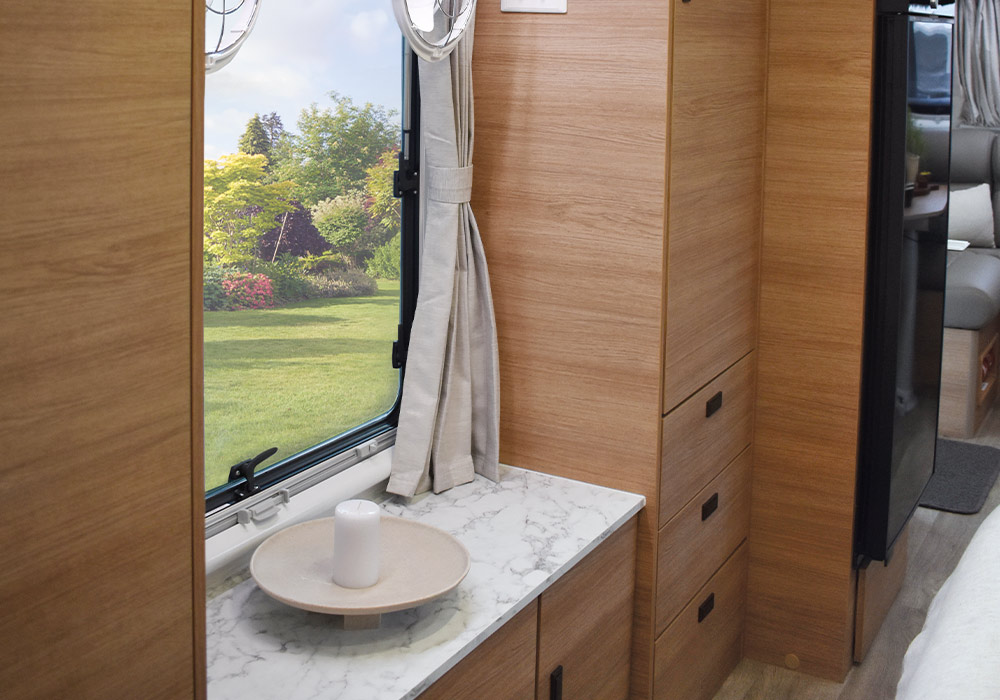 To summarise all that this all-new Silverline offers, I'll let Jayco Auckland's sales executive Tyler MacKenzie have the final word. Tyler took me through the vehicle's finer points, and he knows it well. I asked him what his favourite parts were.
He immediately mentioned the new "beefed up" build. "I would say this would now be one of the strongest on the market now. I also really like the hot-dip galvanised chassis and the new generous 600kg payload. I think the new design, the interior colour scheme and the outside, too, is great. To be fair, I like all of it, but I think the new, understated, and elegant colour scheme is a highlight."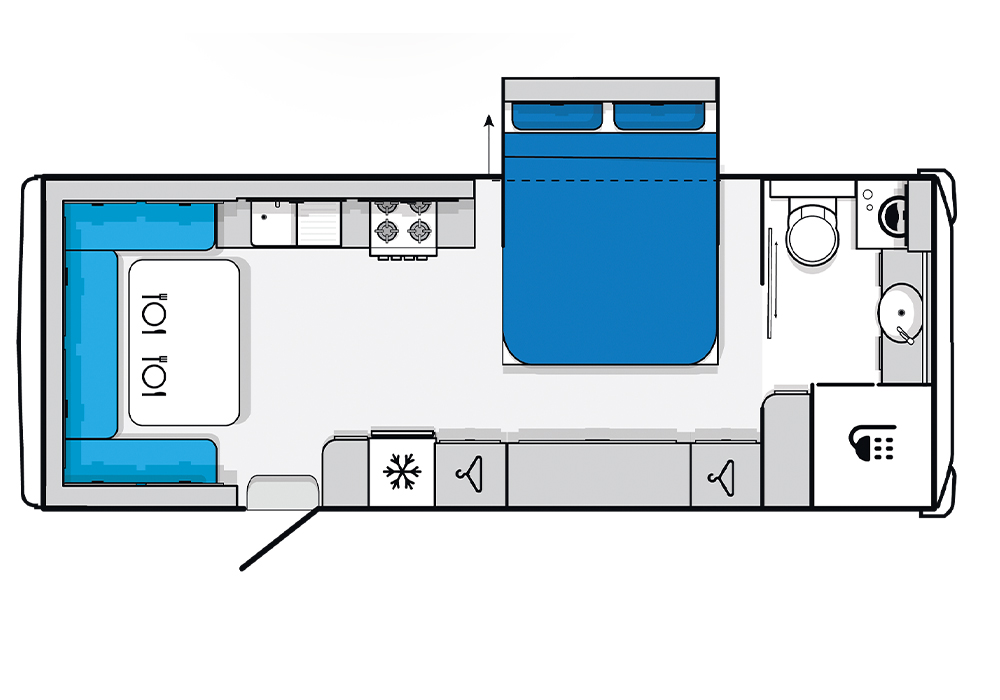 | Make and model | 2023 Jayco Silverline 21.65-3OB |
| --- | --- |
| Chassis | Hot-dipped galvanised steel chassis |
| Berths | 4 |
| Length/width | 8325mm/2470mm |
| Fresh/grey water | 2 x 95L freshwater tanks, 1 x 95L grey water tank |
| Unladen mass (tare) | 2621kg (approx.) |
| Payload | 600kg |
| Price | $125,090 as reviewed |