Grab your mates and set out on an off-grid expedition in this special edition 4WD Hymer ML-T 570 CrossOver. Peta Stavelli checks it out.
When MCD editor Catherine asked if I'd like to test the new 4WD Hymer ML-T 570 CrossOver from Wilderness Motorhomes, it was an immediate yes! Who doesn't want to drive a brand-new, luxury motorhome? And this one – 4X4, with a lively citrus green addition to the livery – is a truly sexy beast; the RV equivalent of Jason Momoa. And just like Momoa, who is 1.93m, this is one big puppy.
As I stood in the vehicle's looming shadow contemplating my imminent drive, I couldn't help but acknowledge – with some trepidation – that while the CrossOver is really high off the ground, I'm not. Adding to my discombobulation was the knowledge that it was not only brand new – with just delivery miles on the clock – but also due to be picked up the following day by its new owner. This is a serious off-roader, so someday further down the track (in some wild and remote place) it's bound to accumulate a scratch or two, but I had no desire to be the first to make my mark.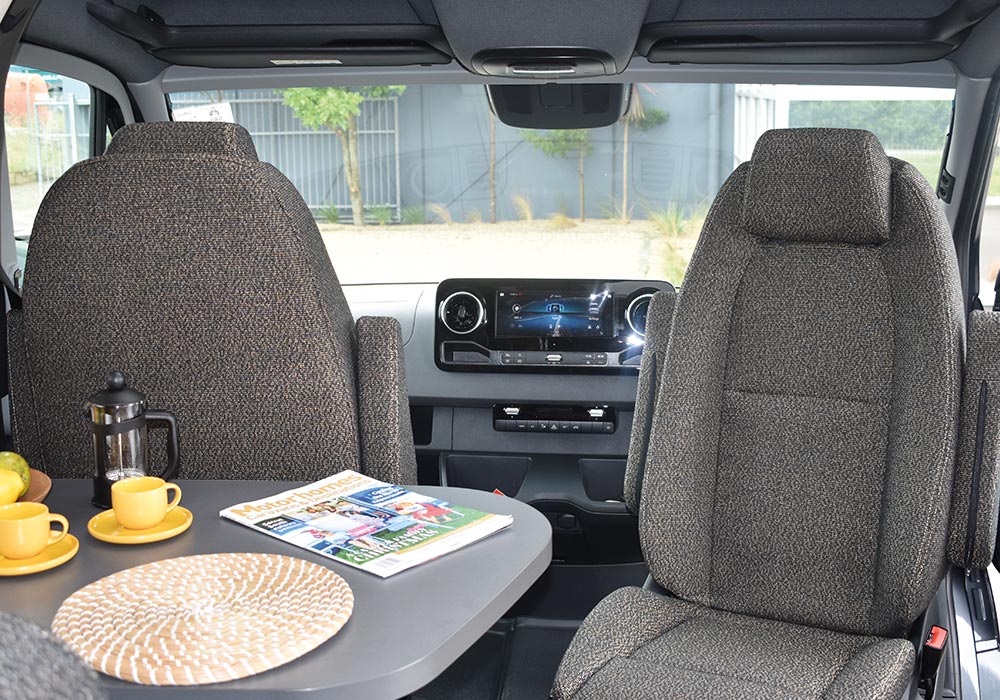 Into the belly of the beast
Fortunately, workshop leader Andy Khor was on hand, not only encouraging me to literally step up and get behind the wheel, but also showing me where the button for the automatic step was. I would have also liked a fold-out ladder for disembarking. It really is a long way down from the cab. But with access sorted for starters, I was soon climbing up into the belly of the beast. And then we were off – initially at snail's pace, while I came to grips with the new-to-me setup of the CrossOver, which sits atop a Mercedes Sprinter base. You might say there's nothing new about a Mercedes Sprinter base, but there is: a great deal, actually. I've driven a few over the years, and contemporary Sprinters are a world away from the older models.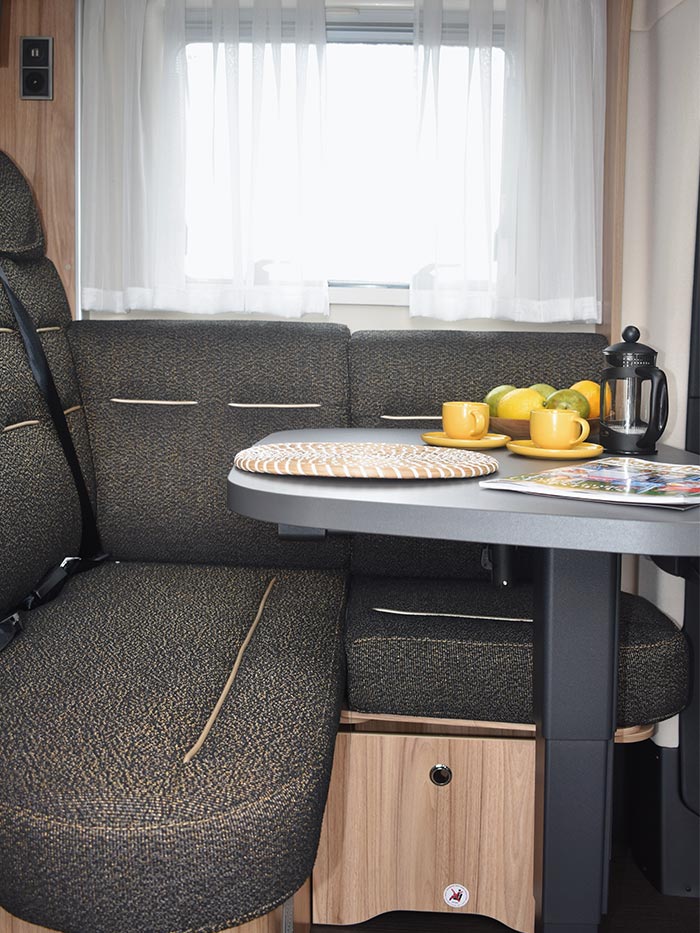 Innovation on steroids
The ML-T CrossOver is keyless, has no park brake and no (immediately visible) automatic shift. The auto shift is actually located on the steering wheel column (thanks, Andy) – right-hand side, of course – in the place you'd normally expect to see the indicator. Several times while driving at snail's pace through Airport Oaks and temporarily grinding the nation's essential transport to a halt, I moved the vehicle into neutral while trying to indicate left. But with true Mercedes precision, the auto shift is designed to be idiot proof, and the issue for this idiot was quickly resolved. This was the only flaw I could discern in a vehicle that is otherwise exactly what it claims to be, and then some.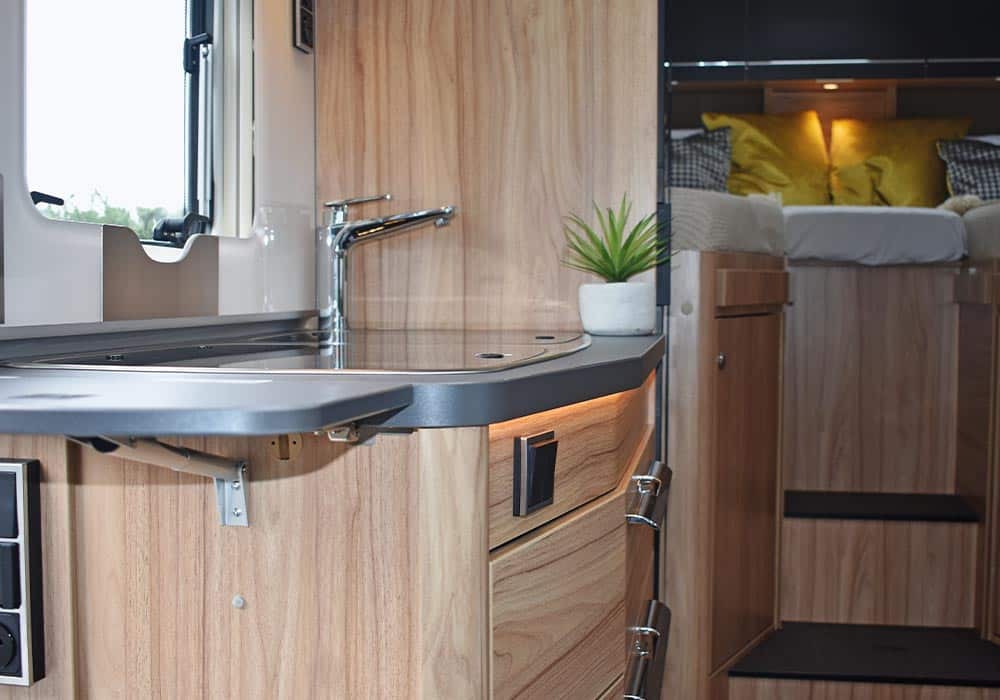 Eating rough terrain for breakfast
I didn't have to guess what type of person this vehicle would appeal to, because I knew it was destined for a life of adventure in Te Waipounamu/South Island. Having previously driven cross-country from Christchurch to Queenstown, I knew the type of terrain to expect. That route took in narrow, crumbling, bullock roads to high country passes, before crossing a tussock plain and plunging steeply into ravines to negotiate river crossings. The CrossOver would eat it for breakfast.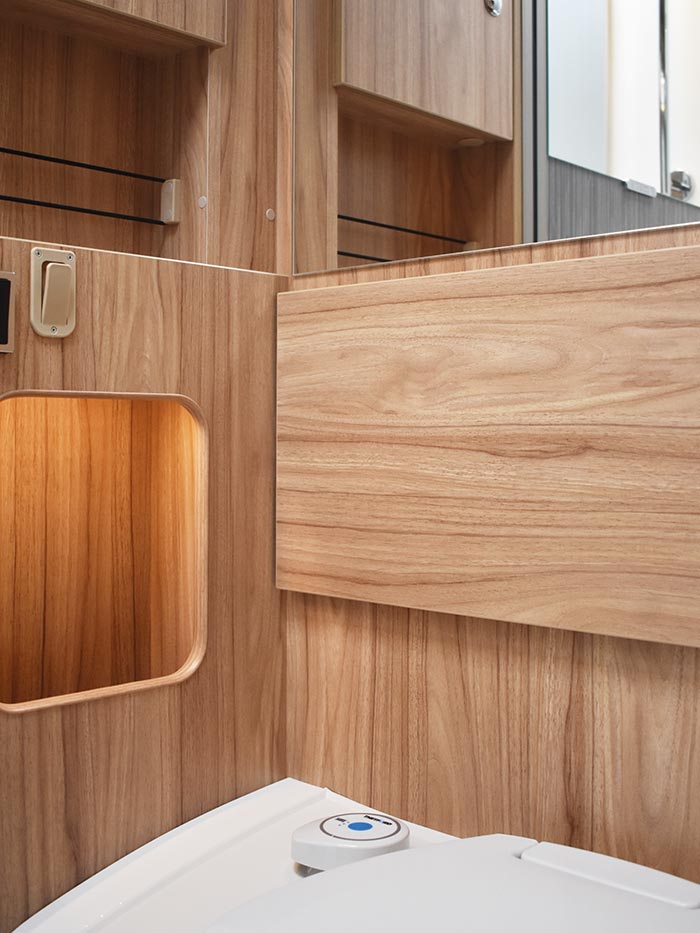 Ridiculously clever design
But what of your breakfast inside the beast? And what of showering, eating and sleeping after a day of action and adventure? Let me assure you, there will be no lack of creature comforts. This is, after all, a Hymer vehicle – a top-of-the-range plaything that looks like a lion, but purrs like a kitten. I have to begin by telling you about the bathroom because it is the most marvellous techy thing I've seen in an RV to date. It's a ridiculously clever design that converts what looks like a wet bathroom into a dry room with the flick of a panel. It also functions as a dry room for wet gear. Perfect! I also liked the second outdoor shower, which is located in the generous garage. It makes perfect sense in a vehicle such as this, which is destined for a rugged outdoorsy life. The CrossOver also comes with a built-in roof rack, fold-down roof ladder and spare tyre well.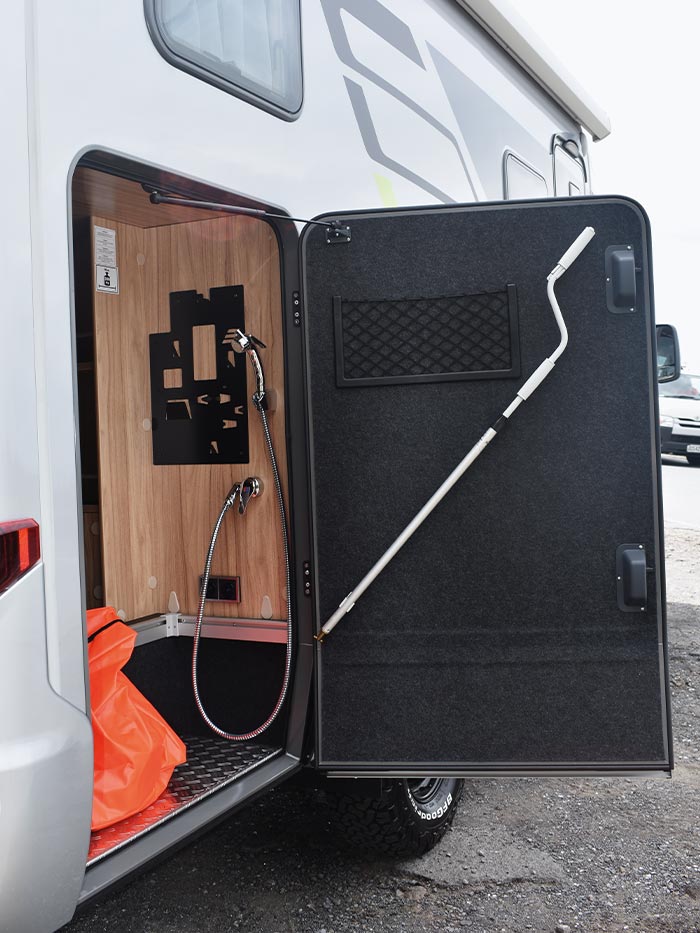 Function plus High-Tech flair
When it comes to interior design, somehow the CrossOver manages to blend functional with a bit of flair. The detail is in the small things like the half round wood moulding above the cab; of course the aforementioned industry-leading folding shower in the bathroom; and the sleek but highly functional kitchen design. It's all there, it's all top of the line; but it's not shouty or look-at-me boastful. In this way it's perfectly attuned to the Kiwi market.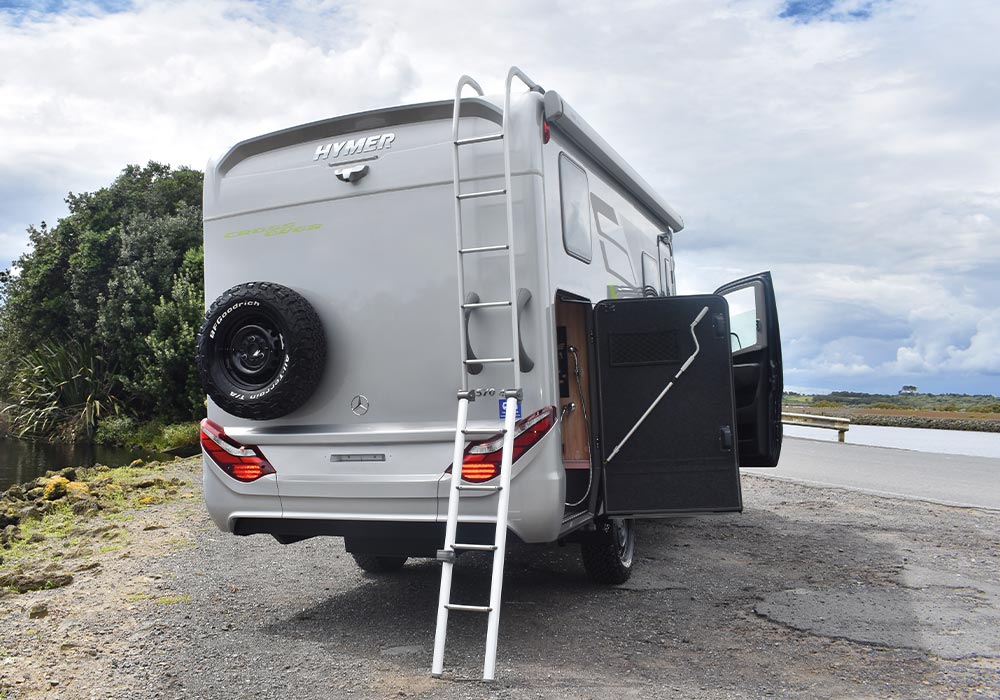 There are significant technological advances in this vehicle. In fact, it is the highest specced vehicle in the Hymer range. I really liked the rotary dial on the panel, which cycles between functions so you can dial up details of the batteries and fresh or grey water status. You'll also have Mercedes infotainment at your fingertips. This includes wireless car play navigation, next generation satellite navigation with phone function and Bluetooth. Also notable is the departure from gas or electric to a direct diesel heater and a fast-cooling compressor fridge (as opposed to the more conventional three-way).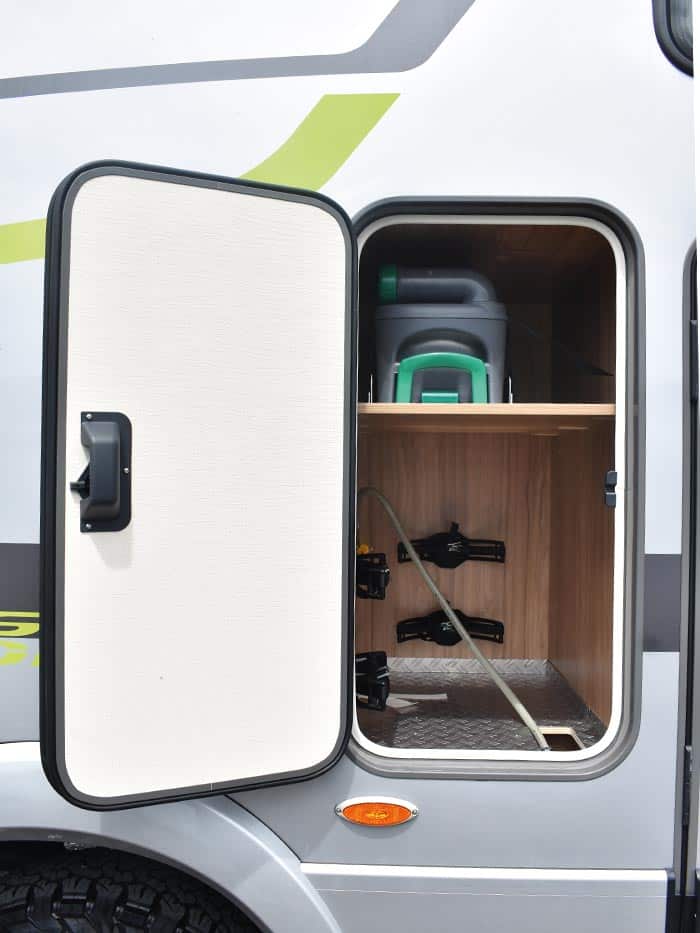 Grab your mates
The rear bedroom sits over the garage and features elevated twin beds with disc-spring mattresses and cold-foam covers. These twin beds convert into
a king-size bed. The driver seat also transforms into a third bed, at a pinch, and there are two forward-facing seat belts in the dining settee. Again, this is a perfect vehicle for remote hunting or fishing expeditions – you can fight (paper, scissors, rock-style, please) over which of your extra mates gets the smaller bed, back-country hut or swag tent, when you arrive. But with 2,295-watt solar panels and two lithium batteries, this off-roader is designed for up to 10 days off-grid. Great storage is assured under the high bed, and in the garage; but also overhead in sleek, black cupboards. I liked the multiple panel lights and lamp options as well.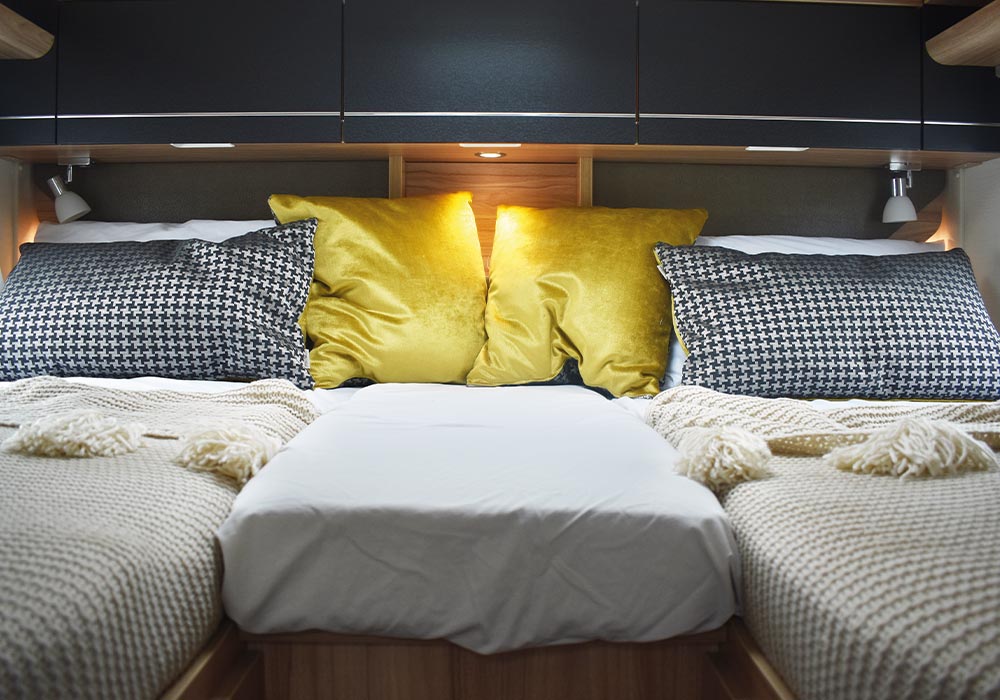 In Summary
Apart from operator error when I first drove this wonderful beast, I found it hard to fault. From the stripped back juxtaposition of the black trim with blonde wood interior, to the all-terrain tyres and functional kitchen, as well as the foldout ladder and hard-working fabric, I feel like this is a vehicle that delivers on its promise of serious fun.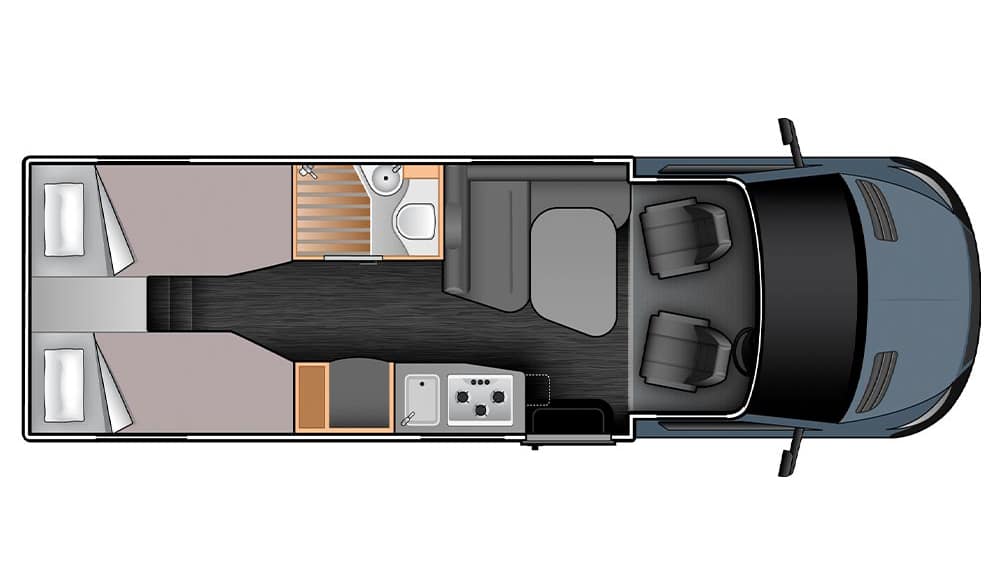 | SPECIFICATIONS | |
| --- | --- |
| MAKE & MODEL: | Hymer ML-T 570 CrossOver |
| CHASSIS: | Mercedes-Benz Sprinter 415 CDI |
| LENGTH/WIDTH/HEIGHT: | 6.89m/2.22m/3.05m |
| BERTHS: | 3-4 |
| FRESH/GREY/HOT WATER: | 120/100/10 |
| UNLADEN MASS (TARE): | 4100kgs |
| PAYLOAD: | TBC |
| PRICE: | $POA |
For more information, visit https://www.wilderness.co.nz/