Having a handful of quick and delicious recipes to call on when travelling makes for a relaxing start to the day, wherever in Aotearoa you happen to be parked. These tasty treats from The Keto Chef's Kitchen II by Nerys Whelan are all low-carb, sugar-free, and gluten-free.
Mediterranean breakfast muffins
Makes 6 muffins
Ingredients
50g baby spinach
4 sundried tomatoes
1 Tbsp capers
8 olives
250g ricotta
2 eggs
1 lemon, zest only
1 tsp salt
1 tsp cracked black pepper
Method
Preheat your oven to 190°C fan bake and generously grease six holes in a standard muffin tray.
Roughly chop the spinach, sundried tomatoes, capers, and olives.
Place all the ingredients in a bowl and mix until combined, then spoon the mix evenly into the greased holes.
Bake for 10–12 minutes until the centre springs back when lightly pressed.
Serve straightaway or store in the fridge for an easy grab-and-go breakfast
Pepperoni wheels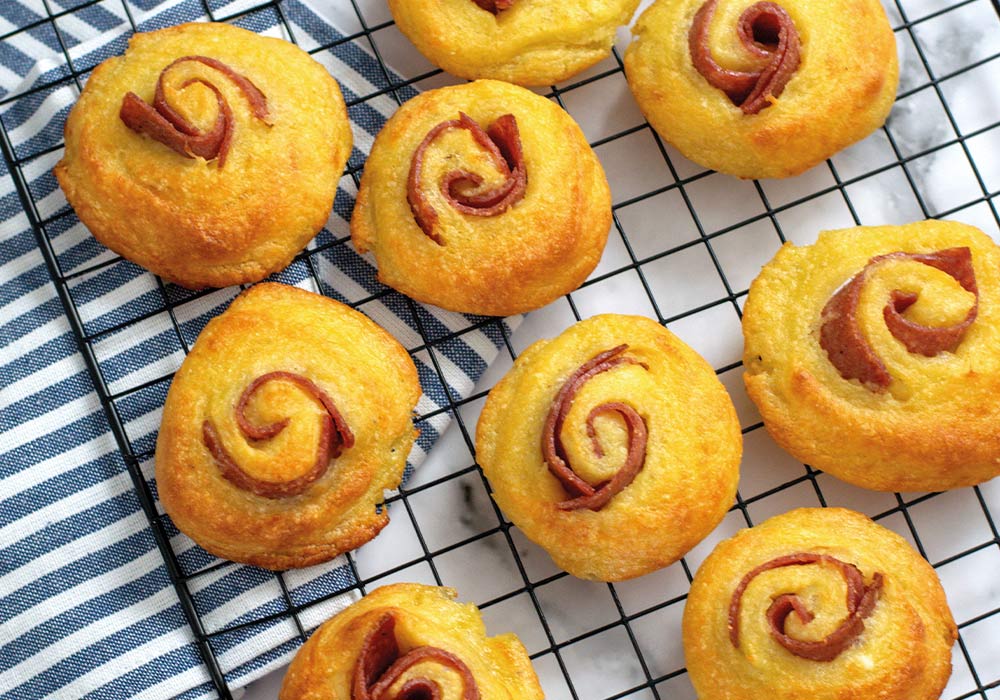 Makes 12 wheels
Ingredients
170g grated mozzarella
70g cream cheese
80g ground almonds
1 tsp baking powder, gluten-free
1 egg
100g pepperoni, sliced
Method
Preheat your oven to 170°C fan bake and line a baking tray with baking paper.
Melt the mozzarella and cream cheese in a pot over a low heat, or in a microwave-safe bowl in the microwave for 30-second bursts, stirring in between, until melted.
Once smooth, add in the ground almonds, baking powder and egg. Mix until a dough forms.
Roll the dough between two sheets of baking paper into a 20cm x 30cm rectangle. Chill the dough in the fridge for 10–15 minutes until it firms up slightly and is less sticky.
Take off the top sheet of baking paper and lay the sliced pepperoni in two lines down the long side of your dough.
Tightly roll the dough up and carefully cut into 12 pieces.
Place cut-side up on your baking tray, leaving space between each, and bake for 12–15 minutes until lightly golden brown.
Allow them to cool on the tray for 5 minutes before serving.
If they aren't being eaten straightaway, store in an airtight container in the fridge and reheat before serving. You can also freeze them uncooked, ready to thaw, and cook at a later date.
Bacon and egg cups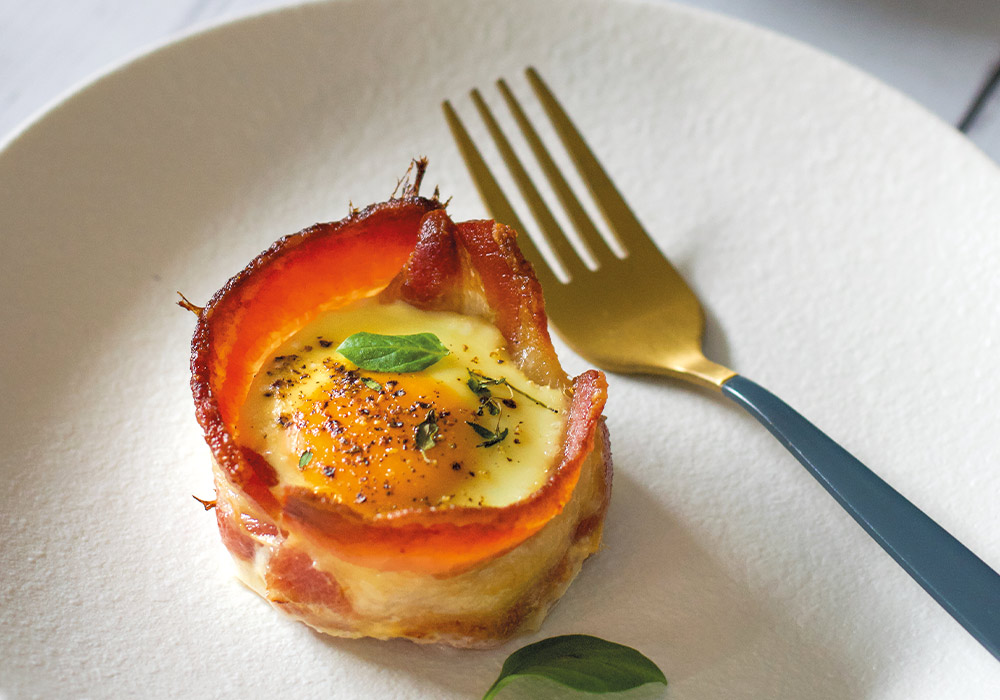 Makes 6 cups (3 portions)
Ingredients
9 rashers bacon
6 Tbsp grated cheese (omit for dairy-free)
6 eggs
1 small sprig fresh thyme or rosemary, chopped
½ tsp cracked black pepper
Method
Preheat your oven to 180°C fan bake and grease a large muffin tray.
Wrap a piece of bacon around the inside of six muffin holes.
Cut the last three pieces of bacon in quarters and place two pieces in each hole to cover the bottom.
Place one tablespoon of grated cheese in the bottom of each. Crack in one egg and sprinkle with chopped thyme or rosemary and cracked black pepper.
Bake for 15–17 minutes until the egg is cooked to your liking and the bacon is crispy.
Serve straightaway, or store in the fridge for an easy grab-and-go breakfast.
Nutrition note: Egg whites are high in protein, but most of the vitamins and minerals are in the yolk. Goodbye, egg white omelette?
The Keto Chef's Kitchen II by Nerys Whelan, published by Mary Egan, RRP $69.95