Eleanor Hughes combines two of her passions for one fantastic weekend exploring Hamilton and Cambridge
Hamilton Gardens and Te Awa River Ride were at the top of our 'to-do' bucket list, so we planned our weekend to accommodate both.
Pedal power
To truly explore Hamilton and Cambridge, we opted for pedal power and the opportunity to cycle the Te Awa River Ride. Running 65km from Ngāruawāhia to Lake Karapiro, 26km of this glorious trail runs between Hamilton Gardens and Cambridge, often along the edge of Waikato River and with new elevated boardwalk areas to enjoy. Mainly on a concreted, flat pathway, it's an easy ride (even without an e-bike).
One of the most popular points to hop onto the trail is Hamilton Gardens (just 11.6km from Mystery Creek) with ample parking at the bottom of Hamilton Gardens Road (accessed via Gate 2).
For convenience, if you're parked at Mystery Creek for the NZMCA Show, you could also cycle directly from there, hopping onto the Te Awa River Ride at nearby Tamahere.
As we wanted to soak in the glory of Hamilton Gardens, it made sense to begin our ride from there. We parked with ease and cycled back up to the gate entrance to find a sign informing us of the trail. Arrows pointed left and right, with no mention of what direction Cambridge was. It's right.
It wasn't long before we were amid the peace and quiet of suburban roads. With the choice of continuing by road or taking the bush track, this time we stuck with the road and whizzed along to the industrial area of Riverlea where the cycle trail sign guided us to a wide path through the bush and along boardwalks – one rather steep. Thirty minutes from Hamilton Gardens we emerged onto a flat concrete pathway, with oodles of room for walkers and cyclists to share.
Tamahere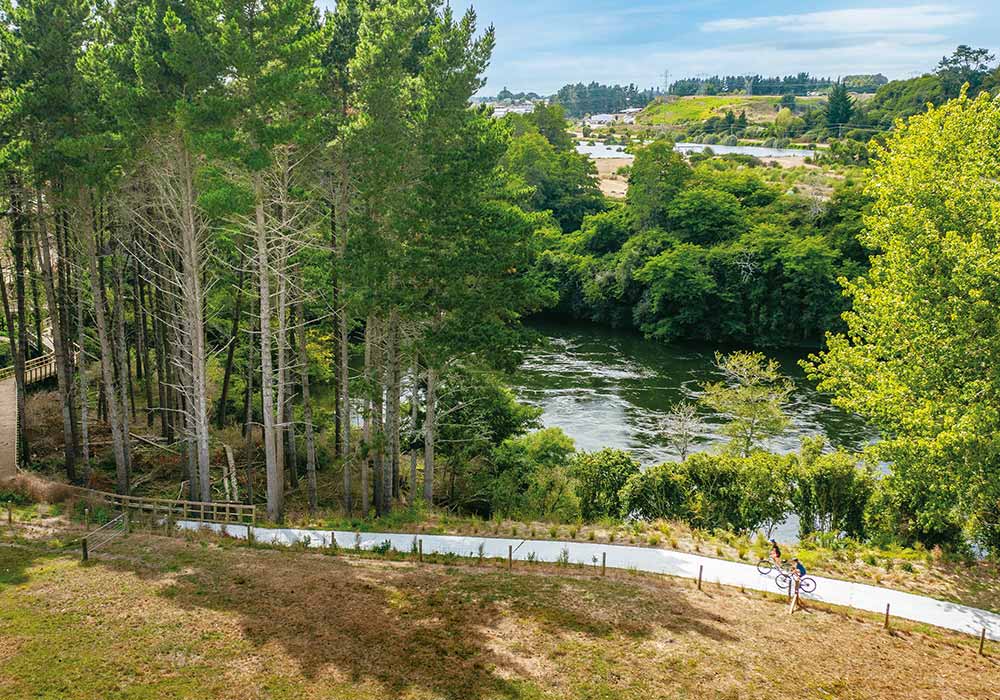 Punnet Café on Newell Road was doing a roaring trade as we peddled past before stopping just around the corner at the Tamahere complex of shops and cafés, where the neighbouring Tamahere Park and playground proved the perfect spot to eat our packed lunch (Mystery Creek Events Centre is only 4.7km from here).
In fortunate timing, we came across the delightful Tamahere Country Market. This takes place on the third Saturday of every month at St Stephen's Church with around 100 stalls of local crafts, food, and produce. Enticed by the smell of sizzling sausages wafting in the air, we took time for a wander. There were Vandal wine tastings, a coffee truck, divine-looking doughnuts, cheeses, salamis, locally made Willis & Co peanut butter, Mel's relishes and sauces – all seriously tempting. I doubt the goldfish also available to purchase would've enjoyed the remaining bike ride and there was no room in my backpack for clothing purchases, so we continued on.
Just along Tamahere Drive, we passed the sprawling Tamahere Country Club, a retirement village that looks more like a resort.
Horse studs, farms, and nurseries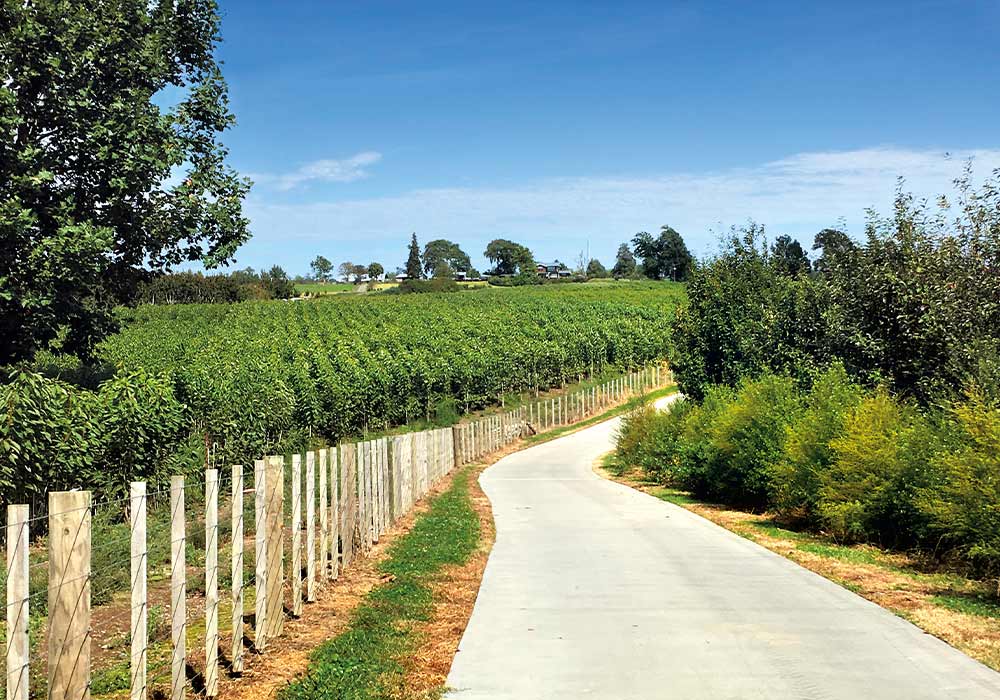 Heading towards Cambridge on the smooth concrete trail, the scenery was of rural farmland, peaceful paddocks of grazing horses, and beautiful homes and gardens. Now 14.5km from Hamilton Gardens, eight kilometres from Tamahere and nine kilometres to Cambridge, we soaked in views of the peaceful Waikato River, with the water reflecting the trees lining it.
Along an undulating concrete path interspersed with wooden boardwalks, we zigzagged up and down, enjoying the sporadic river vistas, and pausing at the intermittent information boards, where we discovered fascinating local tidbits, including an introduction to Whakanui Stud, home of Melbourne Cup winner Empire Rose, and the nearby Cambridge Jockey Club, one of the largest equestrian training facilities in Australia.
I also learnt that McGrath Nurseries, recently renamed Genesis Nurseries, supplies its special varieties of apple, pear, peach, plum, nectarine, apricot, and cherry trees to pretty much every fruit-growing district throughout New Zealand. Luisa plum trees are planted next to the pathway, but their fruit, for cyclists to help themselves, is not ripe until late January.
The cycleway also makes its way through the farmland surrounding St Peter's School. Having opened in 1936 with 36 boy boarders, these days it's a mixed private school with more than 1200 students and impressive sporting facilities from its swimming and equestrian complex to its golf driving range. Owl Farm, the school farm, spans approximately 160 hectares, and while it initially provided the school with meat, milk, eggs, vegetables, and fruit, today it operates largely as a dairy farm, supplying Fonterra with milk solids while also providing students with first-hand farming experience.
Cambridge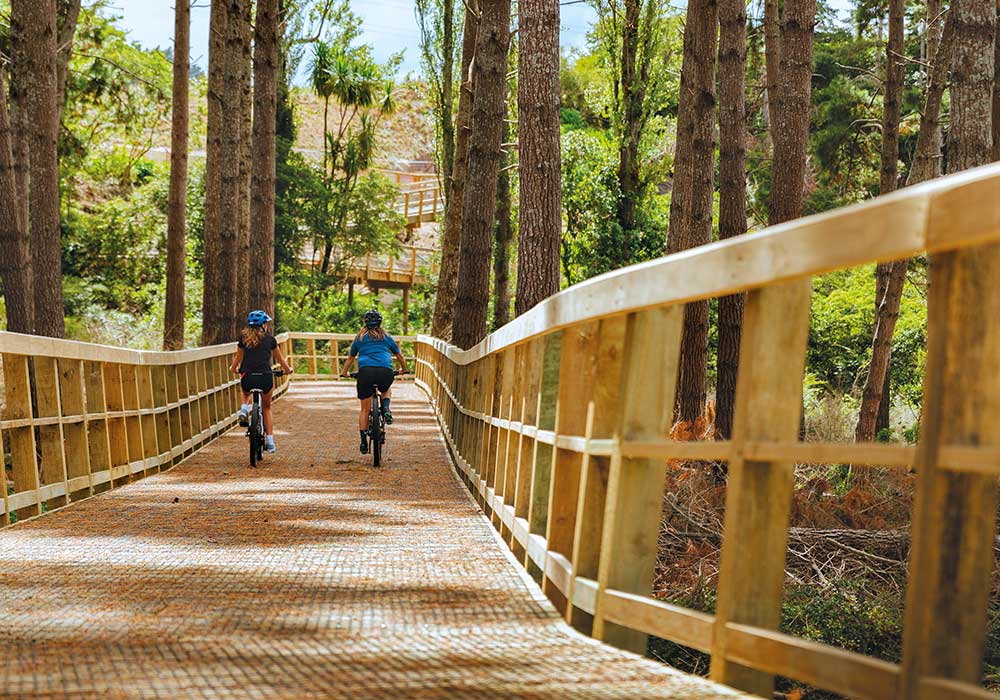 Before making it to Cambridge town, we turned left to the Grassroots Trust Velodrome (formerly known as Avantidrome). The path up to the facility is one of the steeper challenges of the bike trail. I gritted my teeth pushing the bike up the last parts of the hill before arriving at the top where there's a wonderful bike skills park for younger cyclists.
The Bikery Café is a popular stop-off point for cyclists (and visitors) wanting a quick visit to the Velodrome (it's worth taking time to go inside to appreciate just how steep the 250-metre indoor cycling track is), where you're likely to spot some of New Zealand's most competitive cyclists training, as well as a range of community and grassroots programmes in action.
Taking a moment to enjoy the view over lush green landscape stretching to distant shadowy ranges, we took a short break before backtracking the one kilometre and continuing to Cambridge, another three kilometres on.
The remaining trail to Cambridge passes Arikirua Pa site, where grassed land has depressions that were food storage pits and others that were quarries. According to an information board, it was surrounded by 18 hectares of gardens on a river terrace and was occupied from around 1600 until it was abandoned in 1864 during the Waikato Wars.
The path wanders past Gaslight Theatre, once the old brick gasworks building, which opened in 1907. Cycling up steep Alpha Street, we arrived, a leisurely three hours after our ride began, at Victoria Square in the middle of Cambridge, opposite which is Cambridge's iconic Edwardian Town Hall.
If you've got time, Cambridge offers plenty to fill in several hours. The isite to the left of the Town Hall has heritage walk brochures. One centres on the Domain and includes Lake Te Ko Utu, a band rotunda, Cambridge Bowling Club, Tennis Club, and several heritage homes on Thornton Road. The other focuses on Central Cambridge and takes in the fire station, former post office, hotels, churches, and the old courthouse, now home to Cambridge Museum. It's small but interesting, focused on early Cambridge life. You could stop in at Over the Moon Deli for a taste of locally produced cheeses – the creamy blue is divine – or if in need of a drink, visit Good Union, located in the 1898-built Trinity Presbyterian Church, for a Good George beer or cider.
Shuttles can be organised to transport cyclists back to Hamilton, but we chose to ride back, stopping for well-deserved ice creams at Tamahere's Four Square (there's also a good stock of Duck Island ice cream in the freezer).
Hamilton Gardens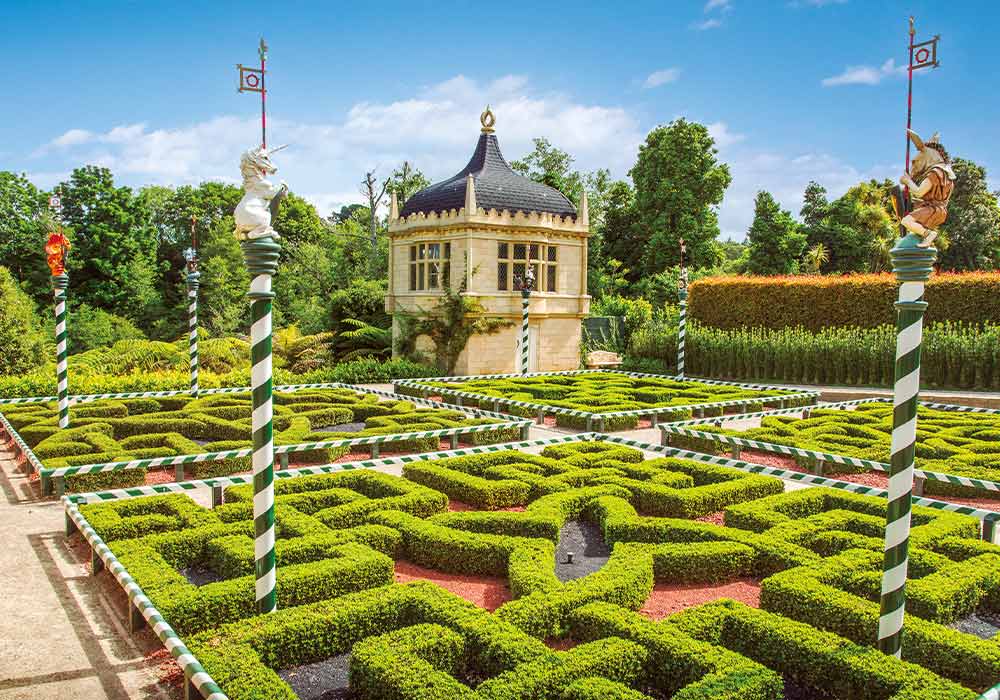 Hamilton Gardens truly deserve all of its accolades. Entering each of the enclosed gardens is like being instantly transported to a different country or era.
The Ancient Egyptian Garden features a 'temple', with hieroglyphics decorating walls, a rectangular pool with pergolas on either side supporting grapevines, and Egyptian cat statues sitting stately below. It's quite a dramatic experience.
I still can't decide on my favourite garden: perhaps the Italian Renaissance Garden where orange trees grow in terracotta pots, a Romeo and Juliet-type balcony is covered in climbing vines, and fountains trickle.
Or perhaps the Indian Char Bagh Garden blooming with orange and gold-toned flowers that brought back recollections of the Taj Mahal. Alice in Wonderland was brought to mind in the Surrealist Garden where a giant wheelbarrow, door, spade, and tap feature, and in the Tudor Garden, I expected the Queen of Hearts to storm between knot gardens featuring green and white striped poles with mythical beasts atop.
Three new gardens – Pasifika, Baroque, and Medieval – are presently being created, so a return visit is definitely on the cards.
The Tree Church and Gardens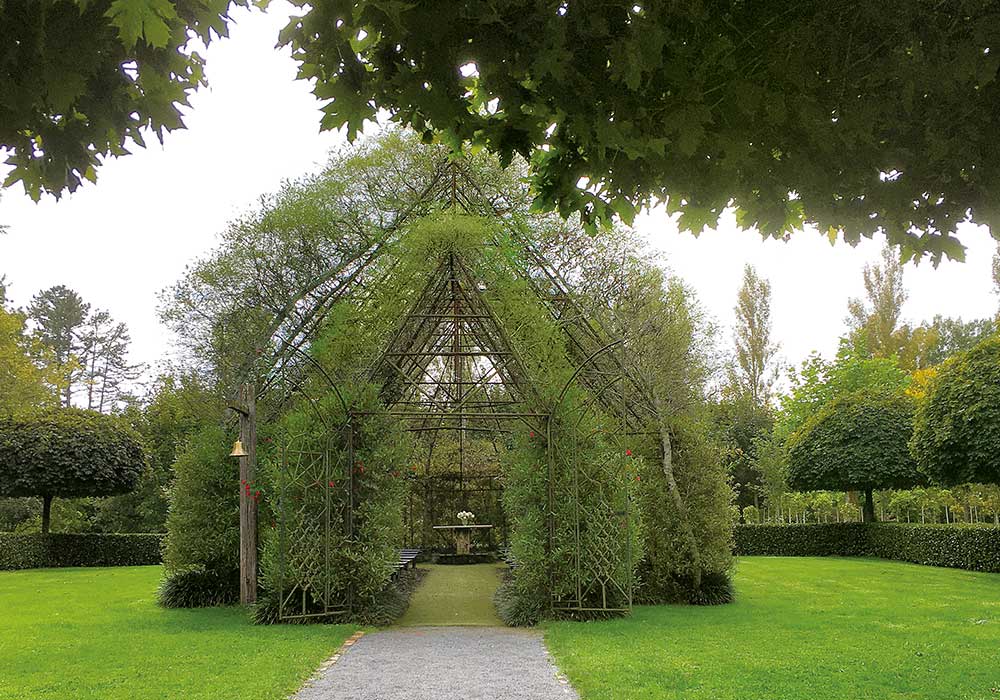 After Hamilton Gardens, we drove approximately 20km towards Te Awamutu and discovered that we hadn't yet had our fill of garden experiences. Nestled into Ōhaupō, the Tree Church and Gardens is well worth a visit (open from the end of October through until the end of April) and available for weddings and events.
While the entire gardens are stunning, it's the Tree Church that's the most remarkable centrepiece. Cut leaf Alder (Alnus Imperialis) have been trained to form a roof over a steeply pitched wrought-iron frame, and the church walls are a mix of several different tree varieties. Surrounded by miniature hedges, with wrought-iron gates and trees pruned into lollipop shapes at its entrance, it's an incredibly special place.
The formal garden covers 2.5 hectares and includes a circular contemplation path, an avenue of ramrod straight, white-barked Himalayan Birch, a Japanese-themed garden, and ponds and flower gardens among mature oak, maples, ginkgo, poplar, and other species.
The Olde Creamery Café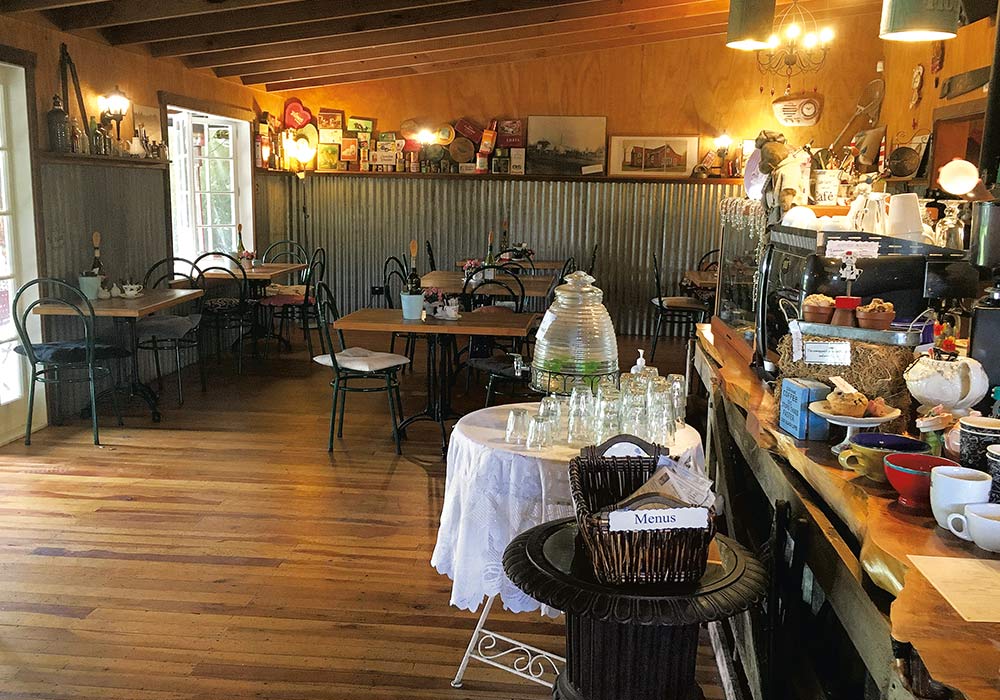 Our appreciation of nature satisfyingly quenched, we headed to The Olde Creamery Café on Kaipaki Road, as you head back towards Cambridge from Ōhaupō. Just eight kilometres from Mystery Creek, the creamery was built in 1892 and moved to Kaipaki Road in 1900. Milk was taken from there to Mystery Creek and transported by barge to Te Rapa. Later, it became a fertiliser works and bulk store. Today, in a park-like setting opposite a charming, white villa, the rust-red building displays yesteryear memorabilia – chocolate boxes, tins, antique china on wooden dressers, and a lovely gift shop.
Polished timber floors and corrugated iron halfway up walls give it a rustic, olde world feeling, but we settled in the courtyard, enclosed by walls zigzagged with espalier, sitting beneath the shady arbour looking out to a white gazebo, ornamental hedges and a giant chess set. Victorian High Teas are popular here and there's a lunch menu, but we chose lavender potted scones. Made using the seeds of an English lavender variety, they're baked in terracotta pots and apparently make the kitchen smell lovely. With cream and jam, they were delicious. A perfect way to finish our Hamilton stay.