Hamilton is renowned for its stunning gardens, river cycle tracks and lake walks, destination eateries, and galleries, but lesser-known delights are slowly becoming major drawcards for visitors. Proving particularly enticing is the hidden wonderland that is Ross Bros Museum. Lyndsay Whittle recently spent some time visiting and was both surprised and delighted.
If cars, engines, motorcycles, trucks, and machinery capture your interest, then you'll be doing yourself and your mates a huge favour by gathering a like-minded group and heading to the Ross Bros Museum on the outskirts of Cambridge.
Allow yourself more time than just a 'quick look' because there's so much to see that a stroll around for an hour or so just isn't going to do justice to the 100 or so machines housed in the 3130 square metre building.
Vintage vibes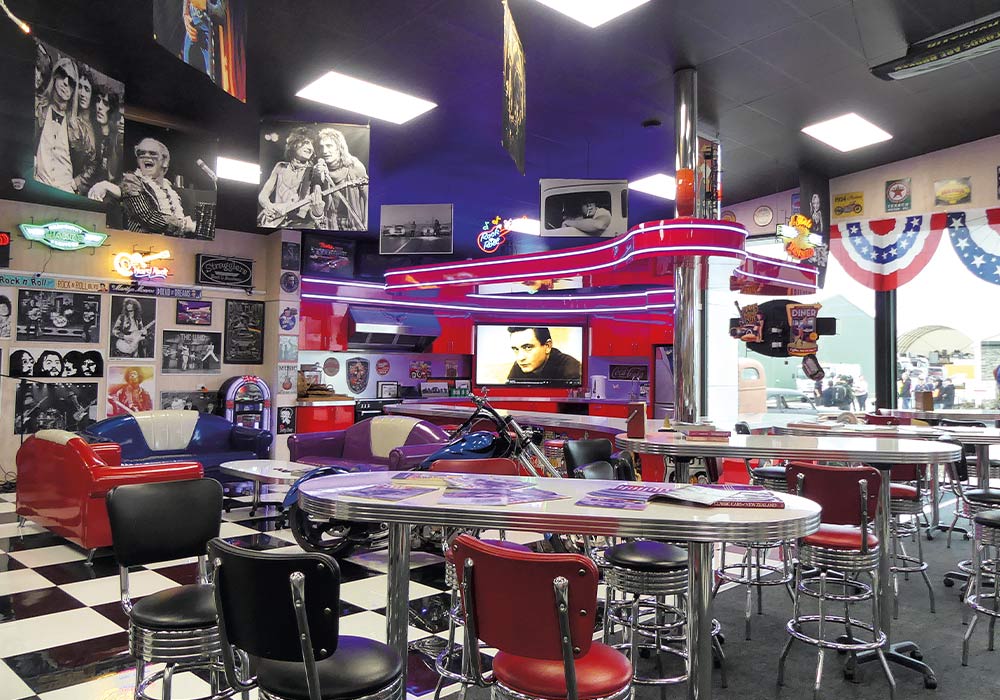 Also known locally as the Ross Brothers Muscle Car Garage, the experience begins with an Americana-themed diner as the backdrop for an array of desirable cars, mainly muscle cars, from the 1970s.
The first car we came face-to-face with was an immaculately presented 1970 HT Holden Monaro, a sight good enough to make anyone who grew up in that era go weak in the knees.
A couple of cars along was an equally impressive bright red 1971 XY Falcon GT and continuing on, the collection was an ocean of unexpected surprises.
The iconic race car of New Zealand motorsports legend Scott Dixon takes pride of place in the museum, with the Target-branded 2005 Panoz G-Force Toyota Indy-Car offering a rare opportunity to see this historically important vehicle up close and personal.
Set among the shining vehicles are old fuel pumps and photos, along with detailed placards explaining each car's provenance.
While most of the cars displayed in the Ross Bros collection are owned by members of the family, others are on loan to the museum for display purposes. The plus side of this is the fact the display naturally changes and evolves.
Shifting gears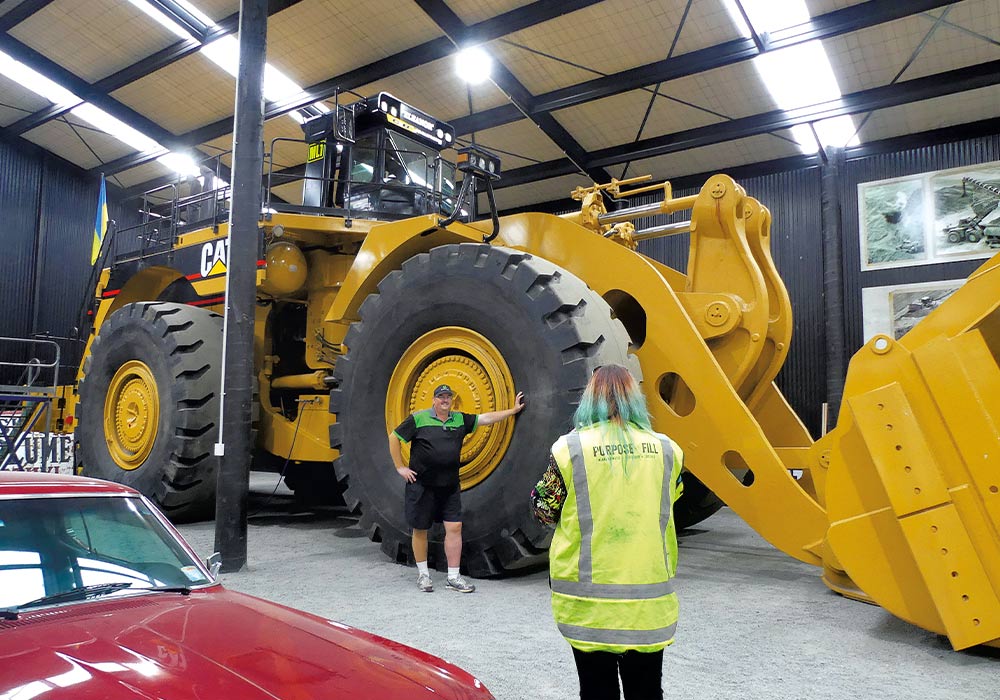 Leaving the car section and entering the truck and machinery display is a wow moment. The sheer size and scale of these machines aren't evident until you're standing close to something like the Caterpillar 994 loader. Although this display model dates back to 1998 model, the 994 range, introduced in 1994, was referred to as the largest mechanically driven loader in the world. The 994 is huge. It's fitted with a 4641-litre fuel tank (equivalent to 15 to 16 standard bathtubs) and can consume almost a 200-litre drum of fuel per hour. The tyres weigh in at 4.7 tonnes each and stand 3.58 metres in height, with the restorers saying they used 130 litres of CAT Yellow to paint the machine.
Small(er) wonders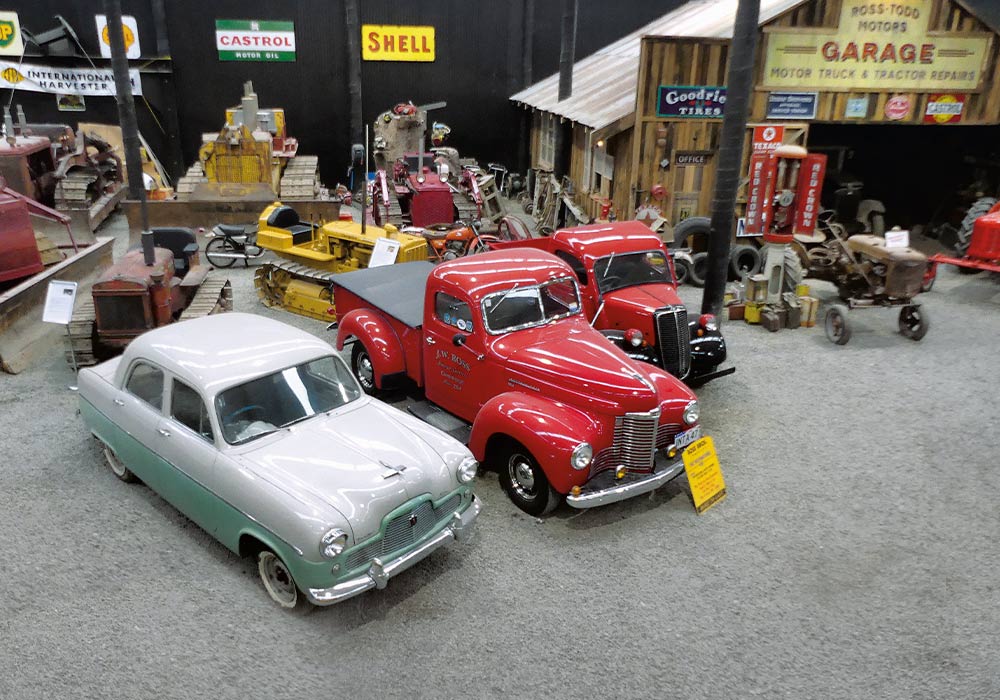 Displays of smaller trucks (by comparison to the 994 giant) and earthmoving equipment include a bulldozer of yesteryear, an International TD6, considered a fair-sized dozer in its day, and an immaculately presented Fordson E83W in Ross Bros Contracting livery. All ages will doubtless get a thrill out of seeing some of the older trucks on display, with the former having a chance to reminisce about the good old days and the latter with an appreciation of the comfort and power on offer from modern counterparts.
Elements of authenticity are scattered throughout the Ross Bros Museum, courtesy of dioramas, both life-size and miniature. These range from scale models of working life in a quarry to heavy equipment pushing rocks deep in the bush.
One corner of the huge display hall is an area that displays a couple of unrestored dozers in a bush environment, complete with moss and a recording of tuis, which is so realistic that you expect one to fly by at any moment.
Everything is well-documented with placards explaining in detail the specifications and past uses of each artefact. In many cases, the display is accompanied by a photo of the artefact or at least one similar to it, allowing visitors to delve deeply into the provenance.
The museum is truly an experience to add to the bucket list, even if you're not a bona fide car or machinery enthusiast.
A wonderful legacy created by the Ross brothers (Michael, Tony, Tim, and Simon), along with their team led by Nelson Eves, Gary Jowsey, and Murray Barton, this memorable display of transport and technological heritage is well worth a visit.
The Ross Bros Museum is on Hannon Road, Cambridge and is open Monday to Friday from 9am to 5pm and at weekends by appointment.