While Ruapehu is a hot winter destination, thanks to its claim of having the world's deepest snow base, there's also plenty to experience off the slopes in this vibrant location. Shannon Williams explores.
Located in the heart of the North Island, Ruapehu offers some of New Zealand's most exhilarating skiing, as well as hiking trails and a host of outdoor experiences to discover.
Let's go walkabout
In my opinion, nothing beats reaching a waterfall on a hike. Fortunately, New Zealand is full of them. At 39 metres, Waitonga Falls in Ohakune is the highest waterfall in Tongariro National Park. Easily accessible from Ohakune Mountain Road, the well-formed track passes through mountain beech and kaikawaka forest.
A four-kilometre return trip (via the same track), it's an easy walk and should take about an hour and a half there and back. The track is well formed but can be slippery if there's ice on the ground, so be prepared. On clear days, there are beautiful views of Mount Ruapehu, and you can see reflections of the mountain in the Rotokawa pools. This spectacular walk takes the number-one spot as my favourite short walk on a recent trip to the region.
Taranaki Falls Walk is an easy six-kilometre loop track. It can be done in either direction, taking between an hour and a half to two hours, depending on how many times you stop for photos (we stopped a lot). The track passes through tussock and alpine shrublands before entering beech forest. Try to do it on a clear day, as you'll be able to see Mt Ngauruhoe's symmetrical cone and the older, eroded mountains of Tongariro and Pukekaikiore. Taranaki Falls comes into view tumbling 20 metres over the edge of a large andesite lava flow, which erupted from Ruapehu 15,000 years ago. How many photos can you take of the same waterfall? About 47, apparently.
On yer bike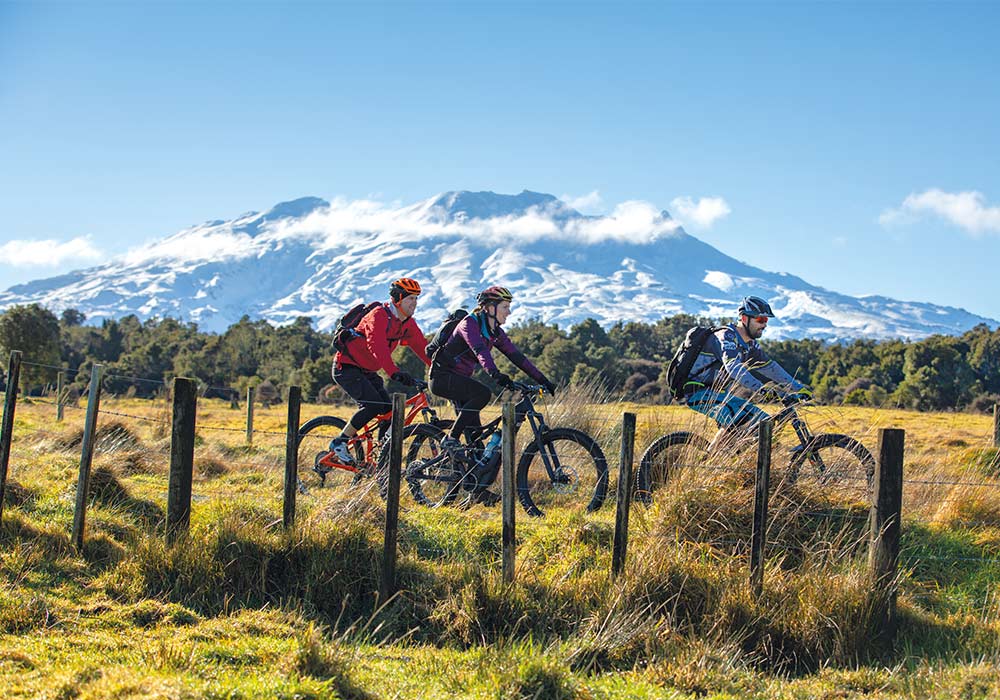 Cycling and mountain biking are more popular than ever in New Zealand, and with e-bikes available almost everywhere, it's become an even more accessible activity for people of all fitness abilities. So, whether you've got your own e-bike or mountain bike stored on the back of your camper, or you want to hire one, Tongariro National Park has plenty of options.
While the Ohakune Old Coach Road track historically begins in Ohakune, the easiest and most rewarding way to tackle this ride is one-way from Horopito. Catch a shuttle to Horopito then ride back to Ohakune. There's transport to and from the trail as well as bike hire operators in and around Ruapehu. The 15km track forms part of The New Zealand Cycle Trail and provides a great family-friendly cycle with stunning views of Mount Ruapehu.
Soak it up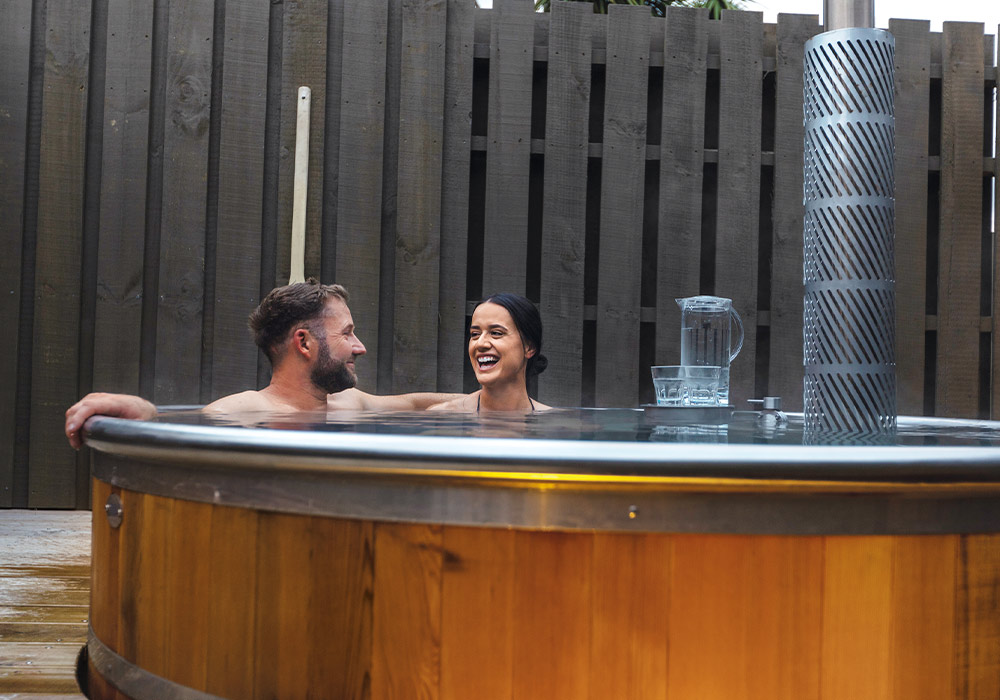 Relax your muscles after biking and walking with a soak in hot tubs, hot pools, and natural spring water.  Hot tubs are best enjoyed in cold weather, making Mt Ruapehu the ideal spot for indulging.
Tucked away at the foothills of Mt Ruapehu in Ohakune is Ohakune Hot Tubs. These open-air, wood-fired hot tubs are available for private bookings and are freshly filled for each use. You can hire your own hot tub for one hour from $110 for two people. The tubs are beautiful with a clear sky, better in the rain, and magical in the snow.
If you fancy a drive of about 60 minutes to enjoy the stunning scenery, take a road trip to Turangi where you can enjoy a private spa in mineral water at Tokaanu Thermal Pools, followed by a soak in the larger public hot pool, which is family-friendly. Situated on the southern shores of Lake Taupo at Tokaanu, the facility also offers a short Thermal Walk. Open every day except Christmas Day.
History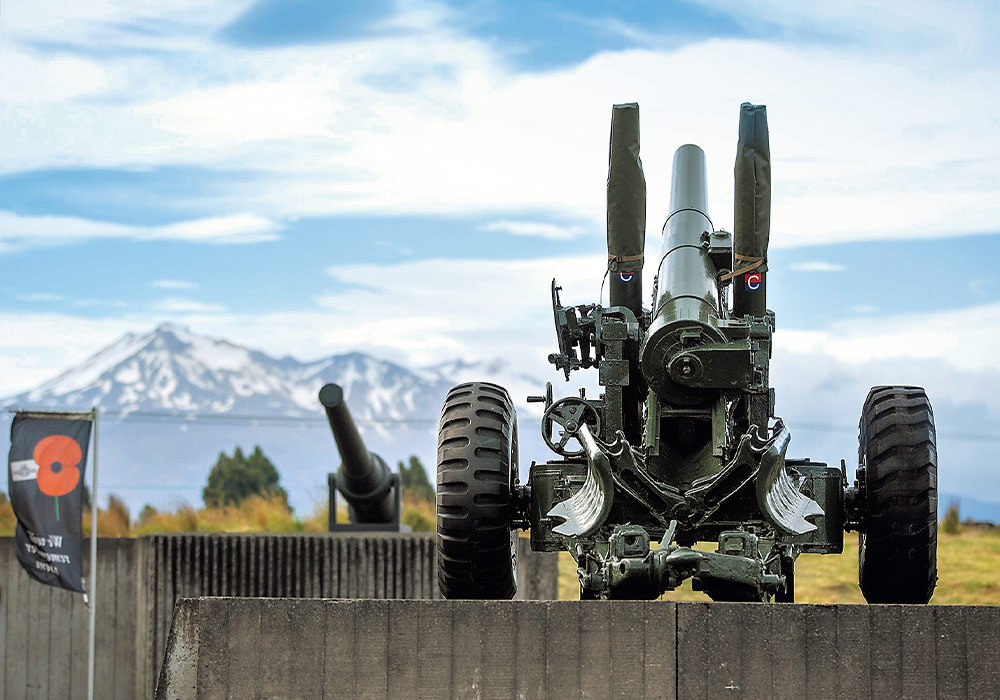 If the weather isn't aligning with your outdoor plans, it's the perfect opportunity to check out some of the region's museums. The National Army Museum offers unique collections, military exhibits, army memorabilia, and public research material. Open every day except Christmas from 9am to 4.30pm, the museum tells the stories of Kiwi soldiers and New Zealand's participation in major conflicts around the world. Permanent exhibitions include 'The New Zealand Wars', the 'Evolution of Firearms, and Gallipoli'. From September 2023 until 9 February 2024, the 'Auschwitz. Now' exhibition includes survivor stories, imagery, and portraits.
Another popular destination (for kids of all ages) is the Dinosaur House in Raetihi. Located in a beautiful 1922 heritage building in the centre of Raetihi, this museum houses New Zealand's largest collection of privately owned dinosaur skeletons, fossils, and life-size models. It's a wonderful place to fuel your imagination. Make sure you allow time to play some retro video games in the dinosaur arcade.
Head to the mountain
You don't have to ski or snowboard to experience the full glory of Mt Ruapehu. The Sky Waka is the perfect way to get up close and personal with the stunning scenery. The 1.8km gondola leaves from Whakapapa and rides above the snow, taking you to 2020 metres above sea level. Wheelchair accessible, it offers panoramic views out across the Tongariro National Park. Once at the top, you can go sledging or have a bite to eat and a coffee at Knoll Ridge Chalet, the highest dining experience in Aotearoa.
Where to stay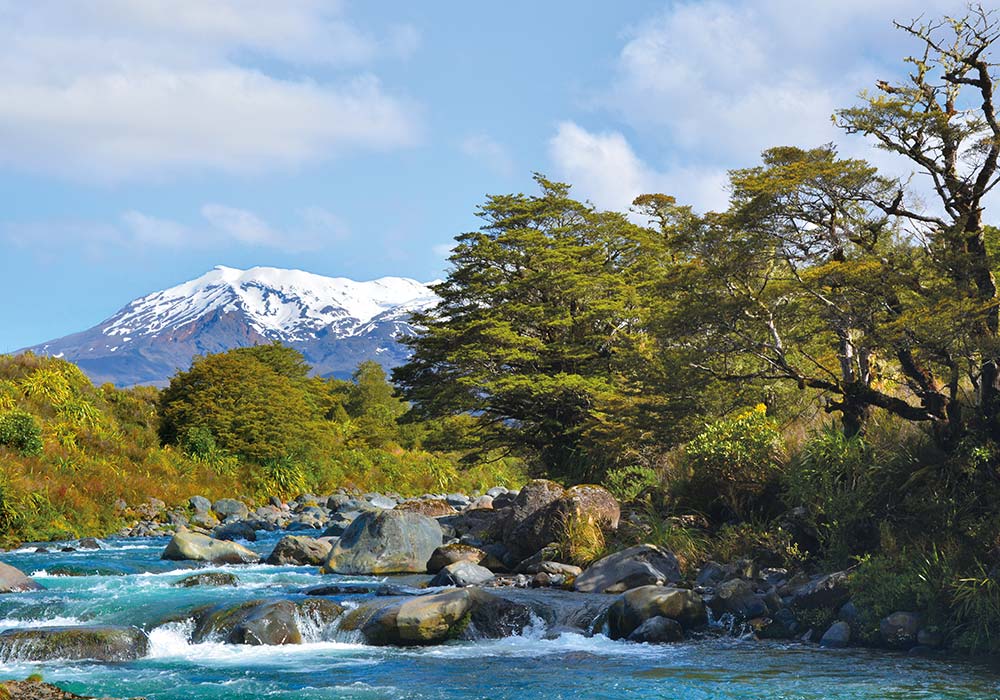 There are plenty of freedom camping sites throughout the Ruapehu district, and many accommodation providers also offer spaces for campervans. In Okahune, the Ohakune TOP 10 Holiday Park is my first choice. Not only are the grounds and facilities tidy, the management are friendly and you're also a quick five-minute walk into town.
The park has powered and non-powered sites, and all the accommodation is surrounded by lovely native bush. There are also cabins and motel units in various arrangements available. There's also a spa you can book for private use.
If you're keen to stretch your legs and get out of the camper for a night or two, I highly recommend Plateau Lodge at National Park Village. The lodge offers stunning two-bedroom apartments, studio pods, and ensuite rooms. There's also a communal lounge and kitchen area. The best part? Indulge in an onsite massage after a hard day on the mountain.
Discover more about this wonderful region at visitruapehu.com.