Tucked up in a small inlet on the western shores of Lake Taupō, Vivienne Haldane discovered a bay of serenity.
If Acacia Bay sounds like the sort of spot you'd normally find in books, you'd be right. This tiny community on the western shores of Tapuaeharuru Bay, just 3km southwest of Taupō, is popular for its great boating, fishing and hiking.  We were here to house and pet sit, so we had a job to do besides exploring. However, one of the many bonuses of staying in Acacia Bay for two weeks was the opportunity we had to explore the area thoroughly. Although it's only a short drive from Taupō's town centre, there are plenty of exciting things to see in this pretty spot.
As dog owners would know, a sleep-in is not an option for canines who are re-energised after a good night's rest. So it was with our golden retrievers, Bobbi and Freddie, who were more than delighted to show us around their neighbourhood each day.
A walk that became our favourite overlooked Acacia Bay, where boats bobbed serenely in the early morning light. Freddie's tail waved like a toetoe as she trotted merrily along. I nicknamed her 'Ferrari Freddie' because of her powerful take-offs as she strained at the lead, dragging me behind her. Bobbi, older and slower, had her own agenda and led Glenn up and down everyone's garden path. She knew a thing or two, Bobbi did. Once, she even stopped in the middle of the road and wouldn't budge until persuaded by a treat.
Whakaipo  Bay
You can Google until the cows come home to try and sort out where to go and what to see while on holiday, but often the best places are discovered through talking to people you meet along the way. Local knowledge, they call it. One such place was Whakaipo Bay. We'd driven to Kinloch on the western side of the lake and parked to watch young water skiers as they practised their drills. Stopping at a signboard to see what was nearby and worth checking out on the return journey, I asked a woman who had dropped a group of cyclists off on a cycle trail if she had any pointers of places we could drive to. She recommended Whakaipo Bay, so off we went.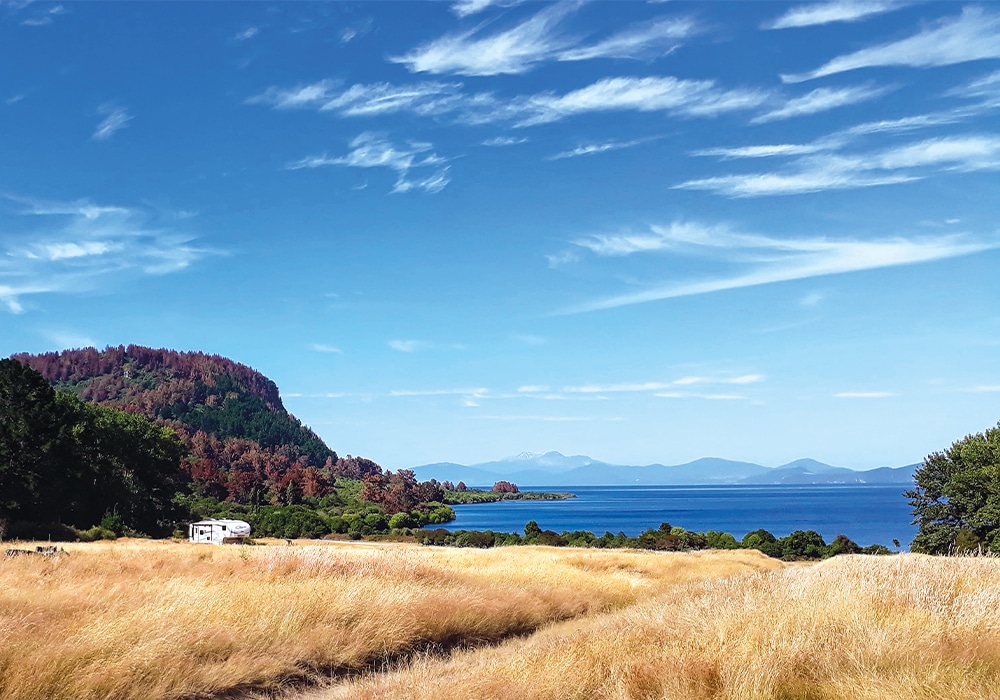 She had warned us that the road to Whakaipo Bay was dusty and rutted. She'd also cautioned us to watch for other motorhomes along the way; Whakaipo Campsite, next to Lake Taupō, enjoys farm park surroundings and a local mountain bike track that runs through native bush. However, the trip is worth it for the beauty you'll find at the end of the track. This gem of a bay is a Department of Conservation reserve; on the day we visited, many motorhomes had parked among the golden grass and sheltering trees.
We drove to the end of the reserve, parked under a tree, walked through the glade of trees that grew right down to the water's edge and settled down on a thin strip of shingly shoreline. An inquisitive duckling wanted to share our snacks, particularly the bananas. We watched a seagull swoop from a height in search of its prey. A woman on a paddleboard glided over the lake towards a cliff. Reaching it, she left her board and scaled the bushy cliff face. "I hope she's tethered her board," we commented as we watched her. Soon, she was gliding back across the lake from where she came, mission complete.
L'Arté Café and Gallery
This mosaic-filled haven is the work of ceramic artist Judi Brennan, who started the café and gallery with her daughter Jo Brennan. We headed there for our morning coffee before exploring the garden filled with all kinds of sculptures – some rustic pieces created from wood and old iron and ceramic art. I loved the mosaic couch (part of an outdoor living room) with its lamp and side table. Attached to the gallery is a working pottery studio. I had my own little Alice in Wonderland moment in the overgrown 'Alice's Chair', beside the Acacia Bay Hall.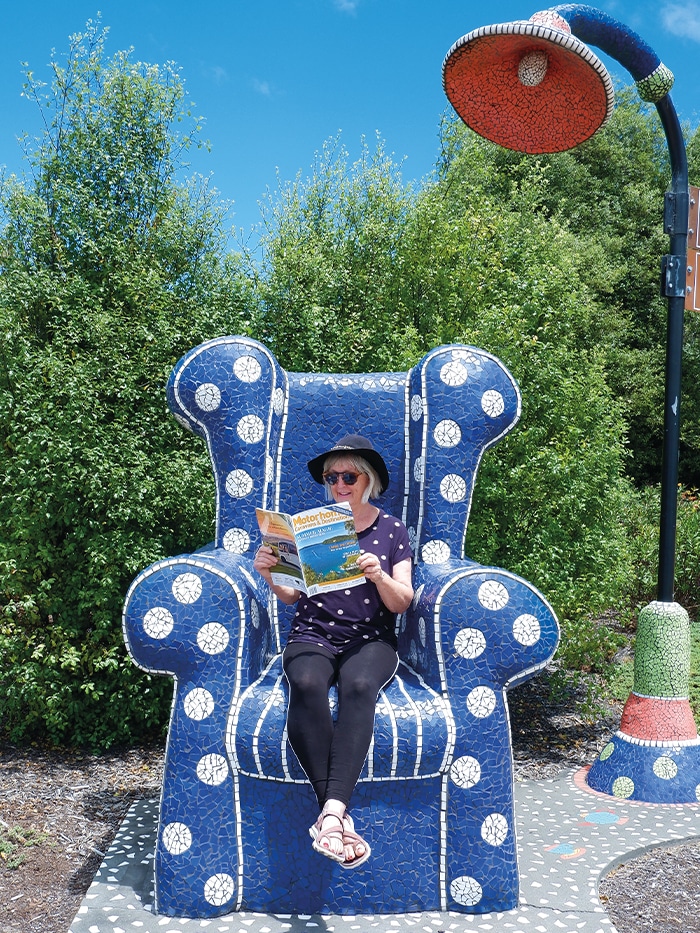 Tukairangi Pottery
Ross Palmer and his wife Annie Palmer-Bunbury run Tukairangi Pottery. Master potter Ross has worked at his craft for 47 years. "I've been a potter since the days of wooden money," he laughs. As one of New Zealand's most established potters, he's seen trends and adapted accordingly, making everything from decorative flower pots to domestic ware. Annie, an artist, met Ross when she visited his gallery while on holiday from Australia. They fell in love and set up their pottery on the five-acre property they discovered in Tukairangi Road. "We wanted a place to run a gallery from home, and we liked it because of its proximity to Whakaipo Bay – that is very special to us because it was the first place Ross took me to," says Annie. "He also had a strong feeling about the landscape here. We had friends who offered us a house to move onto the section, so it all came together. It's the perfect combination of being in town and not."
Annie and Ross enjoy meeting visitors to their gallery, and it was fun to watch Ross at the wheel as he transformed the clay into a distinctive form. I had trouble deciding which of Ross' wonderfully crafted jugs to buy. I ended up choosing a red and gold one in which to make my morning coffee.
Swimming at Acacia Bay
Early one evening, we drove down to Acacia Bay for a swim. It was warm, and the sun was hitting the small jetty. A cluster of children gathered to jump and do water bombs; the bigger, the better, in order to impress the others. A few yards from shore, a pontoon bobbed, glistening bodies jived and egged each other to divebomb into the lake. Families sat on the grass, relaxing and enjoying summer's warm vibe. White and pink orbs, called Doughboats, glided dreamily across the water with their passengers on board. It looked like so much fun.
Mr Whippy's ice cream van pulled up and soon drew a crowd of customers. A man sitting on the grass yelled out to his daughter, "I want a banana boat ice cream", and implored her to get to the car for cash. We sat at the water's edge, taking in this wonderfully summery scene. Another day we investigated a swimming spot recommended by our hosts, located in Te Kopua Road and just a short walk to the lake. Afterwards, as we sat, drying off, a man headed down a track and disappeared into the bush with his dog. When he returned a short time later, we chatted, and I asked what was down the path. He told us about a swimming spot a short walk away. So off we went in search of it. It was sublime, a sweet swimming spot with a tiny jetty. My advice is always to talk to the locals; it's very satisfying to find these lesser-known spots.
Just cruising
It was perfect for a cruise on the lake the day we travelled on Chris Jolly's Cruise Cat. Our destination was the Māori Rock carvings that are in Mine Bay. Our skipper, who gave an excellent and detailed commentary, told us some of the ancient histories of Lake Taupō, the massive series of volcanic eruptions that formed the lake over 30,000 years, the last being 2,000 years ago. I was particularly interested in Motutaiko Island, the resting place of several Māori chiefs. It's the only island on the lake, and as an urupa or cemetery is tapu, it is forbidden to visitors and is now under DOC protection.
The boat rocked and rolled as it pulled in close to the 14-metre high carvings. The carvings took four years to complete from 1976-1980 and were the creation of master carver, Matahi Whakataka-Brightwell and his team of four carvers. The carving depicts Ngatoroirangi, a Māori navigator and ancestor of Matahi's grandmother.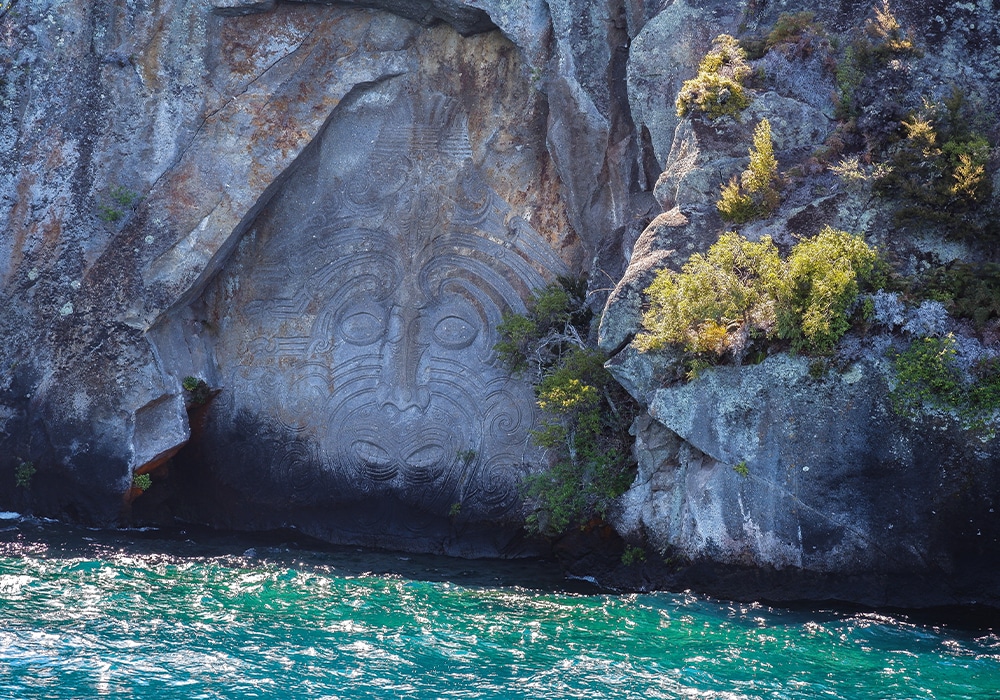 Taupō is renowned for trout fishing. Rainbow and brown trout were released into the lake in the late 1800s, and the progeny of those fish return to the same rivers where their ancestors were first released. Trout fishing is a regulated recreation activity on the lake, with licences required and strict rules about bagging limits and minimum fish sizes. Current regulations allow an angler to take six fish per person per day. There are several species of native fish, small freshwater crayfish (kōura) and some eels in the lake, which migrate to and from the ocean and hydro dams along the Waikato River. The Cruise Cat sailed close to Acacia Bay, where we could view it differently. We enjoyed some delicious muffins, tea, and coffee before it was time to sail back to Taupō.
Water lover's paradise
When we weren't exploring or walking the dogs, it was a treat to sit on the balcony of our homestay and watch the parade of water sports on the lake, including jet skis, kayaks, paragliders, water skiers, yachts and cruise boats. We really liked the replica steamboat, the Ernest Kemp, which we nicknamed 'Little Toot' and watched for its daily run as it sailed close to Acacia Bay. There were two more items to tick off our list before we left. One was an evening walk with Freddie along the Rangatira Point Track – she charged along this easy, bush-covered track where glimpses of the lake were seen through the trees. The other was a final stop to the Bay Bar and Brasserie to enjoy a leisurely brunch before leaving this pretty idyll.
In Acacia Bay:
• Tukairangi Gallery: tukairangigallery.com
• L'Arte Café: larte.co.nz
• Chris Jolly Cruises: chrisjolly.co.nz
• Doughboats: doughboats.com/
• Rangatira Point Track: nzmca.org.nz/trails/rangatira-point-track
• Holiday Park: greatlake.co.nz/
• A popular place to socialise, with excellent food: thebaybar.co.nz
• Whakaipo Bay: https://www.doc.govt.nz/parks-and-recreation/places-to-go/central-north-island/places/taupo-area/things-to-do/whakaipo-campsite/
For self-contained vehicles only; bookings not required.