With Thames in her sights, Auckland-based writer Elisabeth Easther decided it was time to visit a charming Coromandel township by bike – an old-fashioned pushbike at that; none of the electric convenience for this plucky pedaller.
Every now and then, I have a brilliant idea. Like that day in 1984 during the school holidays when I wanted to go to the beach but it wasn't convenient for my parents. At just 14, I was too young to drive, so I cycled to Whangamata instead – from Hamilton.
Mum wasn't too perturbed. Nor did she try to stop me. Upon reflection, I was probably being a pain, moaning about being bored. Besides, that's what kids did back in the '80s. Moan about being bored, then go and find something to do.
Fast forward to 2022. I'm in my 50s and I'm ready for another boredom-busting two-wheeled expedition. Only this time, I've decided to ride from Auckland to Thames – a route I estimated would be about 110km of cycling.
Rather than cycle via Takanini in South Auckland, I decided to avoid some potentially treacherous roads by taking a ferry to Pine Harbour. I could then ride to Thames via the Clevedon Coast, heading over the ranges to Kaiaua before joining The Hauraki Rail Trail.
Do take note, though, that the Sealink ferry to Pine Harbour is a commuter run that doesn't operate on weekends, so I chose to ride on a Friday. This meant my partner could drive down after work with his bike and join me, so not only would I have a pal to pedal with over the weekend but I'd also get a lift back on Sunday. Because there's only so much time in the saddle a person can endure.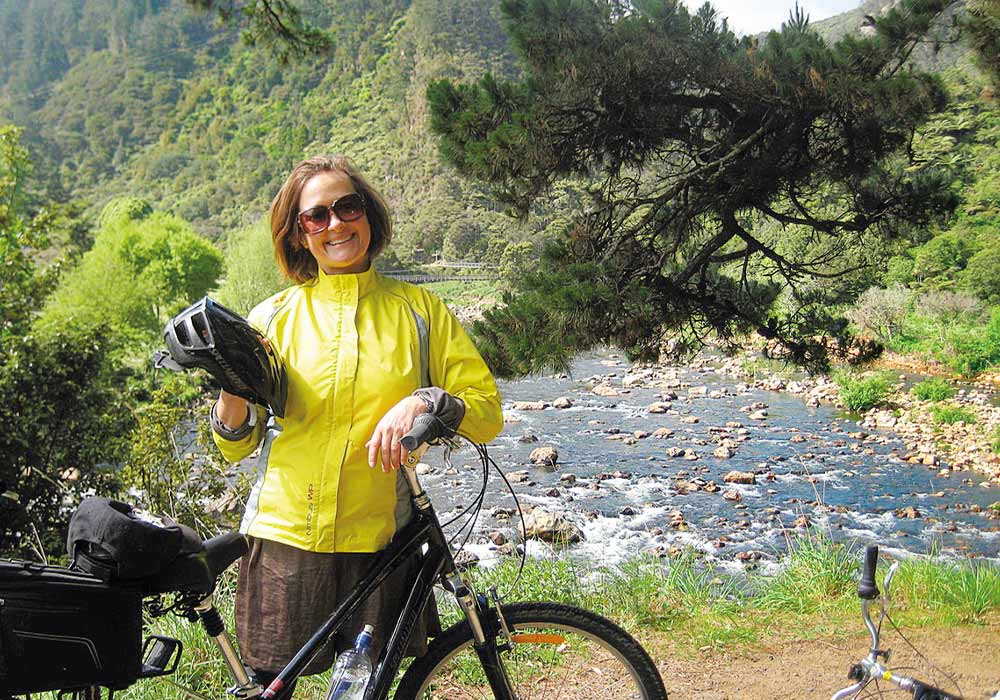 Packing light, my backpack contained the bare essentials: a spare inner tube, a pump and a puncture repair kit (which I hoped I wouldn't need, as my fix-it capabilities are sketchy, to say the least). I also took two filled rolls, some baking, two large bottles of water, a muesli bar, some peanuts, two bananas, two apples, extra warm clothes, a raincoat, sunglasses, and a fully charged phone.
Keeping an eye on the weather, I chose a fine-ish Friday in August, then pedalled from my house near Western Springs and joined the North Western Cycleway. This dedicated cycle path offers great views of Auckland's morning traffic jams. I then joined Te Ara I Whiti, aka The Pink Path, and whizzed along its bright curves before entering Nelson St's separated cycle lanes, which buzzed with morning commuters. While stopped at lights, I couldn't resist telling one fellow cyclist that I was riding to Thames. I'd barely started and already I was boasting, but I was just so excited.
Arriving at the ferry terminal in downtown Auckland, I made it to the 9:10am ferry in the nick of time. I actually should have set off sooner, with sunset at 5:55pm that time of year, but I'll know for next time. Following a peaceful boat ride, I rode off the ferry full of beans and headed for Omana Beach Road past Te Puru Park then on to Maraetai Coast Rd. Arriving at picturesque Maraetai about 10km later, as much as I wanted to stop for a snack, I did not deserve a rest yet.
Pushing on, I pedalled 15 mostly coastal kilometres to Clevedon, passing Duder Regional Park as I rode. This neck of the woods is a charming combination of coastal and rural, featuring a handful of home-based art studios and roadside stalls selling pony poo, although, the one drawback to travelling by bike is that you see all the weeds, and there's a lot of woolly nightshade round here. If I'd had a chainsaw and some weed gel, I would have had a field day.  Another time perhaps.
Once in Clevedon, I'd only been going for about 90 minutes so I needed to pick up the pace, but if time is on your side, Clevedon is a darling village with many artisan shops and cafés worth a visit. Clevedon is also where I started to climb, pedalling past sea-view farms and pretty pastureland. I relished these winding climbing country roads through primeval native bush, where a thin window of sunshine made its way through the canopy. Happily, there were few cars on the road, and because the bush was silent, bar the buzzing of bees and the wind in the trees, I always had a fair warning to scooch to the left.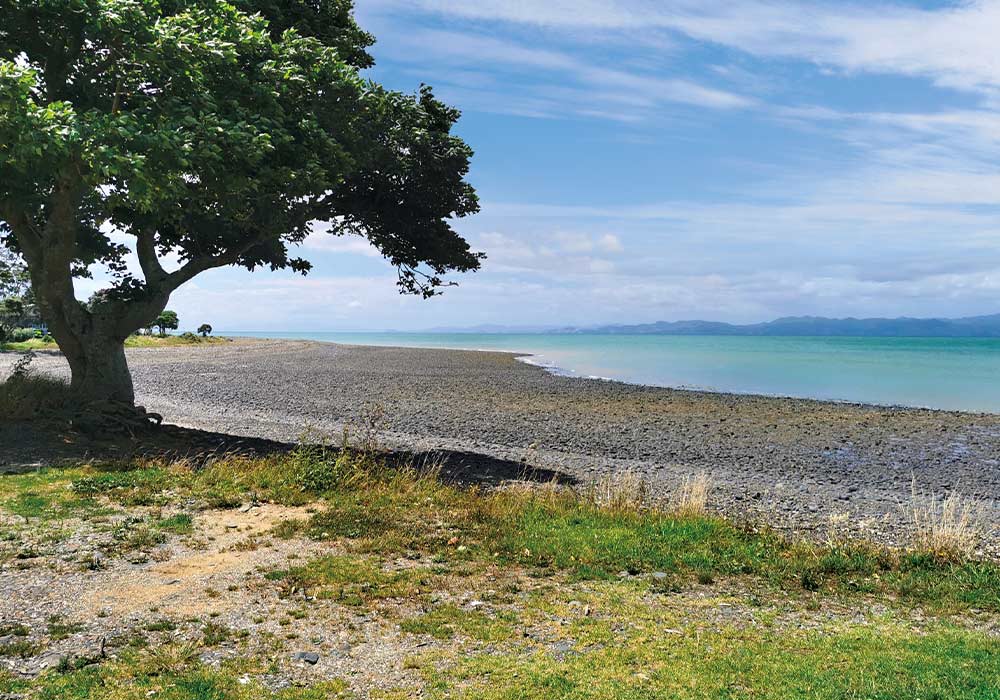 I will confess that the steep section from Kawakawa Bay to Ōrere Point did have a relentless quality, but eventually, I reached the peak and coasted down to East Coast Road, the Firth of Thames spread out before me. I also felt a little dispirited to see how far I was from Thames. The headwind didn't help either, but I pressed on because that's what adventurers do.
Once I reached the water's edge, it was almost all off-road from there, along dedicated cycle paths to the Pūkorokoro Miranda Shorebird Centre. I stopped briefly at that wonderful facility to browse the gift shop and fill my water bottle and said a quick kia ora to Keith Woodley, the resident shorebird expert. If you're not doing this route in a rush, this stretch of coast is heaven for bird lovers, with numerous places to overnight in a motorhome, and if you stay at Miranda Holiday Park, you'll have access to their glorious hot pools.
Travelling by bike meant I clocked firsthand just how many small settlements there are along East Coast Road between Ōrere Point and Miranda, with several houses for sale (many of them with funny punny names, mostly plays on words to do with retirement or fishing). Much as I was tempted to buy a house just to have a nap, I kept on pedalling because there was still a long way to go.
The good news is that once on The Haruaki Rail Trail, there was no chance of getting lost. However, with it being close to 3:30pm when I left Pūkorokoro, I had just 2.5 hours of light and a good 55km to go, so there was no time for dawdling. I have to confess, I cycled the last hour in darkness, grateful for the full moon and my bike lights. The verdict? Even though it would have taken me two hours to do a similar trip in a car, it was a richer experience by bike, and I fully intend to do it again when the days are longer, so I can take time to smell the metaphorical roses – or do some weeding.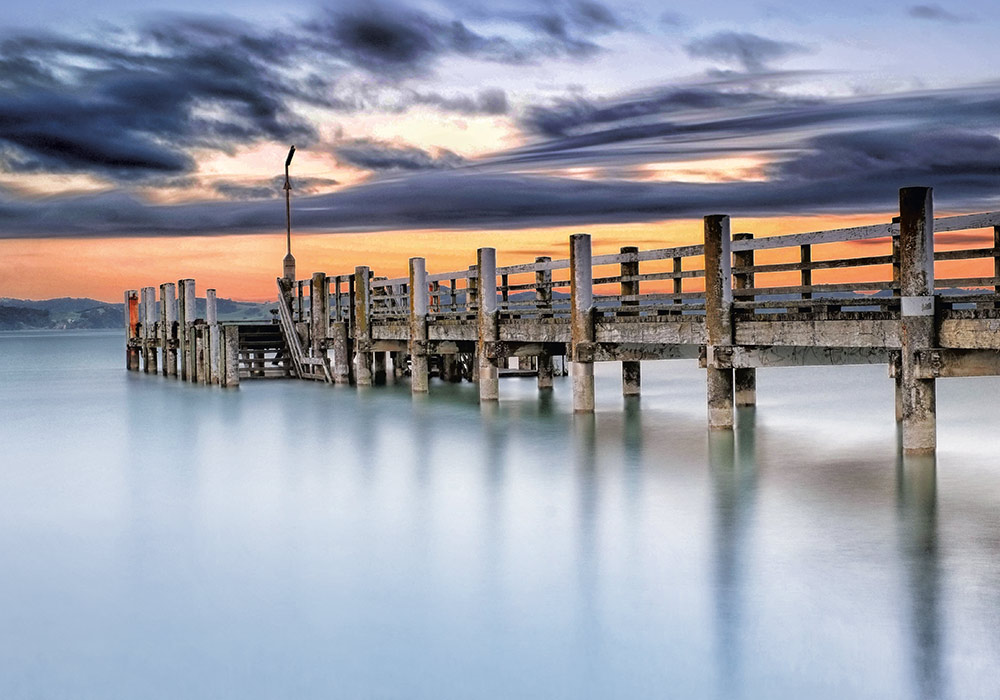 Travel tips
Whether you're travelling in your motorhome and just riding bits of this journey or simply driving, here are some ideas to spice up your itinerary.
Stairway to Heaven, Clevedon Reserve
Park at Thorps Quarry Rd, then climb the 994 stairs to the summit, as this 100-hectare stand of native bush is a haven for birds and mature kauri trees, offering great views of the Hunua Ranges and Hauraki Gulf.
Pūkorokoro Miranda Shorebird Centre
The beachfront around Miranda and the Shorebird Centre has generous motorhome parking facilities. Birdwatchers from around the world flock to this coast. The visitor centre is full of information, books, and souvenirs. While out in the field, sharp-eyed twitchers might spot red knots, dotterels, wrybills, spoonbills, godwits, and sanderlings. Keep your binoculars and thermos handy.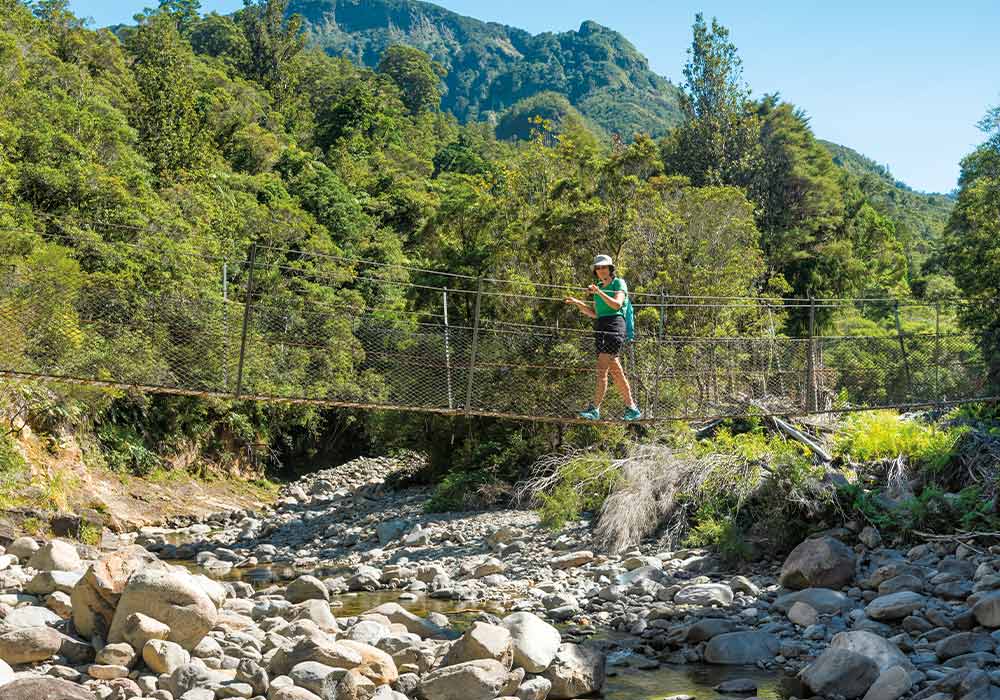 Thames
This quaint gold mining town is rich with historic architecture and is home to The Thames Historical Museum, The School of Mines, and The Mineralogical Museum. You can also trawl through the family history archives at The Treasury.
Hauraki Rail Trail
The 197km Hauraki Rail Trail is one of the easiest and most scenic cycle trails in New Zealand. With five main sections, you can do the entire thing comfortably over four to five days, or you can just bite off chunks with the gorge sections hands down the most scenic. Do check the website for closures though.
Kauaeranga Valley
12km from Thames, the Kauaeranga Valley is perfect for a short stroll or a chilly creek swim. If you're feeling energetic, a hike to the famous Pinnacles Hut takes about eight hours to return or you can do it over two days and overnight in the hut.