Heather Whelan takes a trip back in time to learn more about the historic South Auckland railway that's been lovingly restored for future generations.
FULL STEAM AHEAD
The excitement mounted as the small crowd waiting on Glenbrook Vintage Railway's station stared down the line. After a short delay – an issue with the engine, the announcement told us – we saw a puff of smoke rising from some trees. Then a whistle and another puff and here it was, coming round the bend into sight, a steam locomotive with its row of carriages like a scene from a movie. Children were wide- eyed, adults keen to board and get a seat. The hardy ones claimed one of the open air carriages, while the rest of us found a place inside the beautifully restored train.
A CENTURY-OLD LINE
In 1922, the Waiuku Branch Line between Paerata and Waiuku was opened to the cheers of a crowd of well-dressed locals. Trains ran until 1967 when the line closed. Three years later, a team of enthusiasts formed the Glenbrook Vintage Railway (GVR) Charitable Trust, to preserve, rebuild and operate the old branch line. Since 1970 a great deal of restoration work has taken place, firstly purchasing and restoring the initial stock of carriages and steam locomotives before acquiring more over the years. Heritage diesel-electric locomotives have been added to provide different experiences. The heritage precinct at Glenbrook Station was created, and the track extended from its initial 4.5km to its current length of 7.5km. Although Covid-19 initially put a damper on events, the GVR is planning a celebration in October to commemorate the centenary of the opening of the line.
A VARIETY OF EXPERIENCES
Glenbrook is less than an hour's drive from central Auckland, and is popular with local visitors and railway fans alike. 1995 saw the inaugural Thomas the Tank Engine Weekend, with the famous blue-faced Thomas engine and his friends Rusty and Terence, overseen by the Fat Controller, front and centre for this fun family event. This is a popular annual occasion, with face painting, bouncy castles and other fun activities as well as train rides. Although like so many events, the 2021 Thomas celebration had to be shelved, it is hoped by everyone that the popular family event will go ahead as normal once again this year. Another special event at Glenbrook is the award-winning Christmas Lights – Trains at Night. The Glenbrook Vintage Railway building and trains are decorated with festive lights, there's a special Christmas Express train service, and there's a Christmas market, complete with Santa Claus on hand. After attracting 16,000 visitors in 2020, it was cancelled last year, but should be back on track for this Christmas.
Glenbrook also organises rail trips and tours. Currently on offer is the 13-day East and West tour, taking in Ohakune, Napier, Masterton, Palmerston North, New Plymouth and National Park and the three-day Discover Ruapehu trip, that takes visitors along the North Island Main Trunk Railway route. This takes in beautiful scenery, rural settlements and impressive feats of engineering, including viaducts and the famous Raurimu Spiral.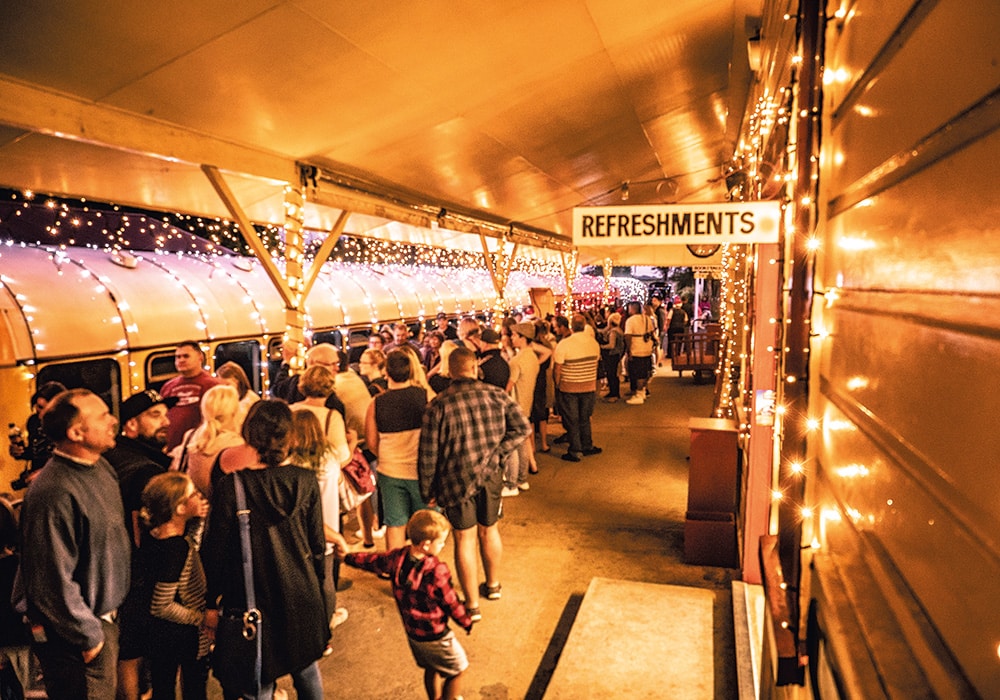 A TRIP BACK IN TIME
When planning our trip we were tempted by the First Class Experience, which includes a delicious high tea, but eventually opted for the Steam Train Experience. We arrived at Glenbrook station early to give us enough time to admire the buildings and equipment, all immaculately painted in cream and brown heritage colours. There was a ticket office, shop and refreshment room beside the platform with a signal box, water tower, and other railway equipment nearby; perfect for railfans of all ages! The Glenbrook experience is all the more fun with station staff , guard and engine drivers all wearing period costumes, and we were given an old school cardboard ticket after our online booking was checked. To add to the old-fashioned ambience there was a trolley piled with old leather suitcases, a bicycle with a carbide lamp leaning against a post, and several old advertising posters displayed in the seating area. For those wanting souvenirs, the shop sells a bunch of railway related items, from hats and bags to toys and books.
After the train steamed into the station, and as we took our seats, the locomotive turned around so it was at the head of the train. The interior of the carriages evokes a bygone era, with pressed tin ceilings, period lights and luggage racks, wooden panelling and trims and wrought iron seat ends. The guard checked the brakes, waved his flag and we were off .
Our train journey took us through pastoral scenery, over level crossings and under bridges. The smoky steam pouring from the engine's smoke stack laced the carriage air with the distinctive, evocative steam train smell. The guard came along to clip our tickets and then, all too soon, we arrived at the little station of Victoria Avenue, on the outskirts of Waiuku. Usually you can disembark here to explore Waiuku, catching a later train back to Glenbrook, but we stayed on board this time; more for us to look forward to next time!
The engine was once again moved around to the other end of the train and we headed back along the tracks. About halfway to Glenbrook the train stopped at Pukeoware, where the railway workshops are. As the railway volunteer drivers and staff topped up the engine's water, we were able to leave the train and inspect the locomotives and carriages that were undergoing restoration in the workshops. After around 15 minutes we were ready to go again, arriving back at Glenbrook just over an hour after leaving – though it seemed longer. Our old-fashioned experience seemed to have played tricks with our sense of time.
TRAINS BIG AND SMALL
Glenbrook Station is set alone in the midst of rolling hills, but Glenbrook Model Railway is nearby. is is an extensive setup, with more than 800m of track and several trains running at the same time. The model railway is open on Sundays to coincide with the Vintage Railways trips and if you're a NZMCA member in a motorhome, this is a Park Over Property (POP). Waiuku has cafés, restaurants and shops to explore, and there's a museum and heritage buildings in the adjacent Tamakae Reserve.
A VISION FOR THE FUTURE
Glenbrook Vintage Railway has plans to extend their line from the temporary Victoria Avenue terminus to Waiuku's Tamakae Reserve, where there are plans for interaction with maritime activities, such as historic vessels and charter boats. This is an ongoing project, which includes building a bridge over the 'Lions Lake' in Waiuku and two road crossings, as well as the precinct development at the reserve. There's also a children's ride-on train in the pipeline, coming soon.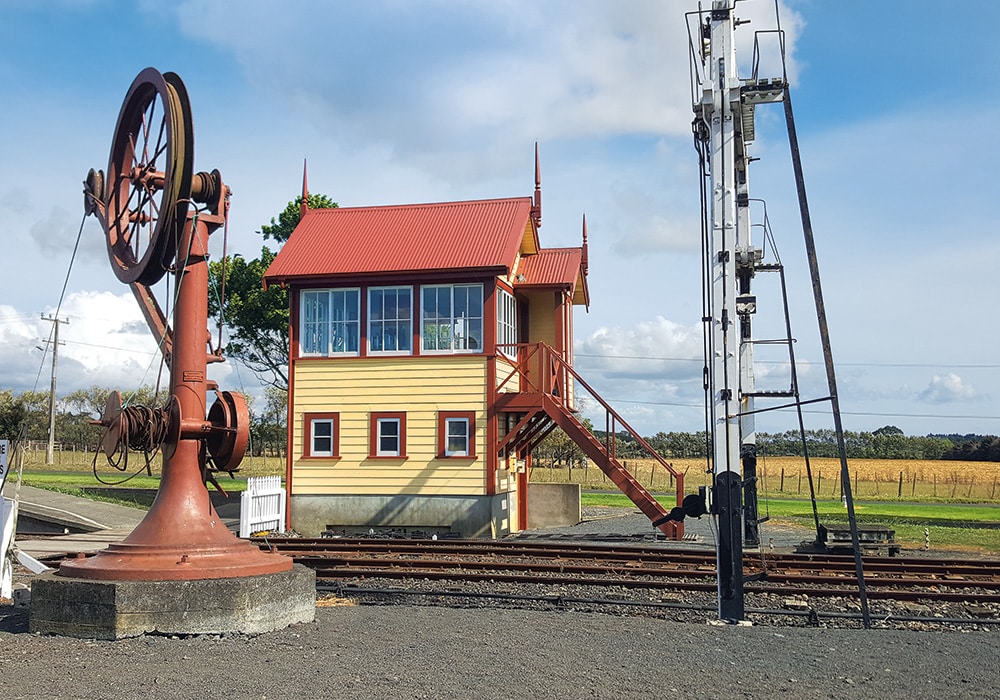 FURTHER INFORMATION
• For details about Glenbrook Vintage Railway and information
about booking visit gvr.org.nz/
• Glenbrook Model Railway is at 99 Morley Road, Waiuku. Information can
be found on their Facebook page: facebook.com/glenbrookmodelrailway
• Depending on the season, the Waiku area has plenty to offer. Wrights Watergardens
are open year round (wrightswatergardens.co.nz) as is Calendula Cottage Café and
Gardens, close to Glenbrook Station. The cottage here is an Airbnb.
There's lots of info about the area at: waiukutown.co.nz
• There's a motor camp in Waiuku and several local POPs for NZMCA members.
Waiuku Cosmopolitan Club has powered and non-powered sites with
discounts for NZMCA members.
Want to discover more destinations in Auckland? Click here